12 Adorable Frog Amigurumi Crochet Patterns
Would you like to meet our cute amigurumi frogs? We shared 12 wonderful free and paid amigurumi frog patterns, but we couldn't choose the cutest one… Now take a look at our blog and don't forget to pin the amigurumi frog pattern you like. Enjoy….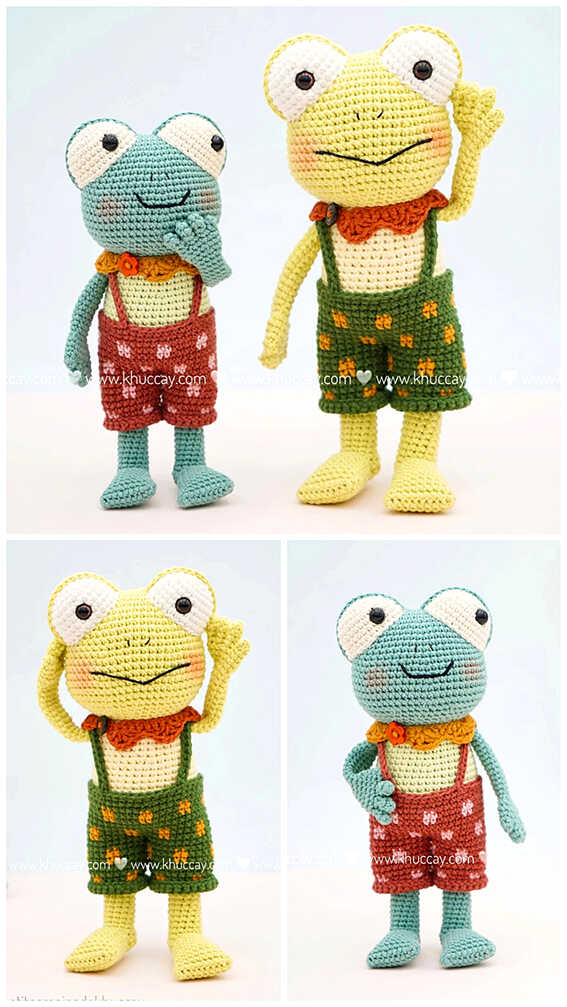 Patrick the Frog Crochet Pattern
Say hello to Patrick the frog.
The finished toy measures 20cm in height when using the listed materials. The bigger frog is made with DK yarn (110m/ 50gr) and crochet 2.5mm, the finished size is 25 cm.
via TitesMainsdeKhuccay, Etsy.com
Amigurumi Smile Frog Crochet Free Pattern
Difficulty level: medium
Hand woven with cotton thread of suitable thickness for 2.5mm needle. Size 4,72 inches.
via Teresa Chao, Ravelry.com
Amigurumi Frog Crochet Pattern
Level of difficulty: Beginner.
The finished product using the materials described in this pattern is 9.4-9.8 inches / 24-25 cm tall.
via ToysMetlinaElena, Etsy.com
Amigurumi Cute Summer Frog on Vacation
Level: intermediate
If you decide to use the suggested materials, your frog will be about 9.84 in (25cm) tall if done with a 2 mm Clover hook.
via ThreeFriendsPatterns, Etsy.com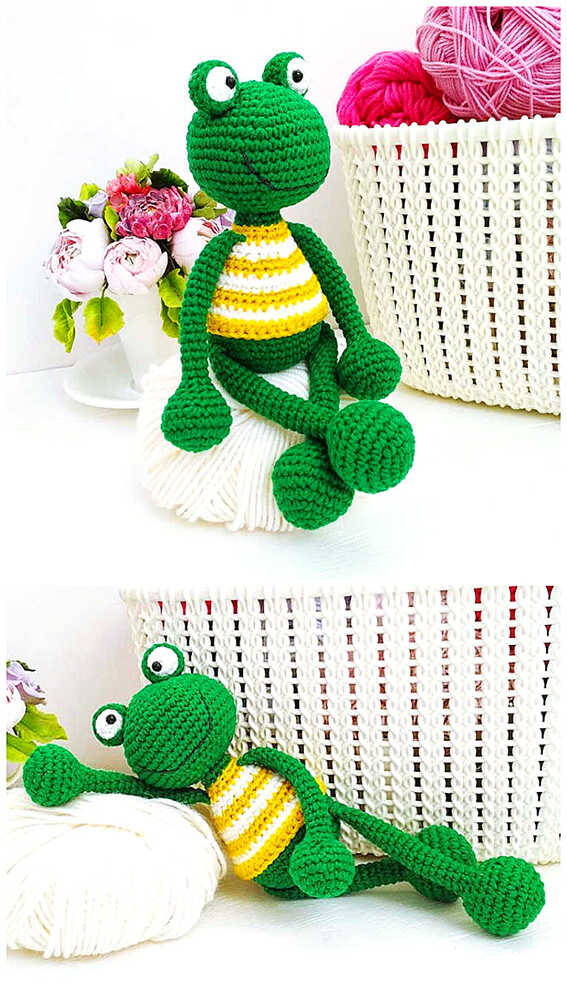 Amigurumi Cute Frog Crochet Free Pattern
This cute frog, can be a great decoration for your nursery.
Size of the frog is about 25 cm (9,8″).
via blog.amigurumiallfreepatterns.com
Amigurumi Fredy the Frog Crochet Pattern
The cute frog, can use it for toy and also for a special gift.
Skil Level: Beginner-intermediate. The final size of the toy is about 24 cm / 9.45″.
via FairyToysByInnaChi, Etsy.com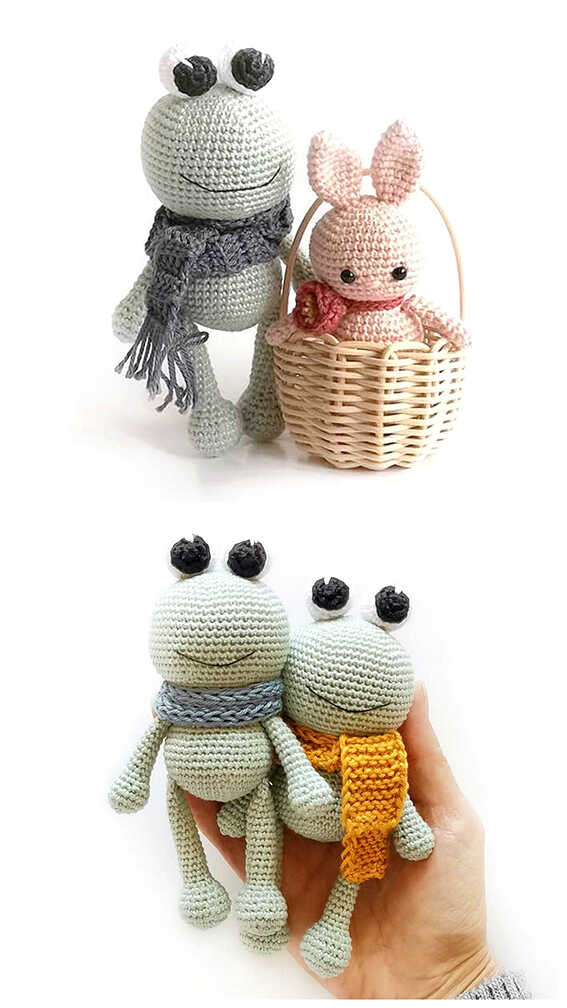 Crochet Frog Amigurumi Free Pattern
Amigurumi crochet toy is favorite gift for adults and kids, you can make it yourself with this easy crochet pattern.
via blog.alwaysfreeamigurumi.com
Frenchie the Frog Crochet Pattern
Meet Frenchie the Frog.
Skil Level: Intermediate.
The final size of the toy 20 cm / 8 in when made with the indicated yarn.
via ringbellercrochet, Etsy.com
Free Crochet Frog Pattern
Skill level: intermediate to advanced crochet skills and knowledge
Finished size when seated: 20.5cm / 8 inches
Finished size from eyes to toes: 35.5cm / 14 inches
via cuddlystitchescraft.com
Amigurumi Frog Crochet Pattern
According to this pattern, you will crochet a frog boy and a girl. The pattern includes a description of a frog, a butterfly net, shorts, a hat and a skirt.
Final size of the work is 9,45 inch (24 cm).
via PollytoysCompany, Etsy.com
Cute Green in Clothes Tommy the Frog Crochet Pattern
Meet Tommy the frog. He greets you with his red bow tie and green outfit.
via BobrikToyPatterns, Etsy.com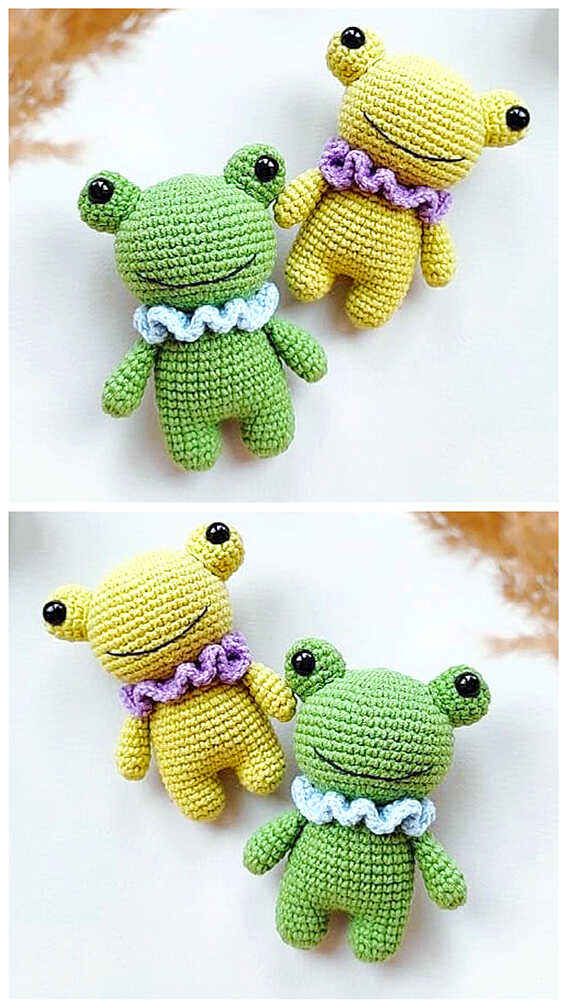 Amigurumi Frog Free Pattern
It's time now to have some fun…grab your hook and yarn and crochet these sweet frogs in any colors you like!
Finished Size: approx. 10 cm (3,9 inches) tall using the materials stated in the pattern.
via crochet.amigurumiallfreepatterns.com