15 Cute Bird Crochet Patterns
Looking for a cute and fun crochet project?
In our blog, you will find paid and free bird patterns that we have carefully selected for you. Check out these great ideas and choose the one that works for you. If your yarn and hook are ready, it's time to take action for a beautiful project. Don't forget to pin the models you like.
Crochet Bird Pattern
Level of difficulty: Beginner.
The finished product using the materials stated in this pattern is ~6.2 inches / 16 cm tall in a sitting position.
via PEARLandSTITCHart, Etsy.com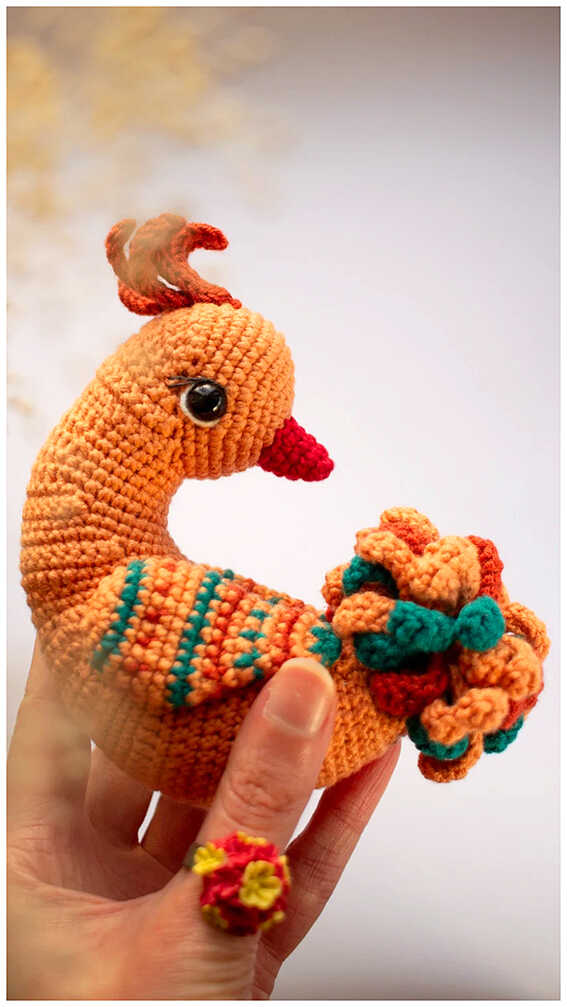 Crochet Bird Pattern
Crochet Level: Difficult.
The toy is approximately 5 in / 0,1 yd / 13 cm high with forelock and 5 in / 0,1 yd / 13 cm length with tail (when using the recommended materials and instruments).
via OlyaSamToys, Etsy.com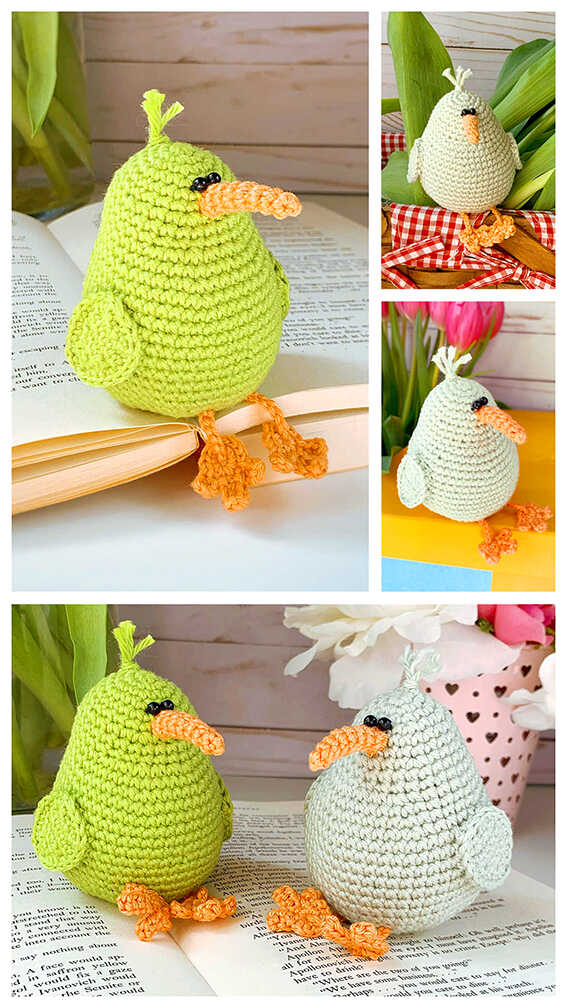 Amigurumi Bird Kiwi Crochet Free Pattern
To create this cute kiwi bird you will need only basic crochet skills and a little time. The kiwi bird amigurumi is a great gift for the big and small who love birds.
via crochet.amigurumiallfreepatterns.com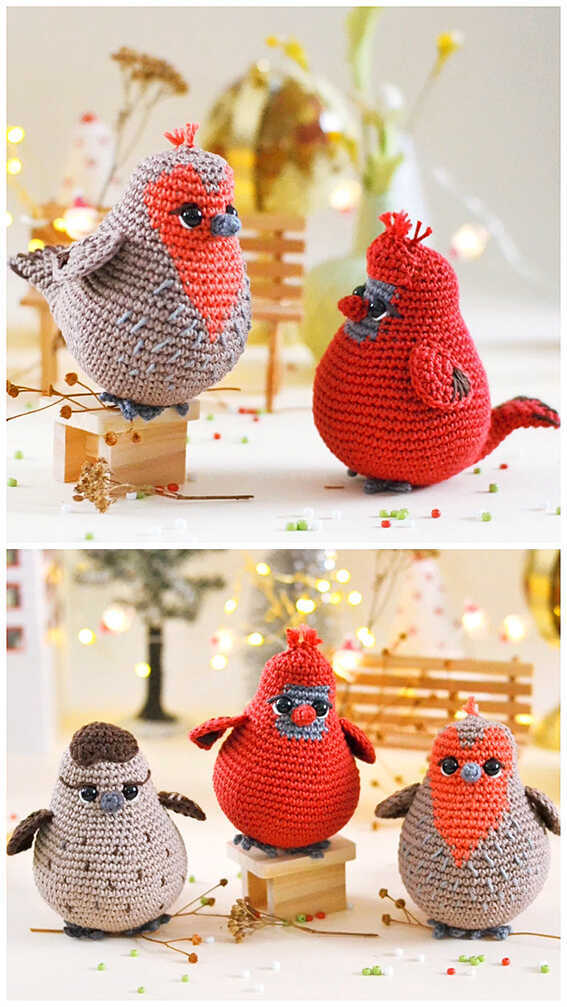 Tiny Sparrow, Cardinal and Red Robin Crochet Pattern
Crochet tiny sparrow, cardinal, and red robin toys are a beautiful gift for Mother's Day, ideal Easter decor, or Christmas ornaments for your Christmas tree.
via LaCigogneCrochet, Etsy.com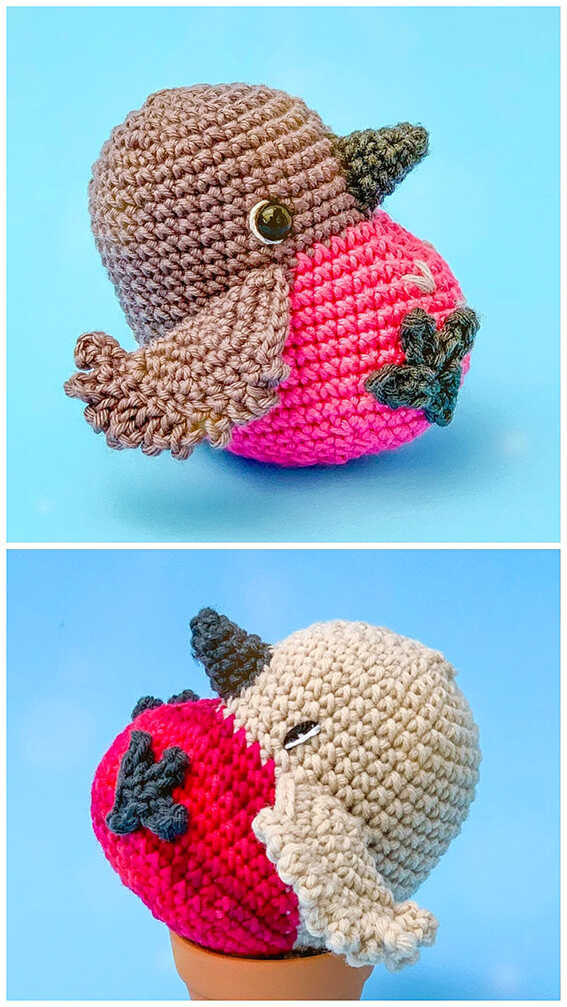 Pink Robin Crochet Pattern
Skill level: Intermediate
Size: approx 9cm tall when made with recommended yarn & hook
via LexInStitches, Etsy.com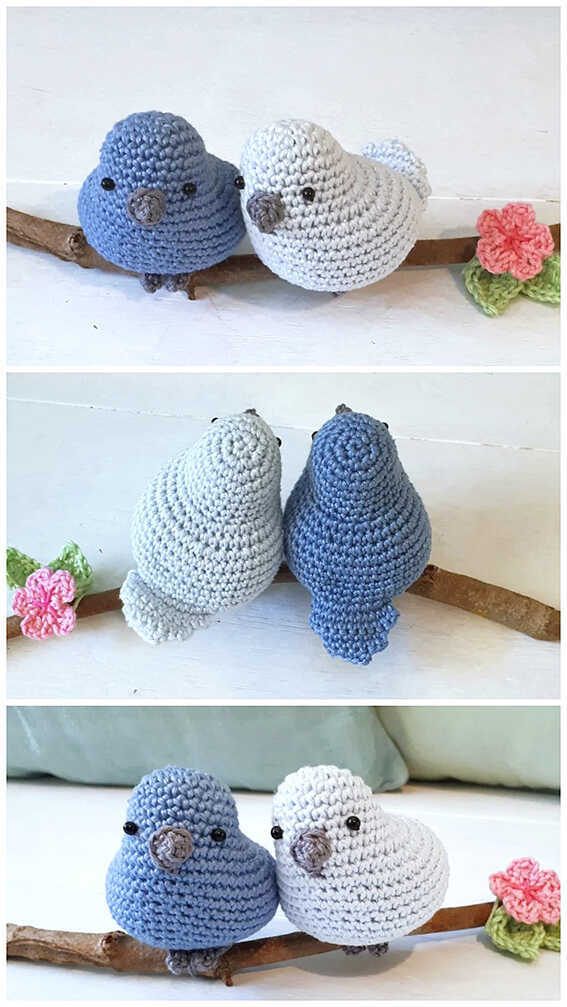 Birds in Love Crochet Pattern
Crochet your own adorable couple of birds on a branch.
It's a fast and easy project, and in no time you'll have a sweet gift for someone you love!
via Birdsandcrickets, Etsy.com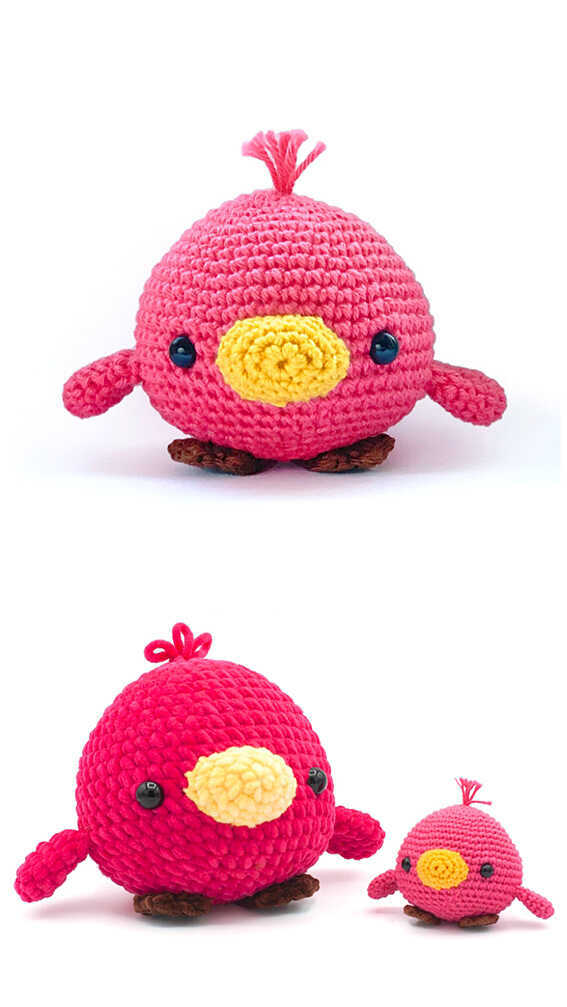 Pipi the Bird Amigurumi Crochet Free Pattern
Crochet Pipi the Bird with this free bird amigurumi crochet pattern.
Size bird sport weight cotton yarn and 2.5 mm hook: 16 cm / 6 inch
Size big bird made with super bulky chenille yarn and 5.0 mm hook: 7 cm/3 inch
via Mariska Vos-Bolman, DIY Fluffies
Crochet Pattern Funny Birds
The pattern includes a description for 5 small birds: bullfinch, toucan, kiwi, snipe, finch.
Level: middle Size: 10 cm
via NaturaCrochetArt, Etsy.com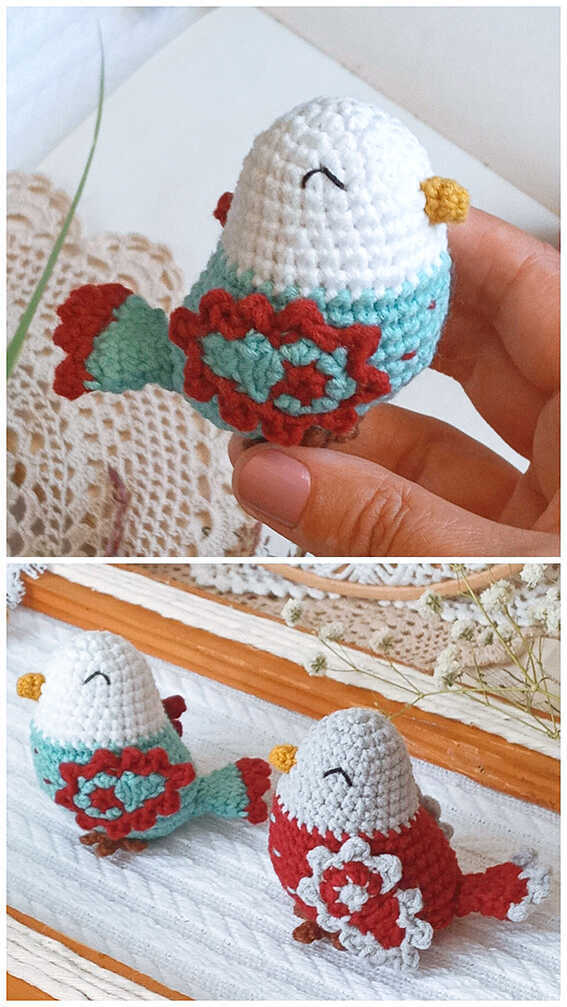 Bird Crochet Pattern
Amigurumi crochet pattern birds for Christmas tree or home decoration.
Level : Easy
Size: 2,7 inches (7 cm) (when using yarn and crochet hook sizes from the pattern)
via SpiritofToysStore, Etsy.com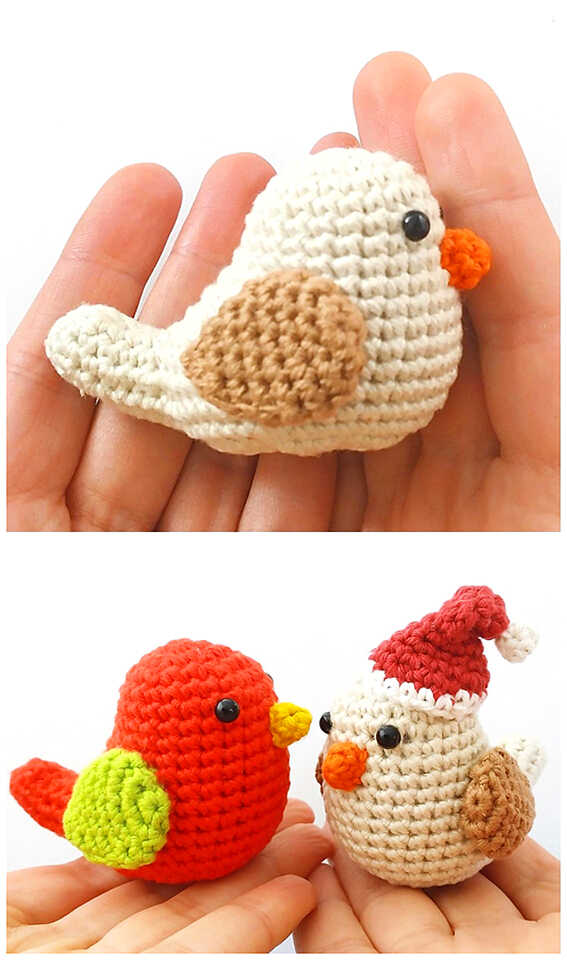 Little Bird Amigurumi Free Crochet Pattern
Crochet this Little Bird Amigurumi and make a cute gift for a bird-lover friend, a Christmas tree ornament, or a stuffed toy for your kids!
Size: 3″ (8 cm) long, 2″ (5 cm) tall, and 2″ (5 cm) large.
via raffamusadesigns.com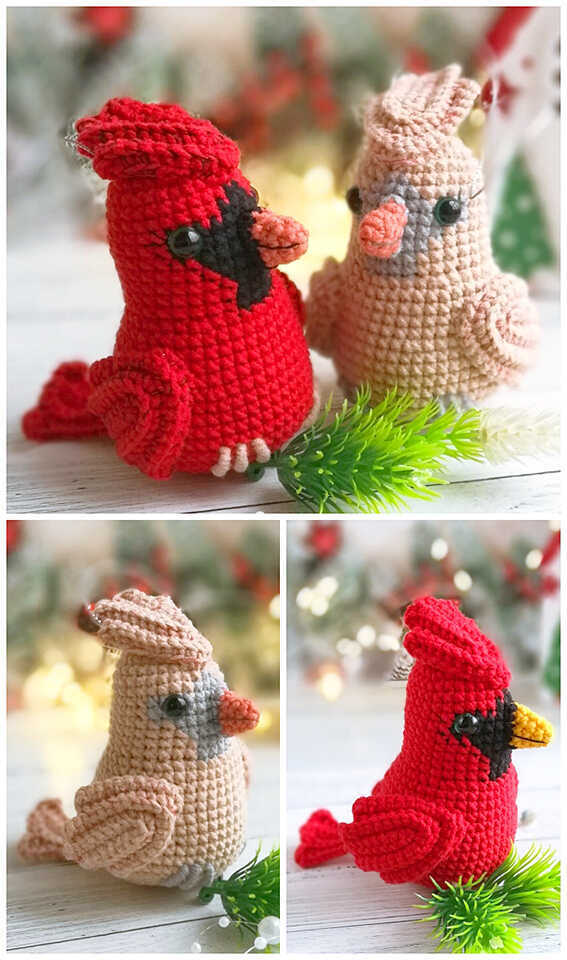 Crochet Red Cardinal Amigurumi Bird Pattern
They are great as souvenir gifts for bird lovers.
Make your own cute little birds with this easy-to-follow crochet pattern!
via SvetlaArtShop, Etsy.com
Crochet Lavender Bird Pattern
Level : medium
Size: 8,27 inches (21 cm)
(when using yarn and crochet hook sizes from the pattern)
via SpiritofToysStore, Etsy.com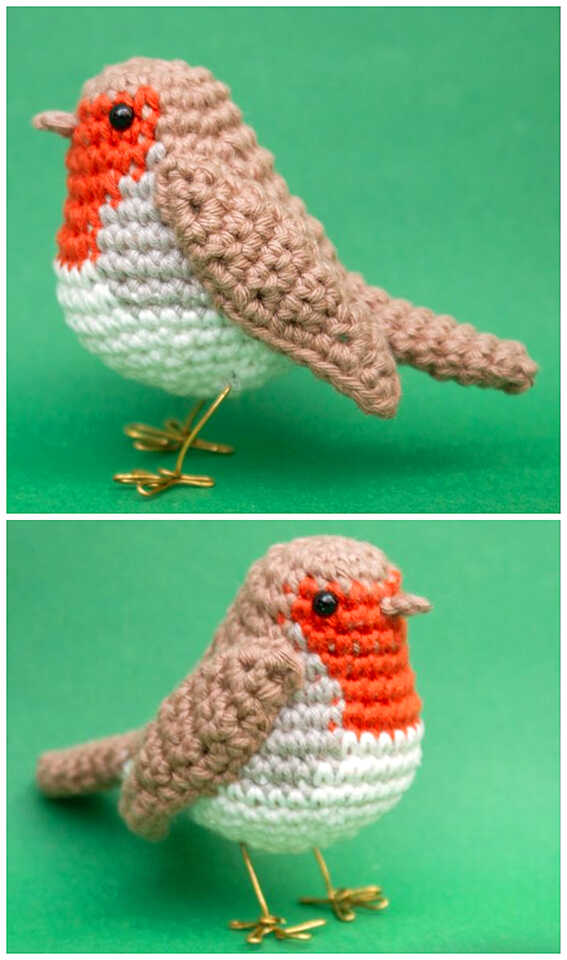 European Robin Amigurumi Free Pattern
This Robin amigurumi is a great project for intermediate as well as seasoned crocheters! You don't necessarily have to use it to make a robin. You can let your creativity flow and make any any bird you like.
via stellasyarnuniverse.com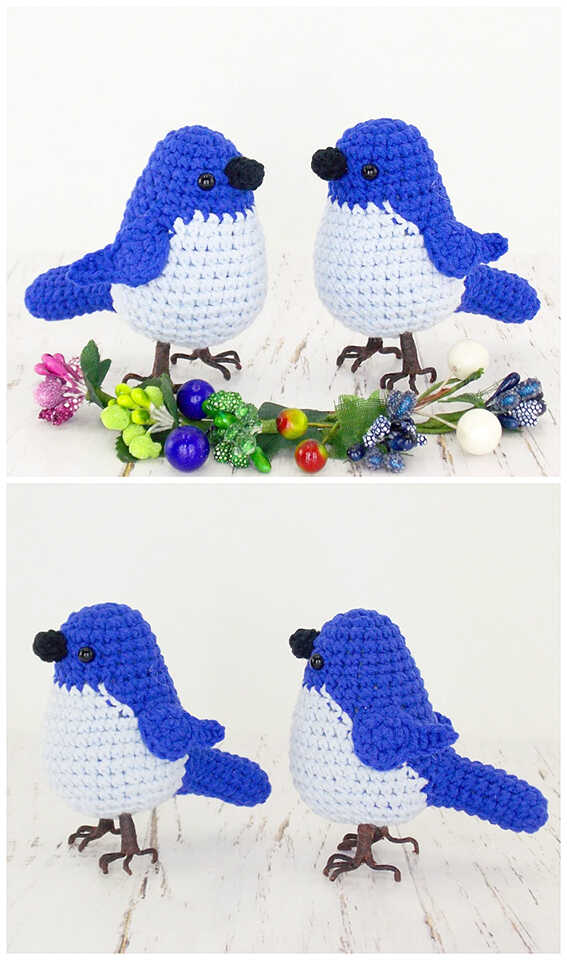 Amigurumi Crochet Pattern Bluebird 
Skill level: intermediate/ advanced.
The size of the finished bird depends on the type of yarn and the size of the hook that you use. Using an 2.5mm hook it will be about 8cm/ 3.1 inches tall.
via LittleMagicHouse, Etsy.com
Crochet Pattern Bruno the Pigeon 
Bruno is a cute toy pigeon.
Follow the written directions to create it with the crochet hook and some yarn. Feel free to personalise!
via ShopAlpacaCraft, Etsy.com