15 Cute Lemur Amigurumi Crochet Patterns
Hello amigurumi lovers… Today we are here with lemurs living around Madagascar. We have selected 15 amigurumi patterns among cute lemurs, we hope you like it. All you have to do is choose the lemur you will crochet, happy crocheting….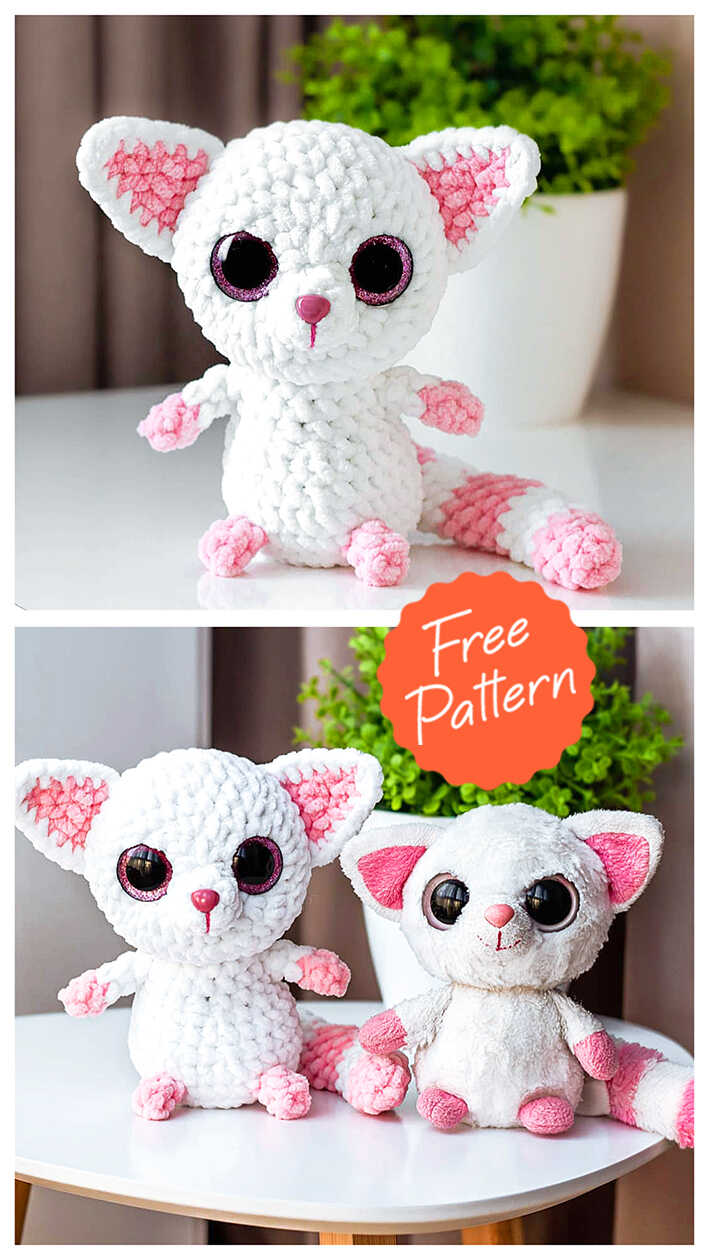 Lemur Amigurumi Free Pattern
Himalaya Dolphin Baby plush yarn is so easy to work with and it's just perfect to obtain super soft lovely toys. Finished lemur measures approximately 15 cm (5.9″).
via toys_baby_love, alwaysfreeamigurumi.com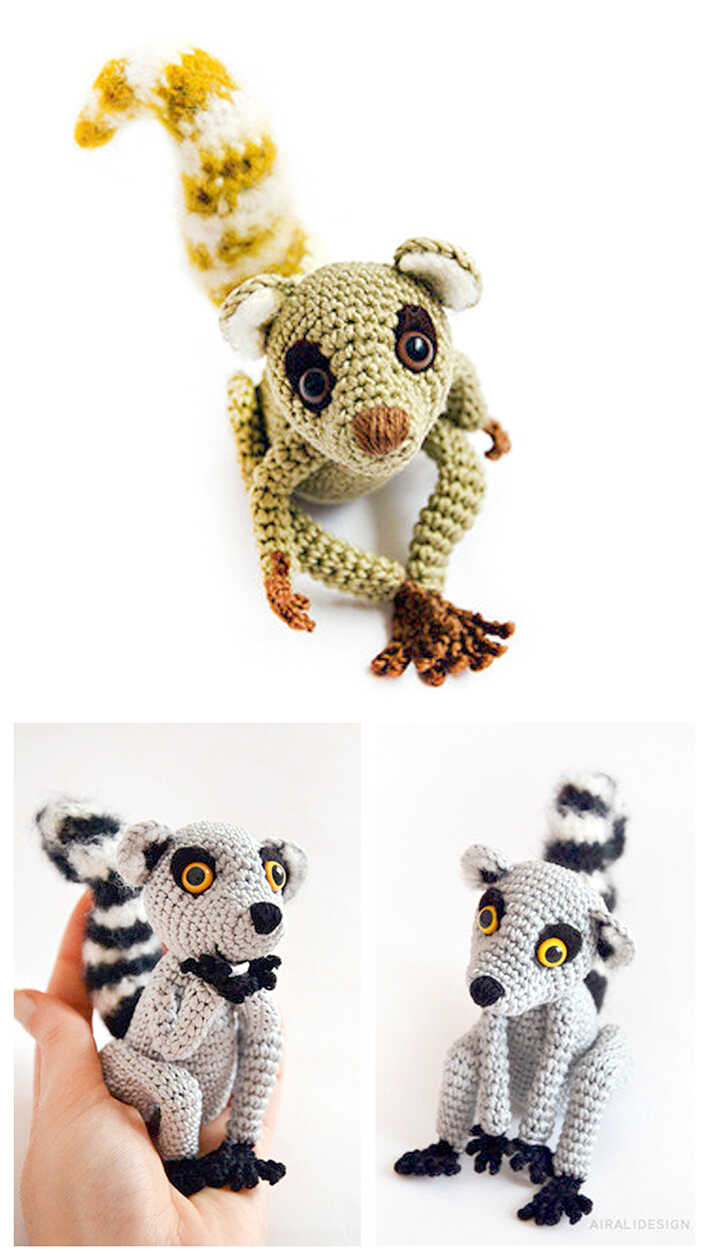 Sartù the Amigurumi Lemur Crochet Pattern
Crochet amigurumi pattern for Sartù the Lemur Catta from Madagascar with ringed tail, a cute snout and vivacious eyes. It can be made in its characteristic black and white colors or the fantasy can fly and venture into other colours combinations.
via AiraliDesign, Etsy.com
Lemur – Amigurumi Crochet Pattern
The Coquerel's Sifaka Lemurs live on the island of Madagascar, in small family groups with a dominant female in charge. Their tails are the same length as the rest of the body!
via Amigurumiadventures, Etsy.com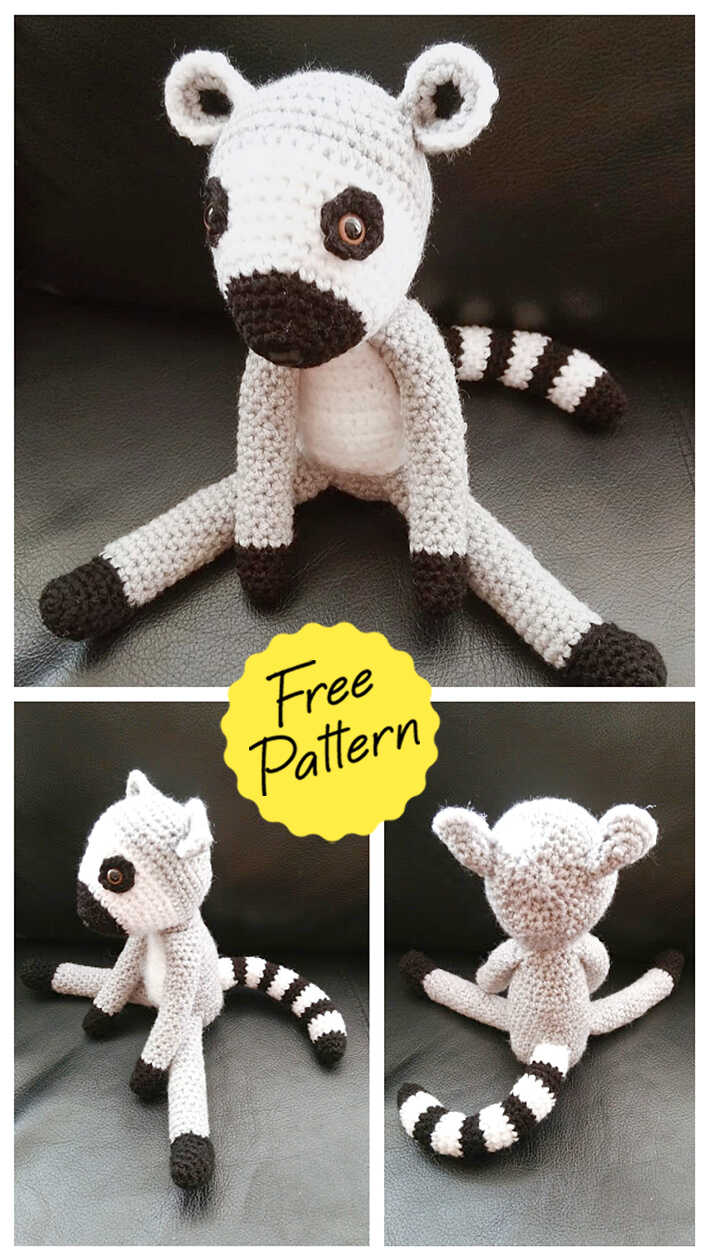 Free Baby Lemur Amigurumi Crochet Pattern
This Lemur is made crocheting the legs and arms on so the only sewing is the head, tail, ears and belly patch.
via babycrochetdesigns.com
Lester the Lemur Crochet Amigurumi Pattern
Size of a finished toy is about 14 cm (5.5 inch) if using indicated yarn and hook.
via YarnWaveShop, Etsy.com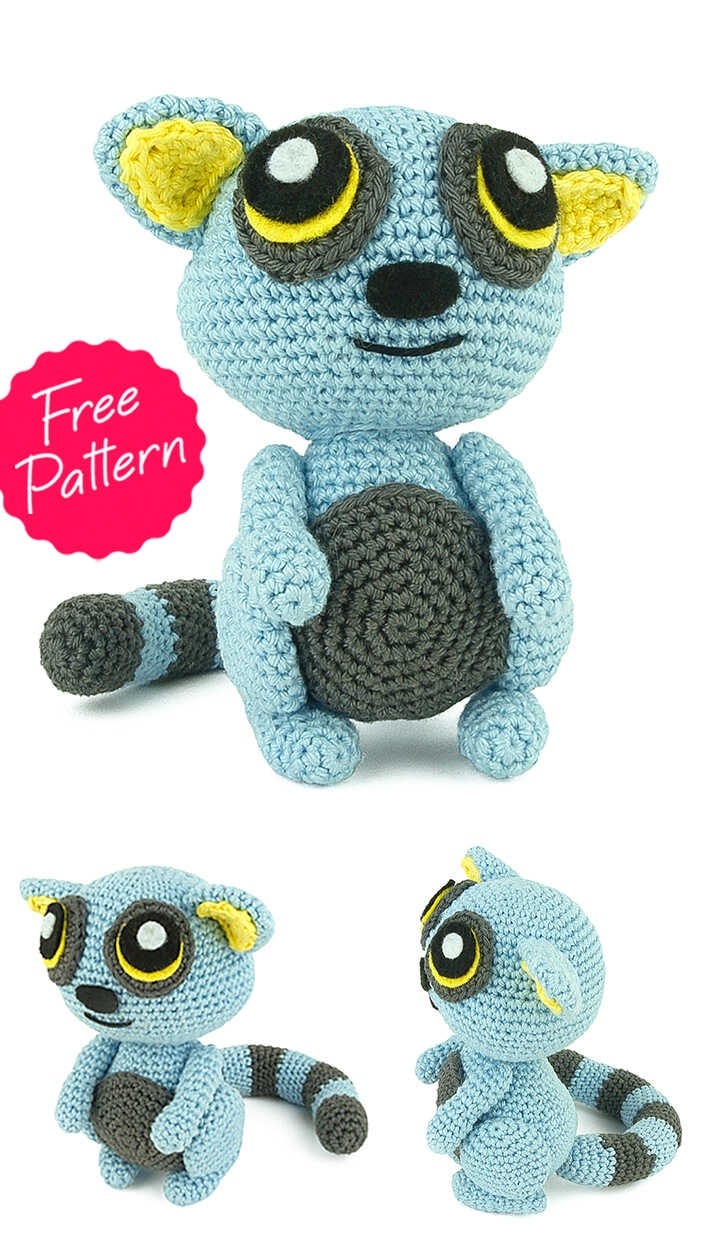 Amigurumi Blue Lemur Crochet Free Pattern
What you see here is a very rare lemur species, also known as the Blue Lemur. There are only 2 in the whole world 🙂 This lemur is about 12 cm tall. With this free crochet pattern you can make sure they don't extinct,
via Sabrina's Crochet, Ravelry.com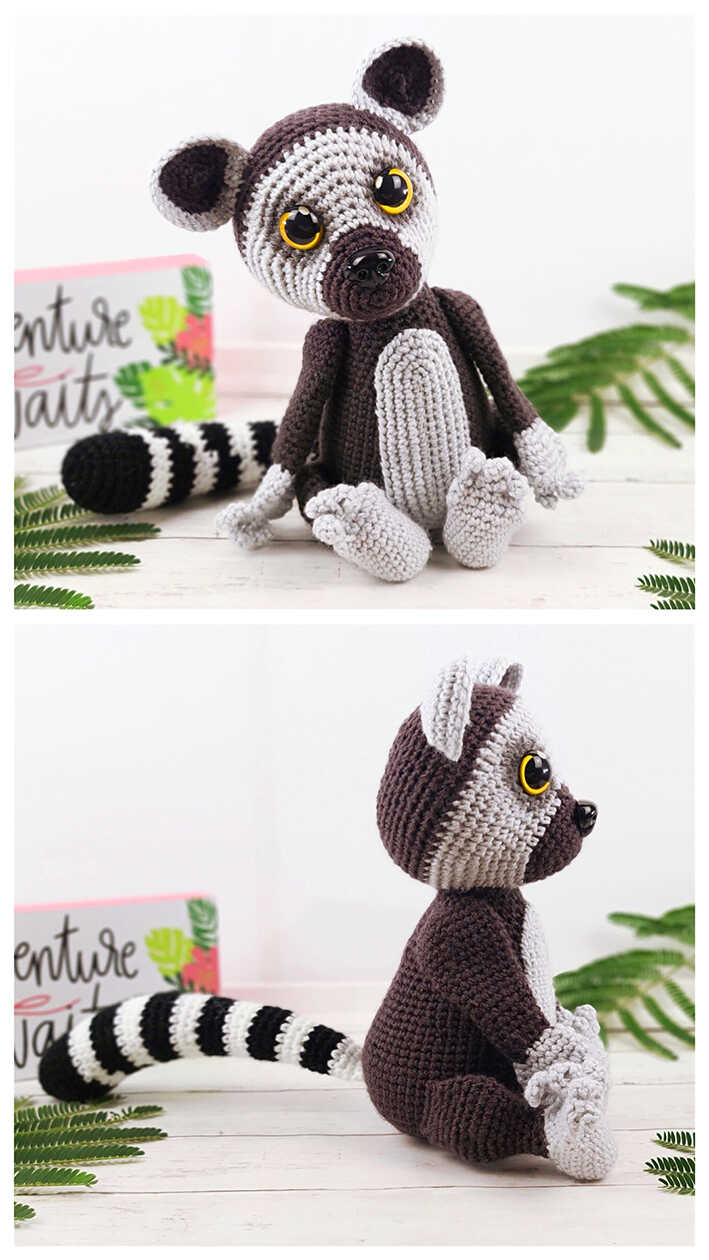 Crochet Lemur Amigurumi Pattern
Large measures 13″ (35 cm) tall when using a D hook mini measures 7″ tall when using a D hook.
via SweetOddityArt, Etsy.com
Crochet Pattern Amigurumi Lemur
Using these materials, the finished toy is 10" (26cm).
You can crochet a toy from any other yarn, but you will have to choose the size of the hook and yarn by yourself.
via AmigurumiEstonia, Etsy.com
Amigurumi Crochet Pattern Ring-tailed Lemur
This is Loki, the ring-tailed lemur. He is very social and always up for a good chat. But most of all he loves to cuddle! If done with DK/light worsted yarn (for example Merino 120 from Lang Yarns) and a size E (3.5 mm) hook, your lemur will be about 9.5" (24 cm) tall, from head to toe.
via YukiYarnDesigns, Etsy.com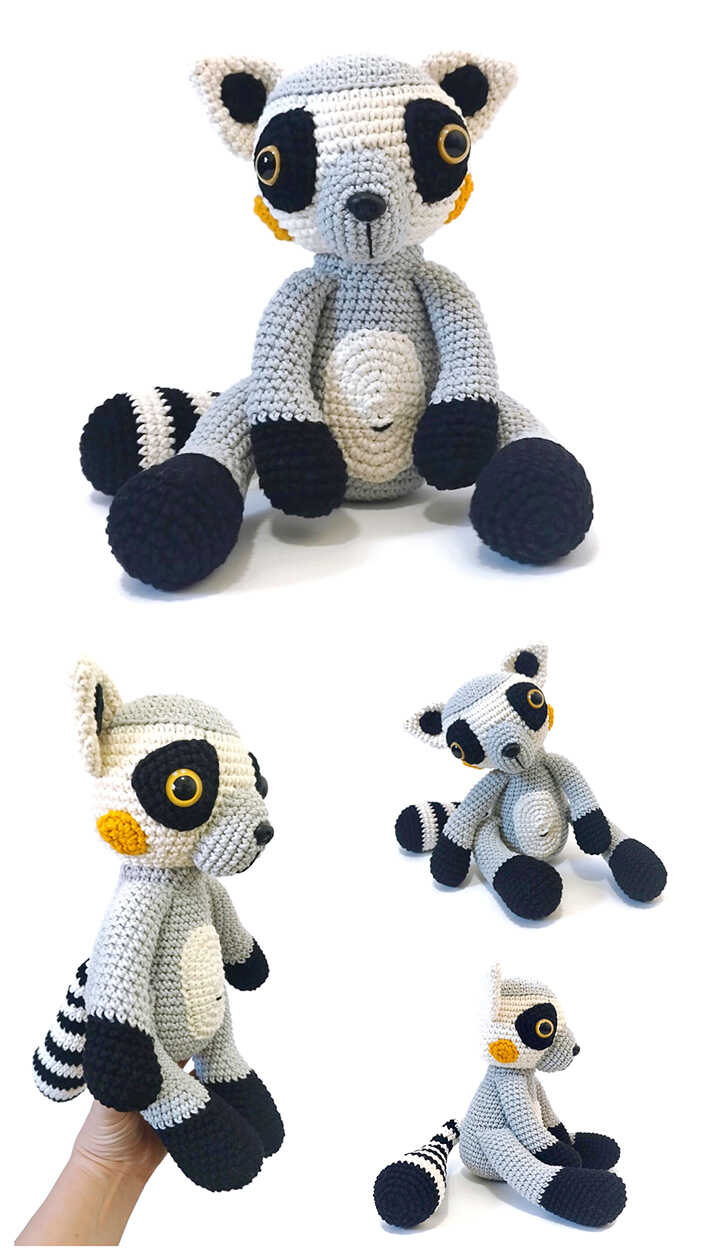 Larry Lemur Amigurumi Crochet Pattern
The pdf pattern is 9 pages including "step by step" pictures of the sewing parts.
Size: If you use similar yarn and crochet hook as me your lemur will be about:
• Height: 36 cm/ 14 inches
• Width: 22 cm/ 9 inches
• Depth: 30 cm/ 11.8 inches
via KimFriis, Etsy.com
Amigurumi Crochet Lemur Rattle Pattern
Crochet your Lemur rattle with this easy to follow crochet pattern.
It's a very quick and easy project, and in no time you'll have a cute baby teether ring.
This amigurumi rattle pattern will help you to create a cute crochet lemur rattle for your beloved baby.
via MiLeoStore, Etsy.com
Lemur Amigurumi Crochet Pattern
Make your own adorable amigurumi ring-tailed lemur!
Using the listed materials, the finished lemur will end up approximately 12cm (4.7") in height.
via PatchCatCrafts, Etsy.com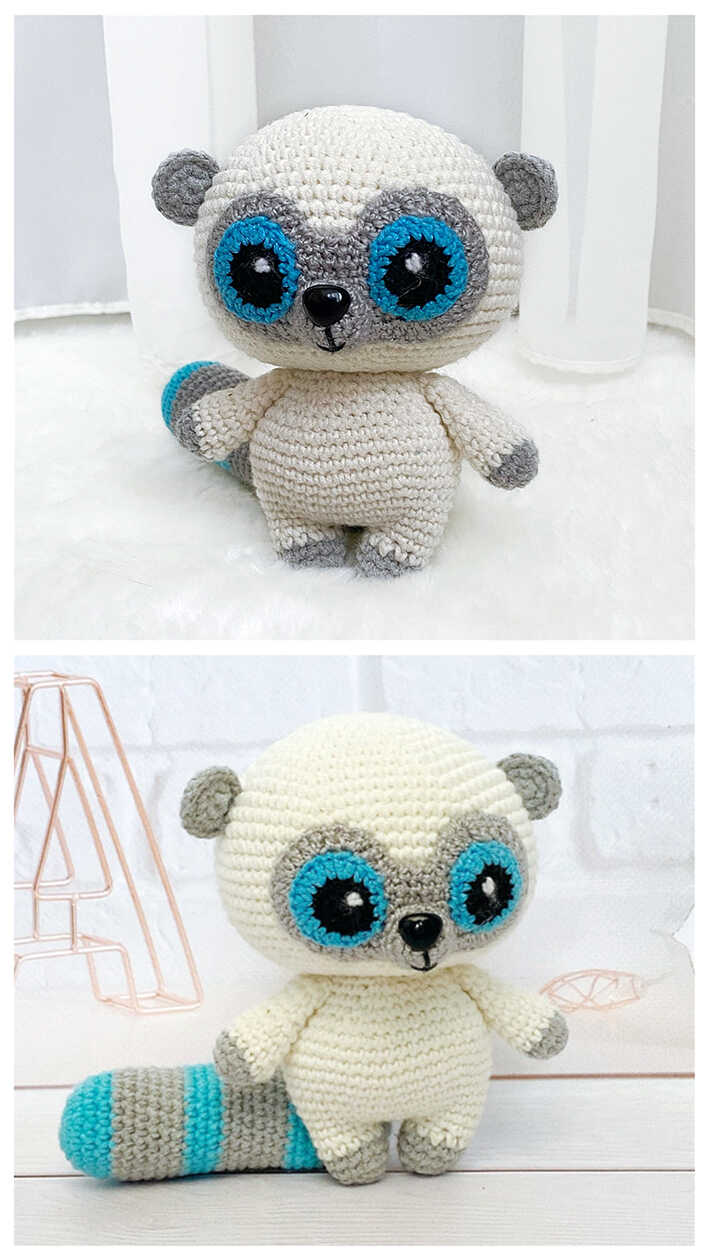 Crochet Pattern Lemur Toy
With this pattern you can crochet your own Lemur. The toys will be about 5.5″ tall.
via SvetlaArtShop, Etsy.com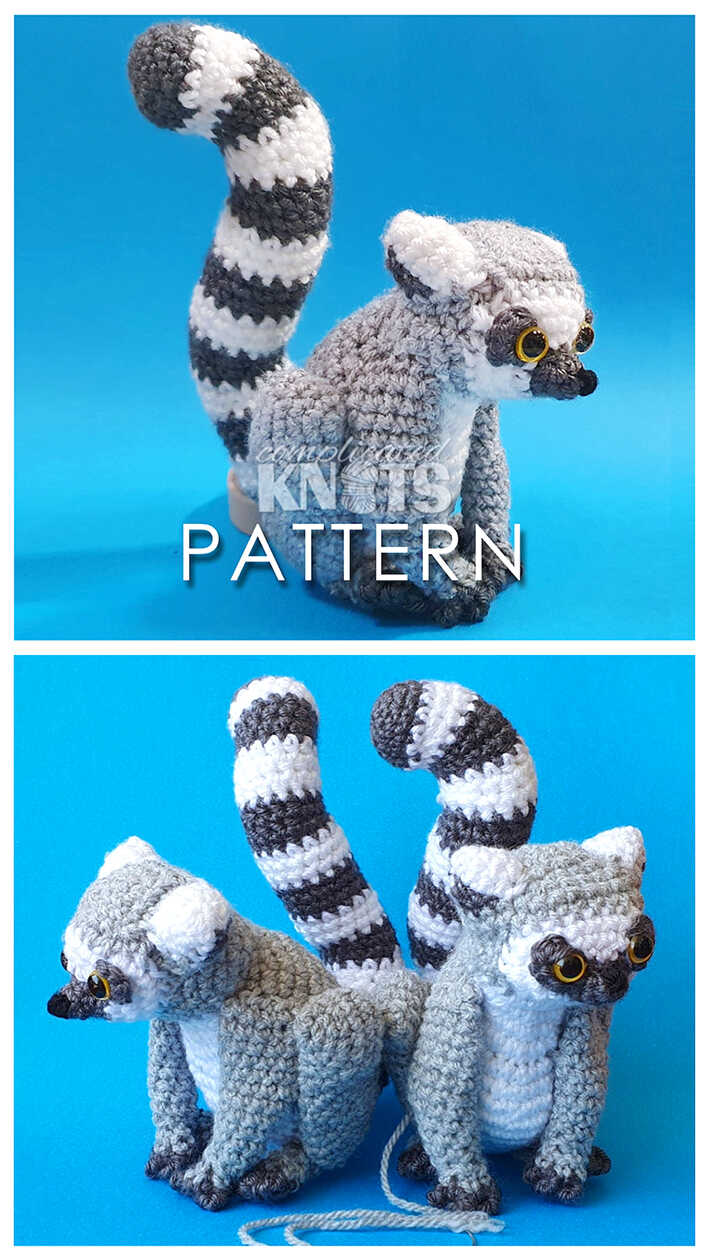 Crochet Pattern Amigurumi Lemur
Those who wish can find step-by-step tutorials of this beautiful pattern for free on Youtube…
via Complicatedknots, Etsy.com
Julian the Ringtailed Lemur Amigurumi Crochet Pattern
This silly lemur is tricky to make, but the end result will put a smile on a lot of peoples faces. For example it is a great addition to a kids room. The final lemur is around 52cm tall (from head to tail).
via YarnZooStore, Etsy.com