Great Amigurumi Bunny Crochet Patterns
We found 15 awesome amigurumi bunny patterns for you, including free patterns. These amigurumi bunnies, each more cute than the other, will be the perfect toys for your children's room. Pin the bunnies you like, share them with your friends…
Lop-Eared Bunny Amigurumi Free Pattern
The Lop-eared bunny is a super-soft and squishy, lovable round pal. The marshmallow-like feel of this amigurumi makes it the perfect companion for endless snuggles.
via amigurumi.today
Crochet Bunny Amigurumi Tutorial
The PDF step by step explanations and many detailed photos, so that you can easily crochet this amigurumi doll all by yourself.
via HappyCrochetEtc, Etsy.com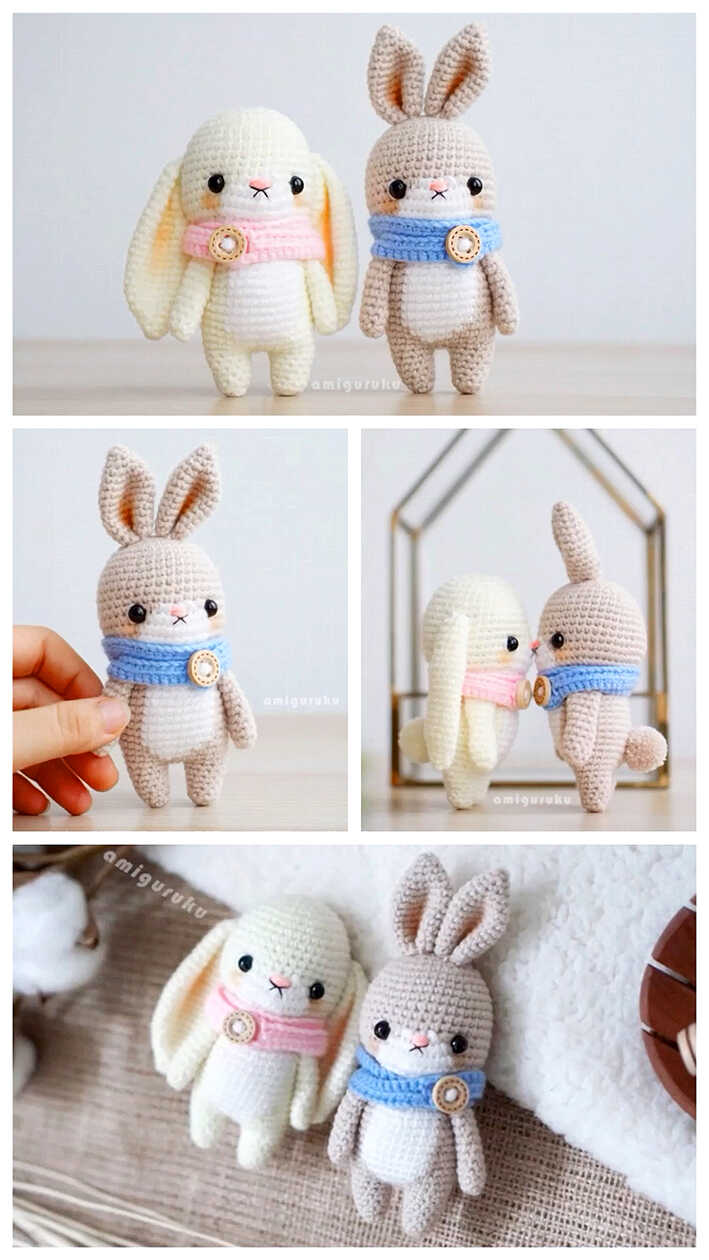 Crochet Pattern of Kiyomi and Cho the Bunny Couple Amigurumi
This crochet pattern contains a detailed description of how to create Kiyomi & Cho the Bunny Couple, with a great amount of step-by-step photos and a list of necessary materials.
via amiguruku, Etsy.com
Easter Bunny Amigurumi Crochet Free Pattern
This pattern will show you not only how to make a cute bunny, but also a variety of flowers for his miniature flower crown.
via zoecreates.co.uk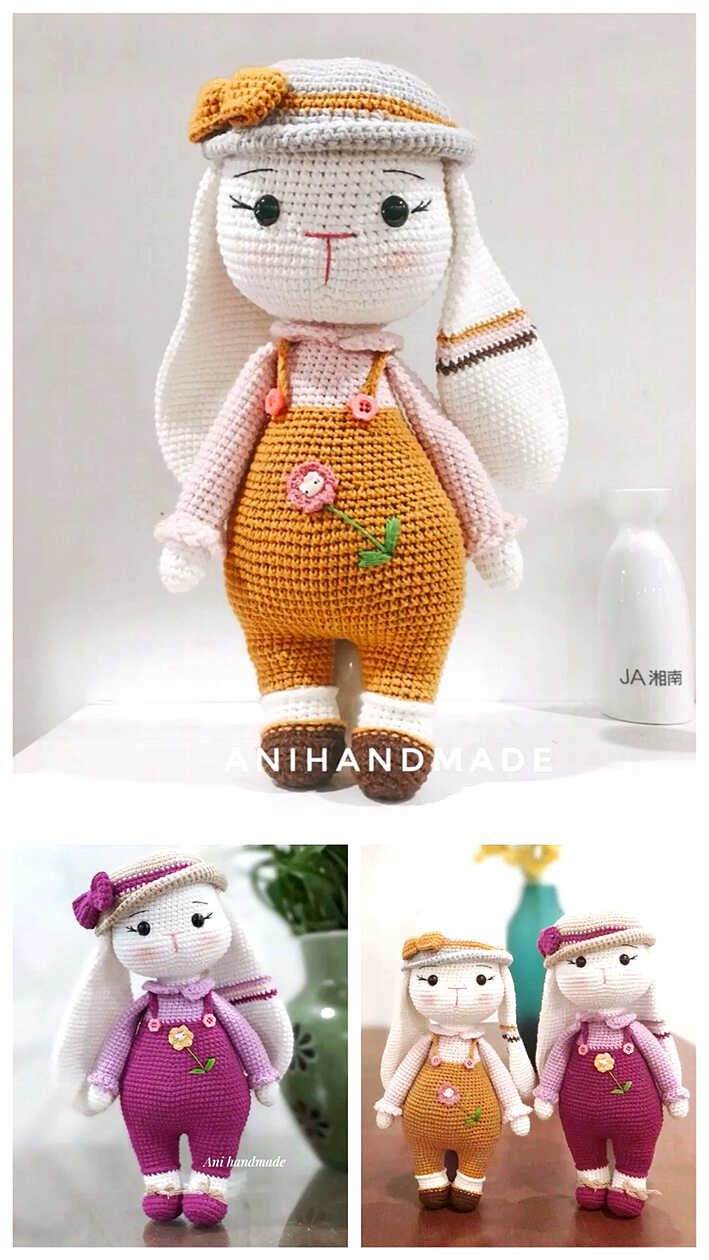 Amigurumi Bunny Crochet Pattern
The Lulu Bunny is about 27cm tall if crochetd crochet hook size 2.3mm ( I used Jeans Art Jeans)
via AnihandmadehouseVN, Etsy.com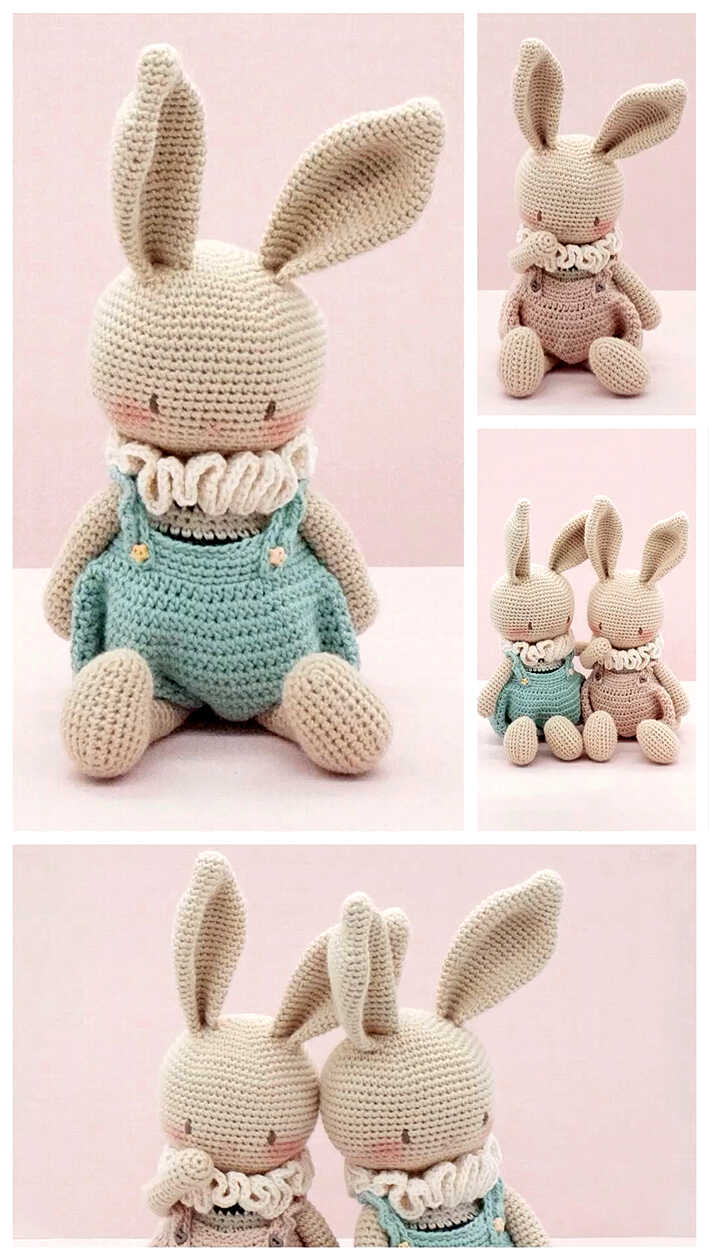 Honey The Bunny Rabbit Doll Amigurumi Crochet Pattern
Honey the bunny is 11 inches / 28 cm tall if made with Krea Deluxe Organic Cotton 4-ply yarn and a 2.5 mm crochet hook.
via TheLittleHookCrochet, Etsy.com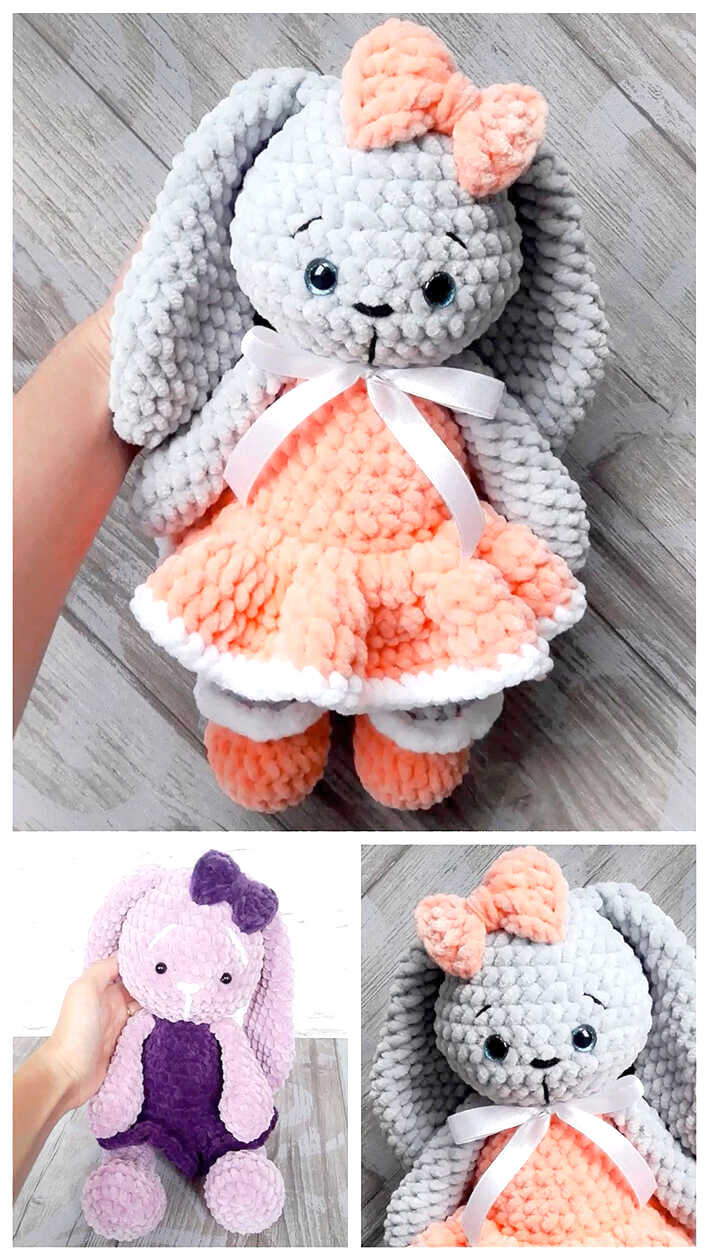 Plush Bunny in Dress Amigurumi Crochet Free Pattern
Sweet plush bunny in dress is a crochet toy by Julia Deinega. Free amigurumi bunny pattern. The height of finished amigurumi bunny is about 30 cm (11.8″).
via Julia Deinega, amigurum.com
Bunny Toy in Pink Overalls Amigurumi Crochet Pattern
This is 16 page bunny pattern includes detailed instructions with plenty of photo references to instruct you on how to crochet toy step by step.
via CuteToysVeraPatterns, Etsy.com
Easter Bunny Crochet DIY Easy Tutorial Amigurumi Crochet Pattern
Size of toys is 35 cm (13,7″). Level of difficulty is Beginner
via MamaFufaPatterns, Etsy.com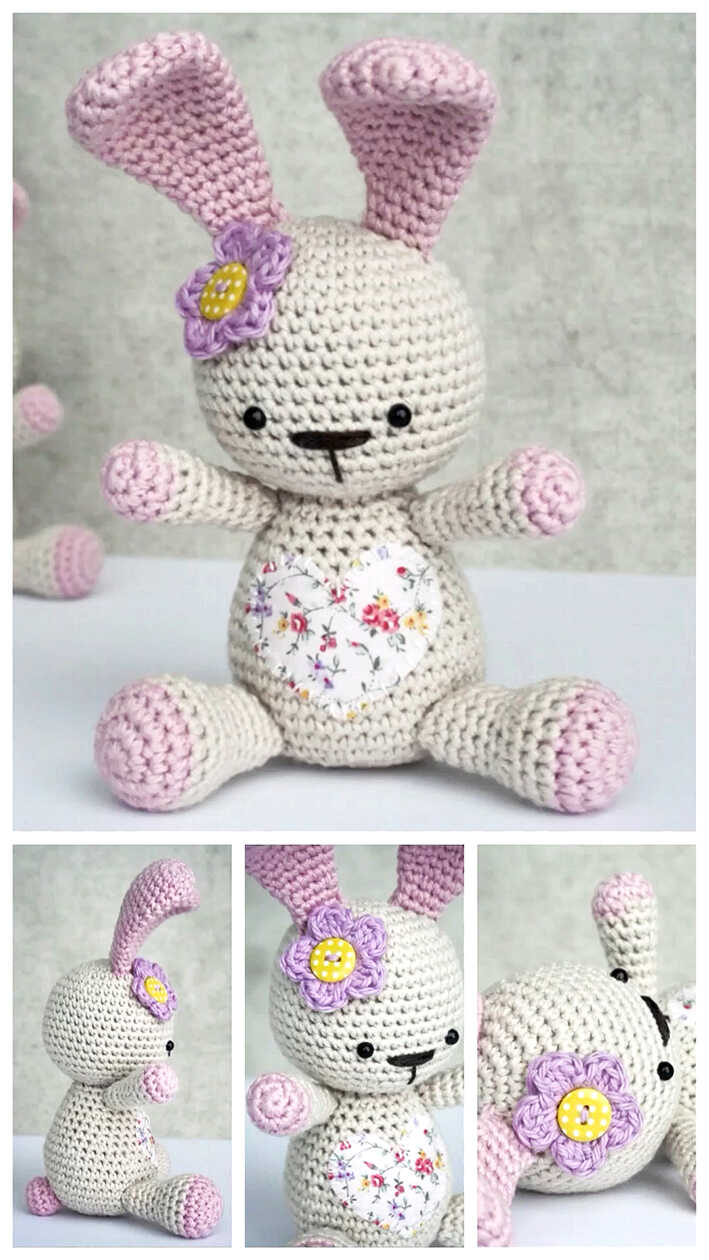 Funny Bunny Amigurumi Crochet Free Pattern
Funny Bunny is about 21 cm tall and crocheted from nine pieces. This simple toy gives a nice overview of amigurumi basics – single crochet, increasing and decreasing.
via lilleliis.com
Crochet Bunny (included carrot bag, collar, eye mask) – Amigurumi Pattern
– Size: 24cm inclued the ears
– Level: Easy
via Tranguyenamishop, Etsy.com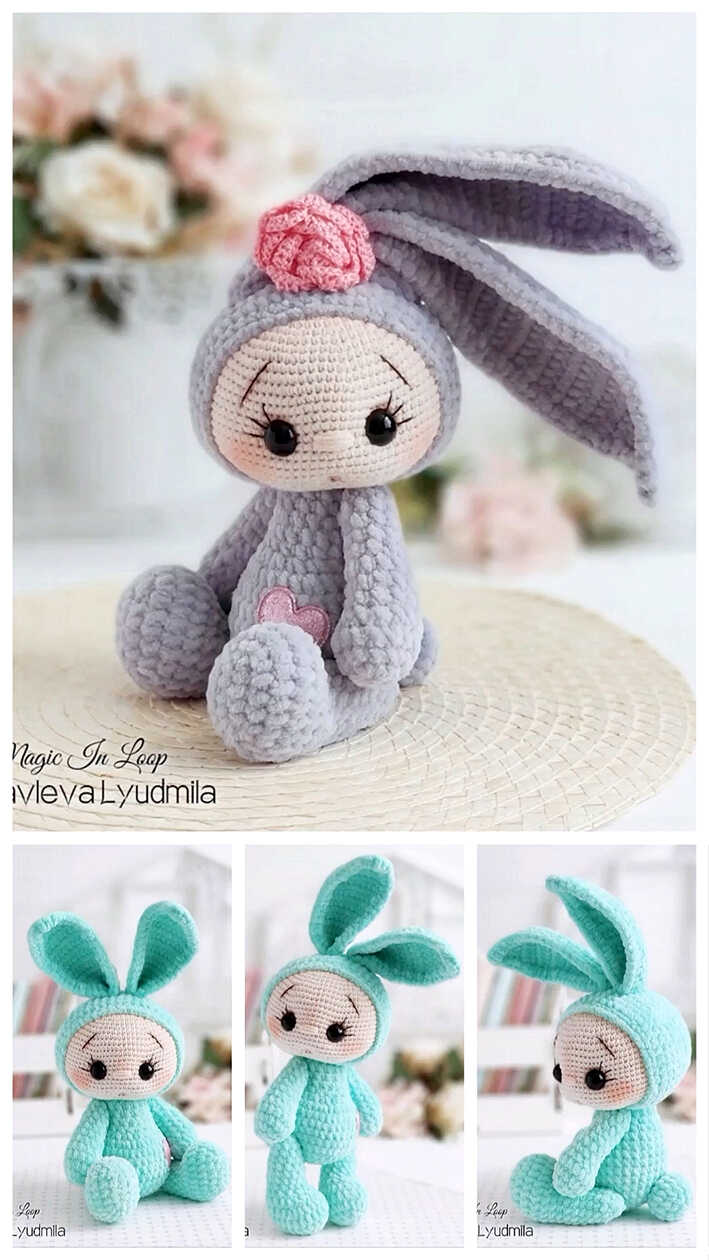 Amigurumi Plush Bunny Crochet Pattern
Skill level: medium. Don't worry if you're a beginner, the template includes detailed instructions that are easy to follow.
via MagicInLoop, Etsy.com
Cute Bunny Amigurumi Crochet Free Pattern
A cutie bunny pattern that is simple and easy for beginners to practice on amigurumi designs.
via lenxinh.com, Ravelry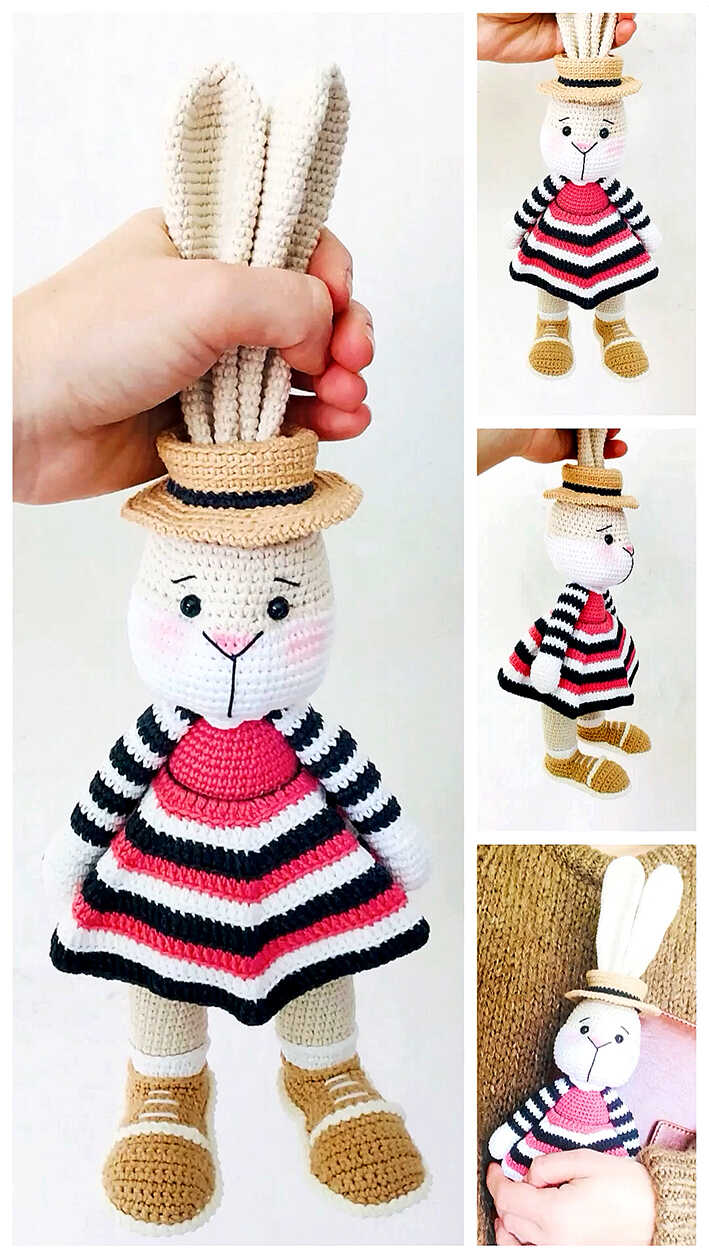 Amigurumi Bunny Ruby Crochet Pattern
Pdf Pattern contains detailed instructions and photos tutorials to guide you through the process of creating the bunny and the outfit. The size of the toy is about 35 cm/13 in
via Oxana Tim, Ravelry.com
Rabbit Bunny Amigurumi Crochet Pattern
Using the yarn and hook size indicated, the dimensions of the finished doll will be 20cm / 11 cm ( 7.8 inches)
via Ines Abad, Ravelry.com