Stylish Beach Bag Crochet Patterns
The sea season has finally opened. How about using your own crochet beach bag at the beach this summer? Even if you have never made a crochet beach bag before, don't worry, you can easily make a beautiful beach bag with the patterns we have chosen for you. A beautiful holiday awaits you with these stylish bags. Don't forget to pin and share the patterns you like. Happy Holidays….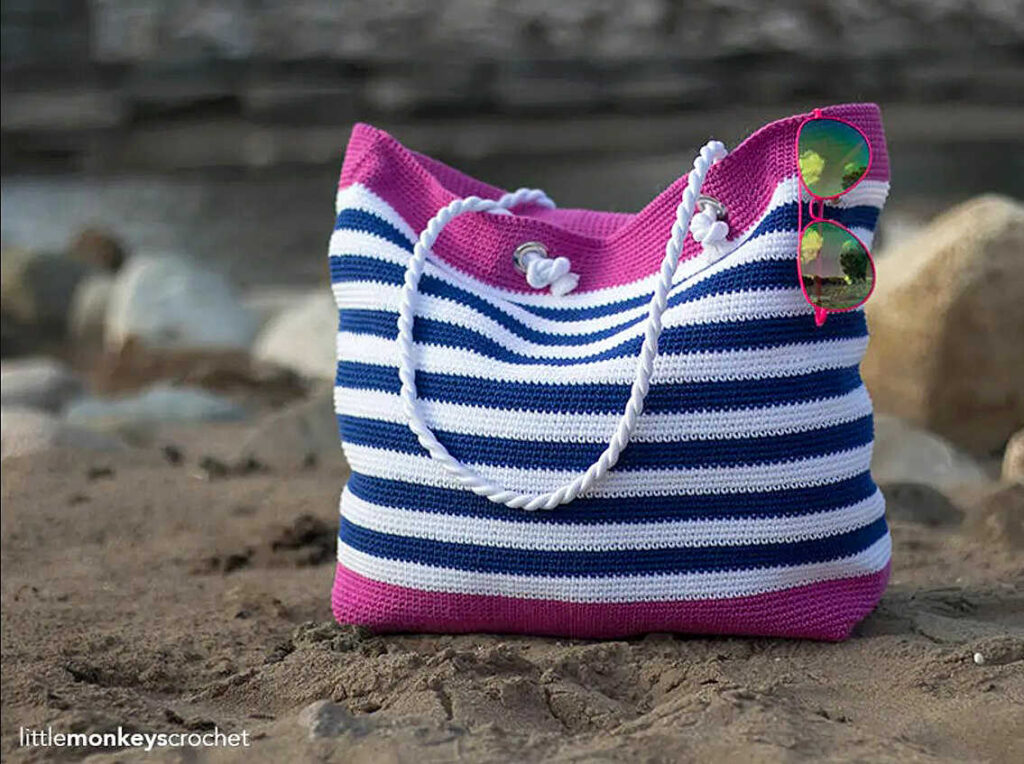 Classic Beach Bag
Confident beginner could make this bag easily. It has a very classic nautical-style pattern.
via yarnandchai.com
Turtle Beach Tote Crochet Bag Pattern
A tote for lazy days at the beach, lake, pool, and beyond! Cute little turtles add a pop of color to a generously sized tote designed to hold all the essentials.
via TheHatandI, Etsy.com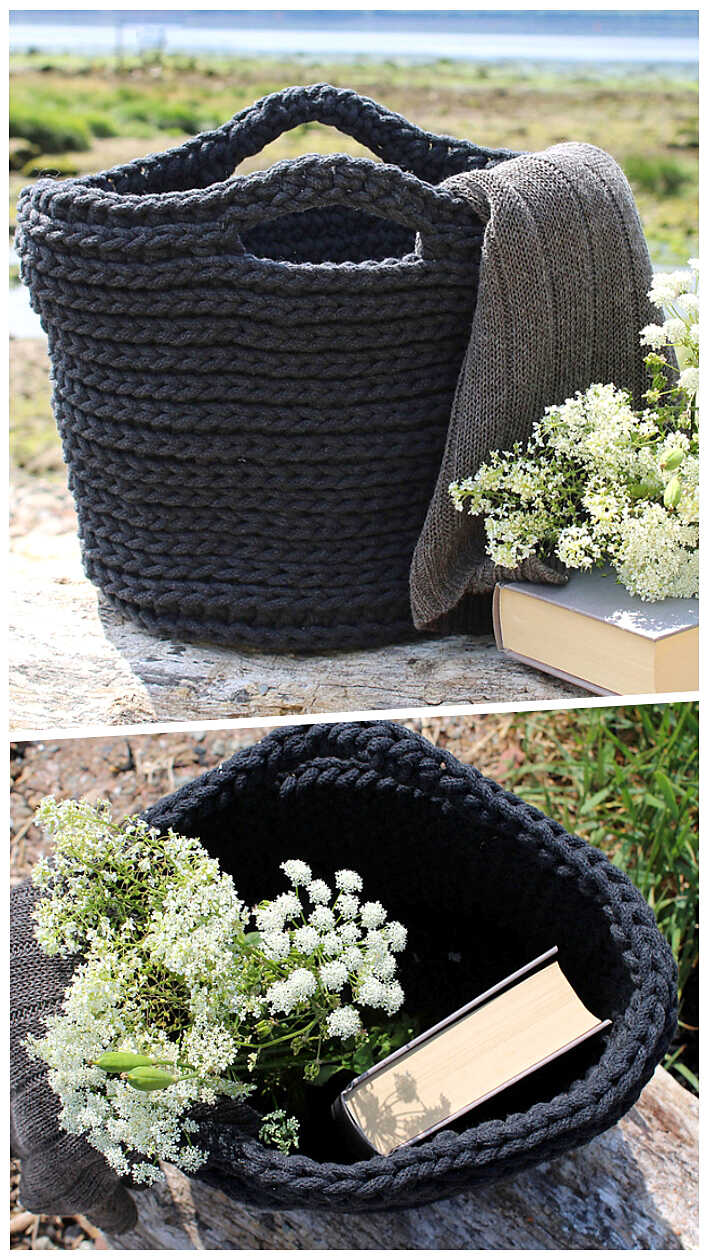 Life's a Beach Bag Crochet Pattern
A larger bag with short handles perfect for packing a few essentials for a trip to the seaside or for taking on a small shopping spree! The bag is approximately 30cm tall x 19cm diameter at the base tapering to around 40cm at the top.
via Sew Silly Lily, Ravelry.com
Crochet Pattern "Nautical Knots" Beach Bag
Nautical Knots Beach Bag is the perfect for beach days! This bag is strong and sturdy, making it great for carrying around towels, clothes, shoes, and even snacks.
via ACrochetedSimplicity, Etsy.com
Starfish and Sand Dollars Beach Bag Crochet Pattern
This Starfish and Sand Dollars Beach Bag is absolutely great! You can fit all your beach gear inside, or maybe some treasures from the market, or even several skeins of yarn! Finished model measures 13.5″ wide x 14.5″ tall, plus straps.
via TNTPatterns, Etsy.com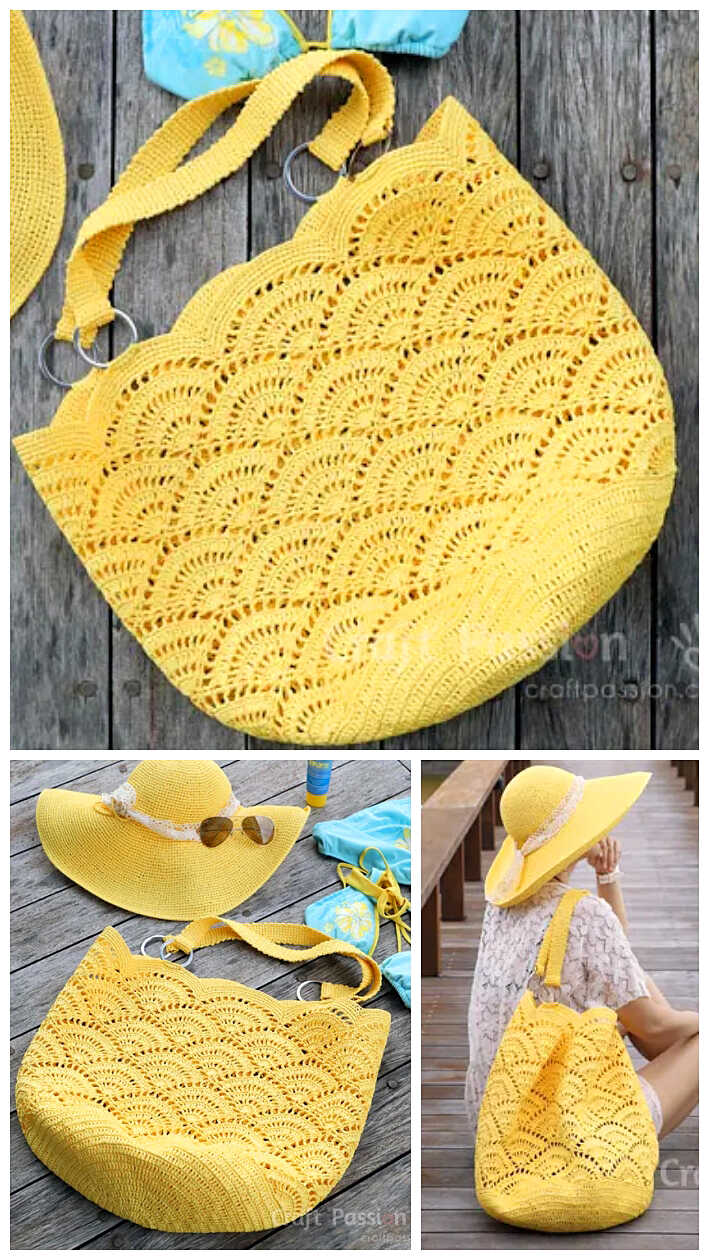 Crochet Beach Bag With Giant Shell Stitch
The gorgeous giant shell stitch design and the scallop edges make the beach tote unique while cast on a character. This oversized crochet beach tote has a round base of about 15.5″ in diameter, and the body (including the shoulder straps) is about 25″ tall.
via craftpassion.com
Crochet Beach Bag
Perfect to tote to the beach or market, yet stylish enough for everyday! Made very sturdy, to hold a lot of weight without a lot of stretching out.
via SimplyMadeByErin, Etsy.com
Marina Tote- Free Crochet Beach Bag Pattern
Create your own classic hand-crocheted beach bag to carry all of your beach essentials in style by following this simple pattern.
via knitpaintsew.com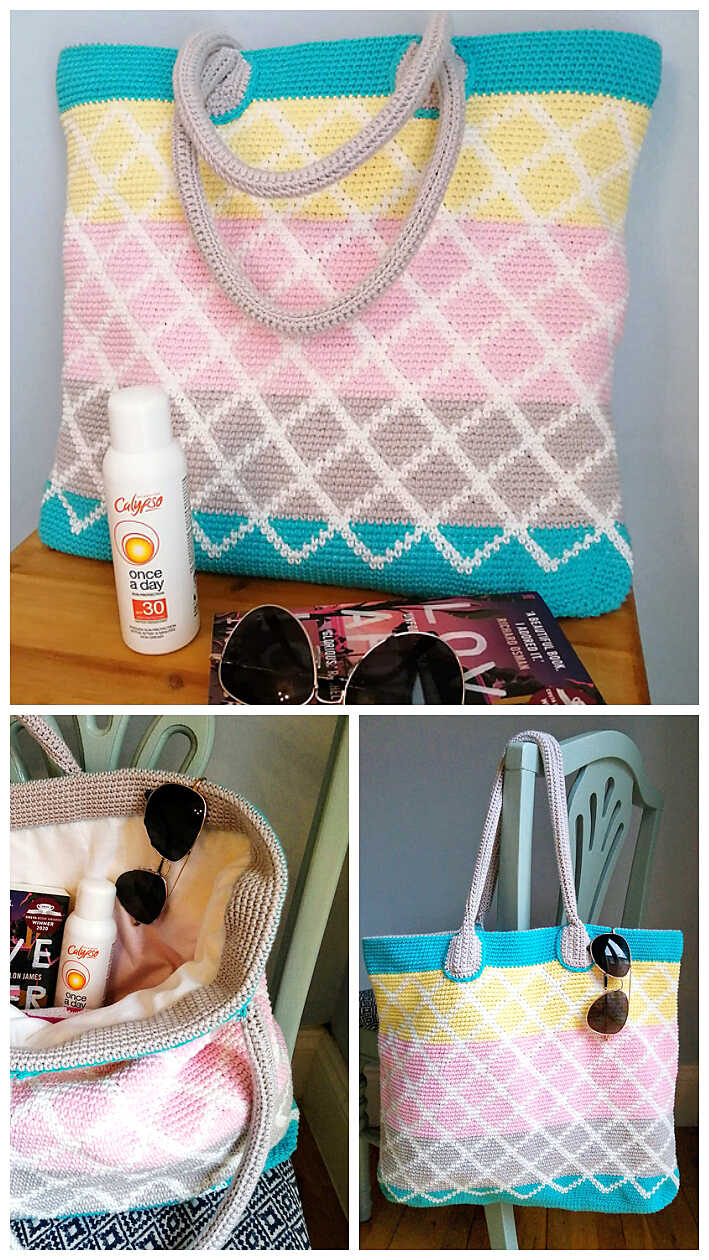 Neapolitan Beach Bag Crochet Pattern
This crochet beach bag is the answer to your beachside wishes. It's is as pretty as it's practical. Large and light, this crochet summer beach tote is fun to take along.
via Andrea Leek, Ravelry.com
Crochet Beach Bag Pattern
A beach bag that fits everything you need: a towel or a beach blanket, a good book, the latest fashion magazine, a hairbrush and whatever else you need for the fun day in the sun.
via BusyPaws, Etsy.com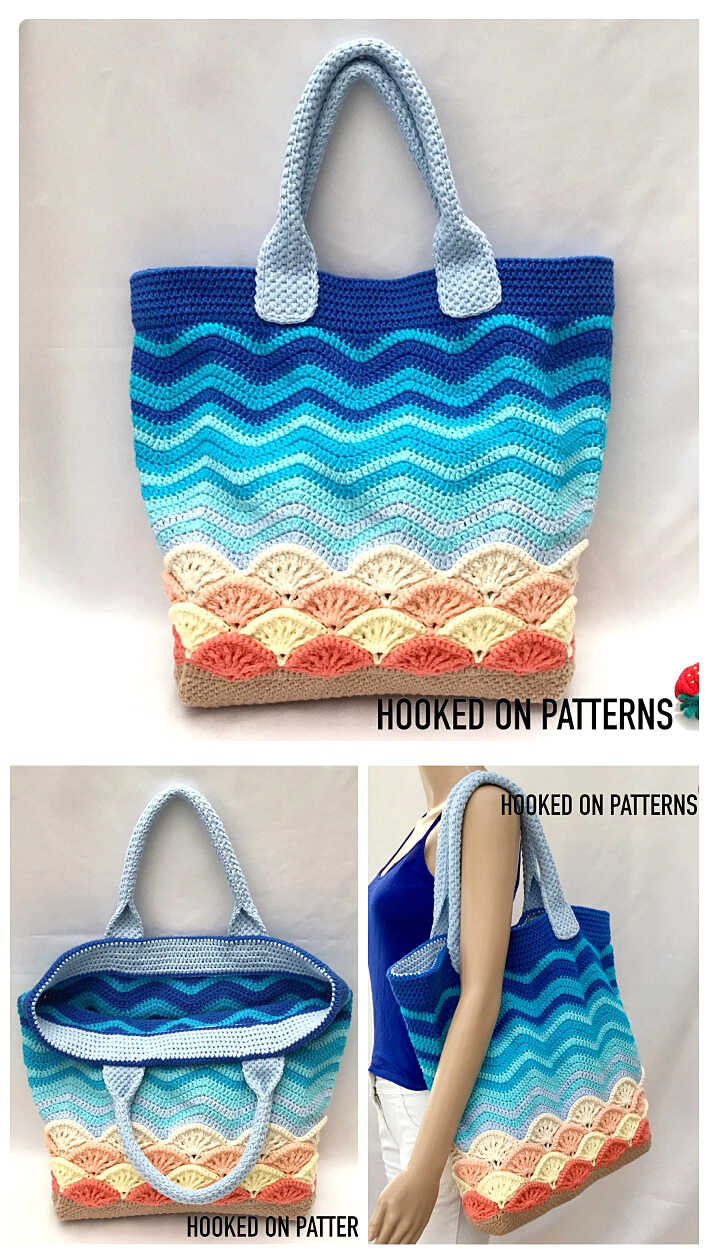 Sea Shells Beach Bag Crochet Pattern
This beach bag crochet pattern is for a large tote bag with a beach themed design. There is plenty of room in the bag to carry a large beach towel, sunscreen/lotions, swimwear, a beach cover/other clothing, and more!
via HookedoPatterns, Etsy.com
Beach Bag Crochet Pattern
This crochet bag pattern is not only a summer staple you can use again and again but it's really easy to make.
via HandyLittleMe, Etsy.com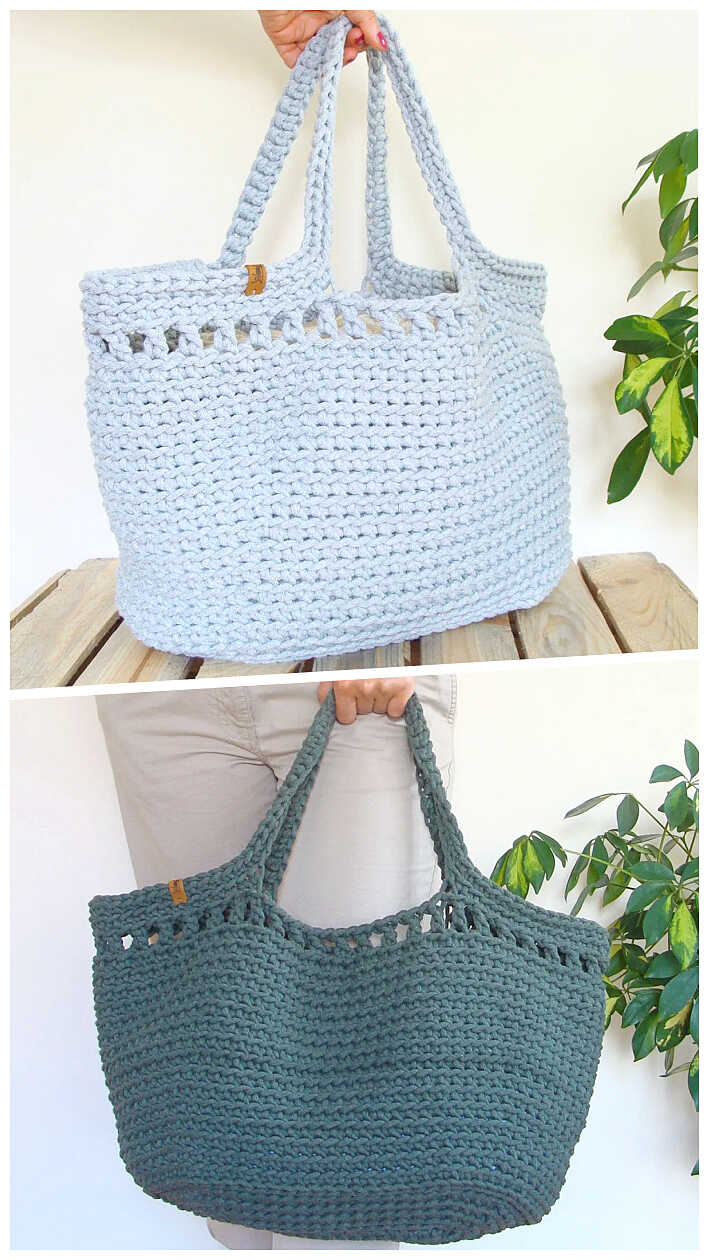 Beach Bag Crochet Pattern
Large model, this crochet bag is irreplaceable during summer days on the beach. Either as a summer accessory, as a beach bag or everyday bag – it's comfortable in using..
via WoolFansPatterns, Etsy.com
Summer Sand Beach Bag Crochet Pattern
This Summer Sand Beach Bag is perfect for toting all of your essentials to the beach or pool. It's also great used as a market bag for when you visit those Farmer's Markets!
via LoopyChicCrochet, Ravelry.com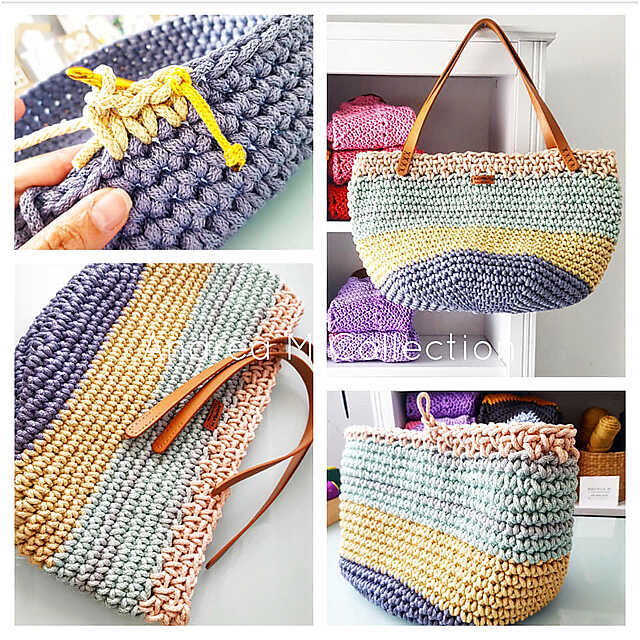 Rope Beach Bag Crochet Pattern
This beach bag size ideal for all you necessities for the day. Fill it with your beach towel, sunscreen, book, water and a snack and you'll be ready to go!
via Andrea Marton, Ravelry.com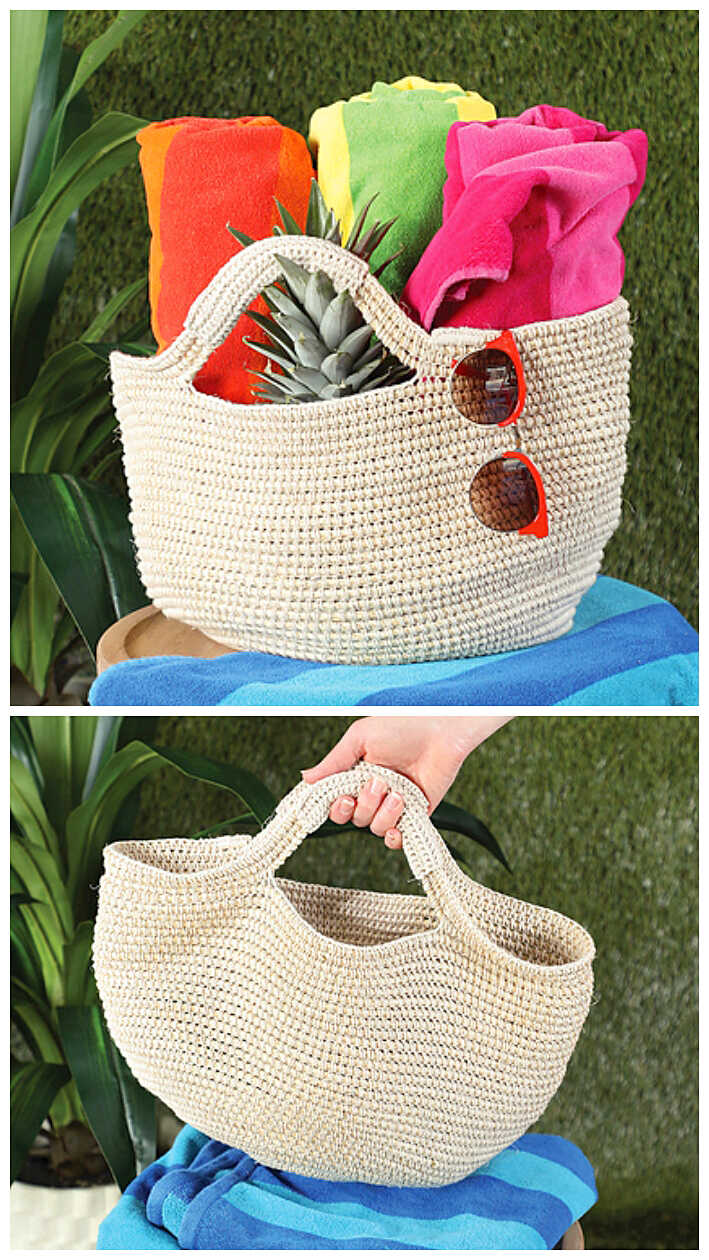 Sun & Sand Beach Bag Crochet Pattern
The Sun & Sand Beach Bag combines rope and yarn for a unique beach-ready tote. The generous size means there is plenty of room to hold all your summer essentials.
via Quayln Stark, Ravelry.com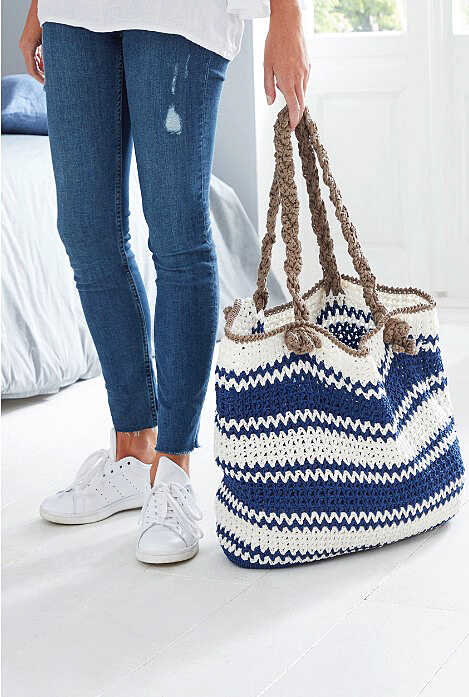 Sea-bylle Beach Bag Crochet Pattern
The mediterranean color combination in blue and white is perfect for this roomy beach bag (approx. 56 cm/22 in. wide, height 40 cm/15.7 in.) worked in Catania Grande.
via Jennifer Stiller, schachenmayr.com