Awesome Amigurumi Turtle Crochet Patterns
Here are 15 awesome ideas for amigurumi turtle patterns. It will be very enjoyable to make your own crochet turtle with these patterns we share. All you have to do is pick up your favorite yarn and hook. Don't forget to pin your favourites.
Nala the No-Sew Turtle – Free Crochet Pattern
There is no sewing required in the entire pattern! Another super fun design feature is that Nala's shell is removable! Which means you can change up the colors of your turtle as often as you want!
via thenicolechase.com
Amigurumi Crochet Turtle Leia, PDF Pattern
Toy's size: 13 cm (5,1 inch) Level: intermediate
via Toysneed, Etsy.com
Amigurumi Crochet Turtle Pattern – Miss Turtle
She wears stylish pink hat on her head and is very happy when her boyfriend is somewhere around.
via pepika, Etsy.com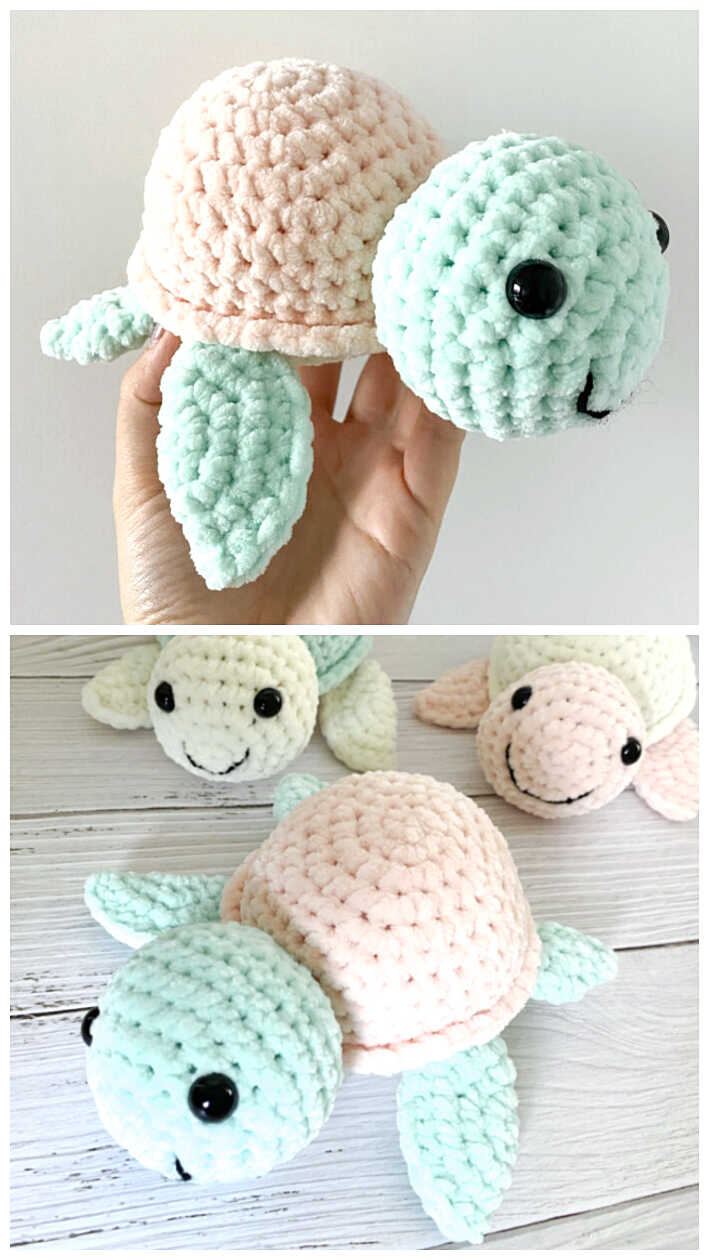 Plush Turtle Free Crochet Pattern
Crochet cute turtles for your family and friends! I am sure they will love it!
via abigurumii.com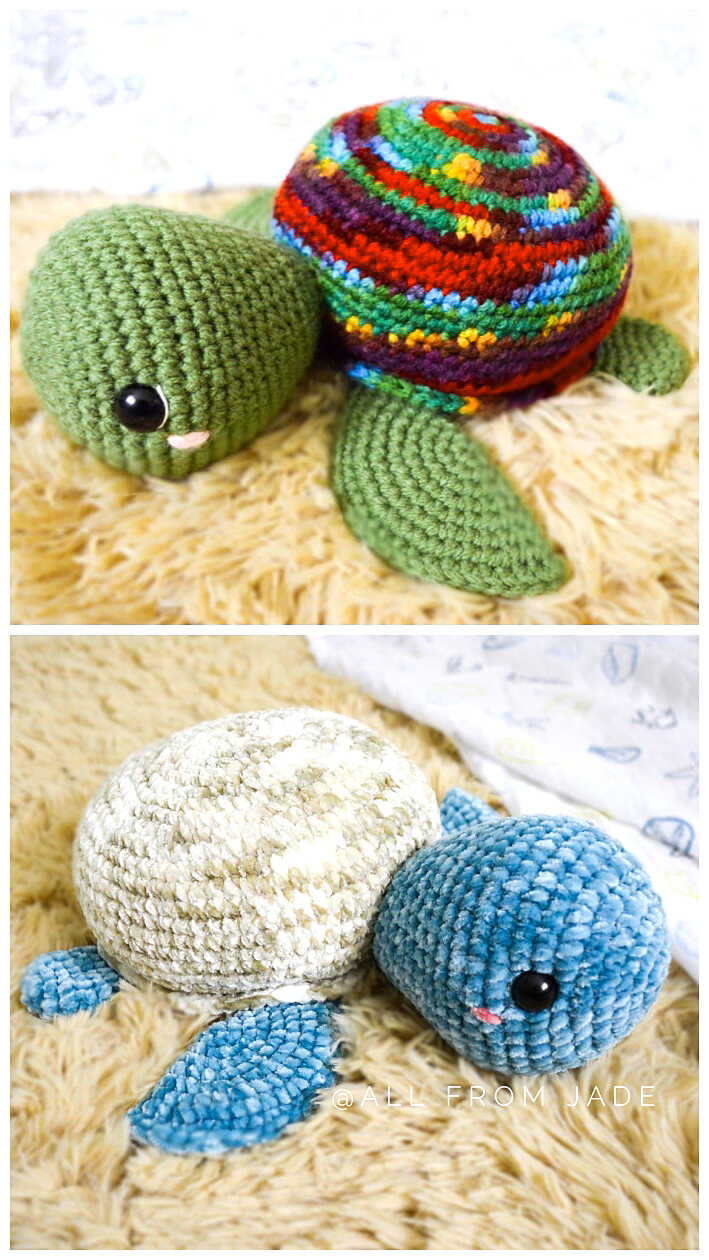 Tara the Turtle Mom and Her Babies
With these patterns, you will be able to make Tara the Turtle Mom and her babies. This is the perfect project for beginner crocheters.
via AllFromJade, Etsy.com
Shell the Baby Sea Turtle Crochet Pattern
Create your own baby sea turtle in just a couple hours! Only basic crocheting skills will be needed. Final measurement for the finished baby sea turtle will be 4 inches (10 cm) tall and 5 inches (12.7 cm) long.
via TheresasCrochetShop, Etsy.com
Theo the Turtle Free Crochet Pattern
Say hello to the cutest turtle, Theo. He's a lovely little guy who loves playing American football with his friends.
via PifPaf, hobbii.com
Willy the Turtle Amigurumi Crochet Pattern
Willy the Turtle is the perfect friend for your child, sweet and charming, you can customize it as you like. It's also a fantastic gift !! Sure you will have fun making it.
via ChiquiPork, Etsy.com
Amigurumi Turtle Crochet Pattern
Crochet projects don't have to be big to boost your spirit and self esteem and to bring a smile to your face.
via CrochetToysBasket, Etsy.com
Amigurumi Turtle Free Crochet Pattern
So, have you grabbed your hook and yarn yet?…It's crochet time!
via Zhaya Designs, Ravelry.com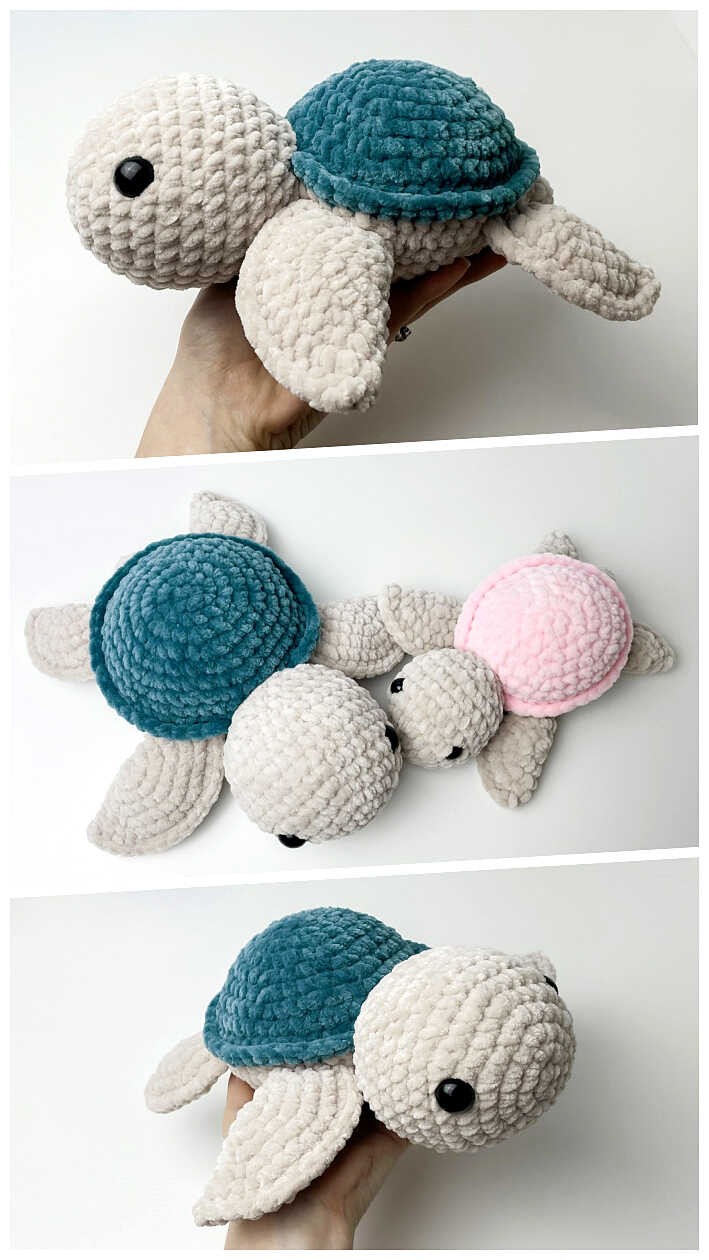 Amigurumi Large Crochet Turtle Pattern
Tammy Turtle is a larger version of her little brother, Terry Turtle. Difficulty level: Beginner/ Intermediate. Size: 25cm/ 10 inch long depending on materials used
via RoseAndLilyCrochet, Etsy.com
Little Turtle Amigurumi Crochet Pattern
With the specified material, the turtle is about 10 cm long and 4 cm high and is therefore ideal as a baby rattle, trailer for stroller chains, mobiles or for the Maxicosi.
via PetitBonnet, Etsy.com
Turtle Sjef Free Crochet Pattern
Do you like turtles just as much as Annemarie from CuteDutch does? Turtle Sjef is a super cute toy, who loves to go on adventures with you. With his lovely colours it is a remarkable creature in the ocean. You only have to crochet him yourself.
via Durable Yarn, Ravelry.com
Sammie the Turtle Pine Tree Shell Crochet Pattern
Sammie wanted a more neutral option for decorating his shell this year, so he went with a pine tree theme! The spike stitches mimic the branches of a pine tree while the alternating colors give the shell a snowy feel. Plus, this pattern can easily give off delicate snowflake vibes just by changing up the colors!
via Chanel Beauchamp, Ravelry.com
Amigurumi Tiny Turtle Crochet Pattern
Amigurumi crochet tiny turtle pattern is a cute little toy. These turtles make a great gift for any occasion.The height of the finished toy ~ 15 cm
via Anna Nasianok, Ravelry.com