Baby Rattle Crochet Patterns
What could be a better gift for your friend who is about to give birth? If you can knit, we're talking about Amigurumi rattles. After giving birth "What gift should I get?" Instead of panicking, pin and share the ones you like among the amigurumi rattles we have chosen for you.
Bear Baby Rattle Crochet Free Pattern
This free amigurumi pattern will help you to create a cute crochet bear rattle for your beloved baby. Every kid deserves gorgeous crochet toys, handmade with love!
via Julia Deinega, amigurum.com
Elephant Rattle Crochet Pattern
Materials: 2.0 mm hook (1 US), 2.5 mm hook (C/2 US), yarn needle, scissors, stuffing material (holofiber is recommended), plastic rattle insert, black safety eyes (8 mm), wooden ring, sewing pins, black embroidery thread, stitch marker.
via TikvaPatterns, Etsy
Koala Amigurumi Rattle Pattern
via OlyaSamToys, Etsy
Rattle Bunny Crochet Free Pattern
Here you have the pattern of a rattle bunny two-legged in English. Happy crocheting!
via Lucia Lanukas, www.lanukas.com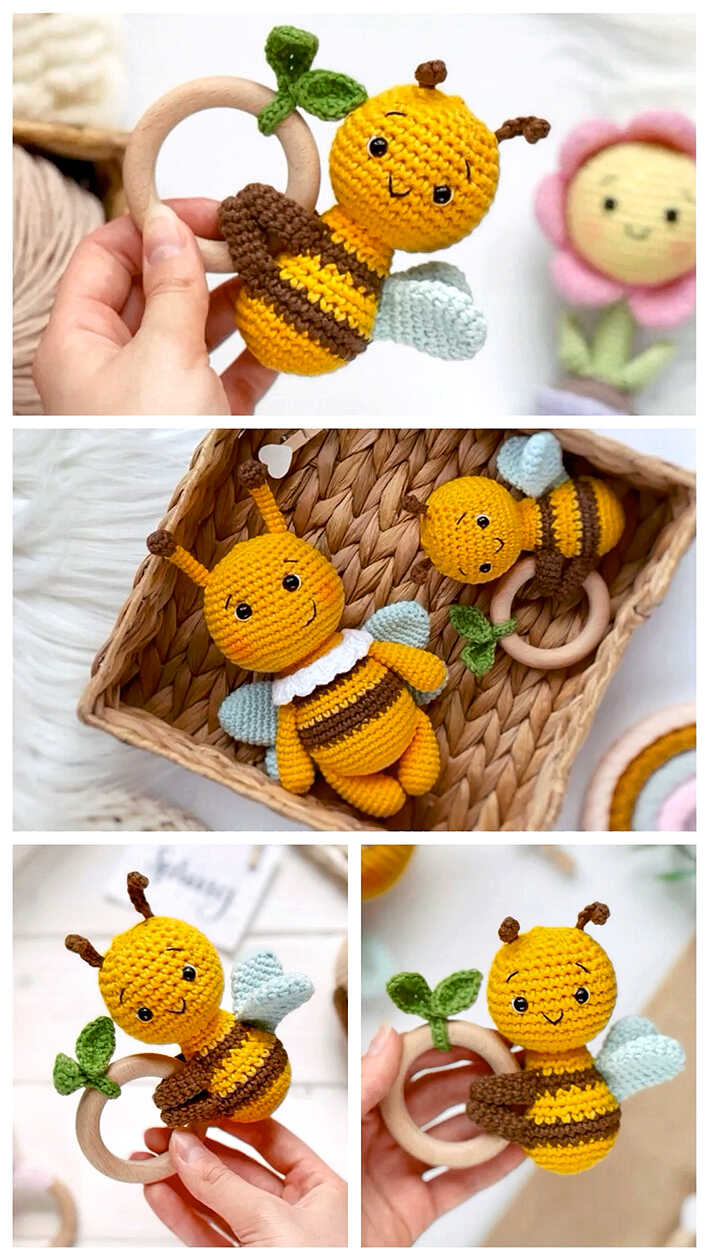 Crochet Pattern Bee Rattle
Size: When using these materials, the height of the rattle bee is about 11 cm with the whiskers, the width is about 12 cm with the ring.
via ToysByKnitFriends, Etsy
Kawaii Lemon – Rattle Amigurumi Crochet Free Pattern
Treat the little ones with an adorable homemade rattle. The rattle consists of rings in wood, which have of course been tested for non-harmful substances, and passed certification.
via Jennifer Santos – Super Cute Design, hobbii.com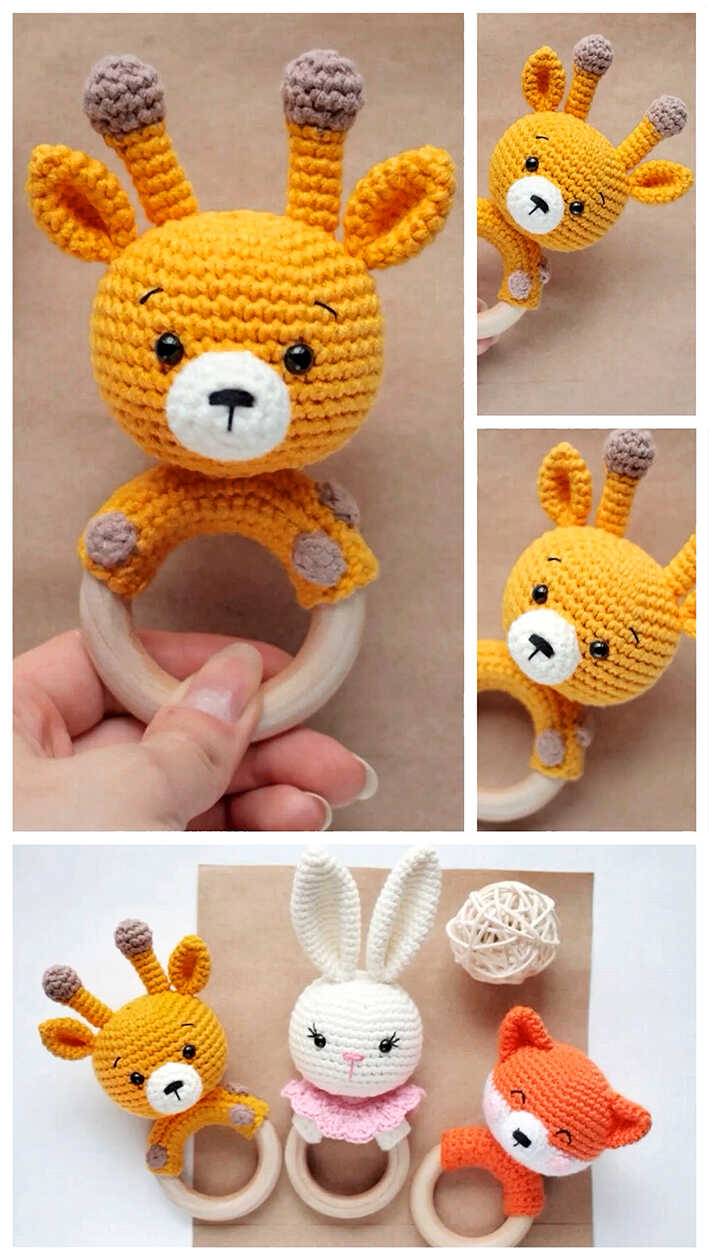 Giraffe Rattle Amigurumi Crochet Pattern
Size: 7,8 inches (20 cm) (when using yarn and crochet hook sizes from the pattern).
via ToysByKnitFriends, Etsy
Fish Rattle Amigurumi Free Pattern
via Anne Bank Nielsen, ravelry.com
Unicorn Rattle Amigurumi Crochet Pattern
via SpiritofToysStore, Etsy
Amigurumi Leon Baby Rattle Free English Pattern
Materials: 8 mm safety eyes, Yarnart jeans, Rattle, 2 no crochet hook.
via leithygurumi.com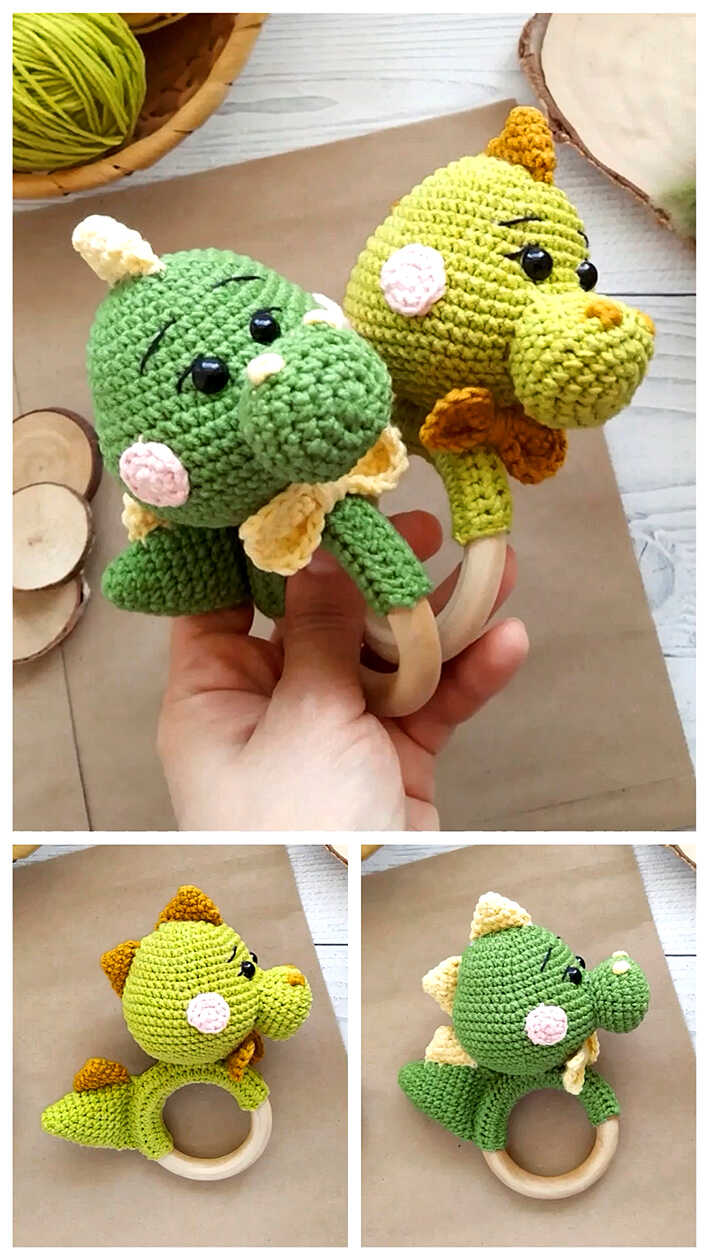 Crochet Pattern Dinosaur Rattle
via DariyaBayshToysShop, Etsy
Amigurumi Bunny Rattle + Ball Crochet Free Pattern
via blog-amourfou-crochetenglish.blogspot.com
Bunny Rattle Crochet Pattern
Available languages: English pattern, Deutsche Anleitung, Patron Francais, Patron Español, Italiano
via lululovesthemoon, Etsy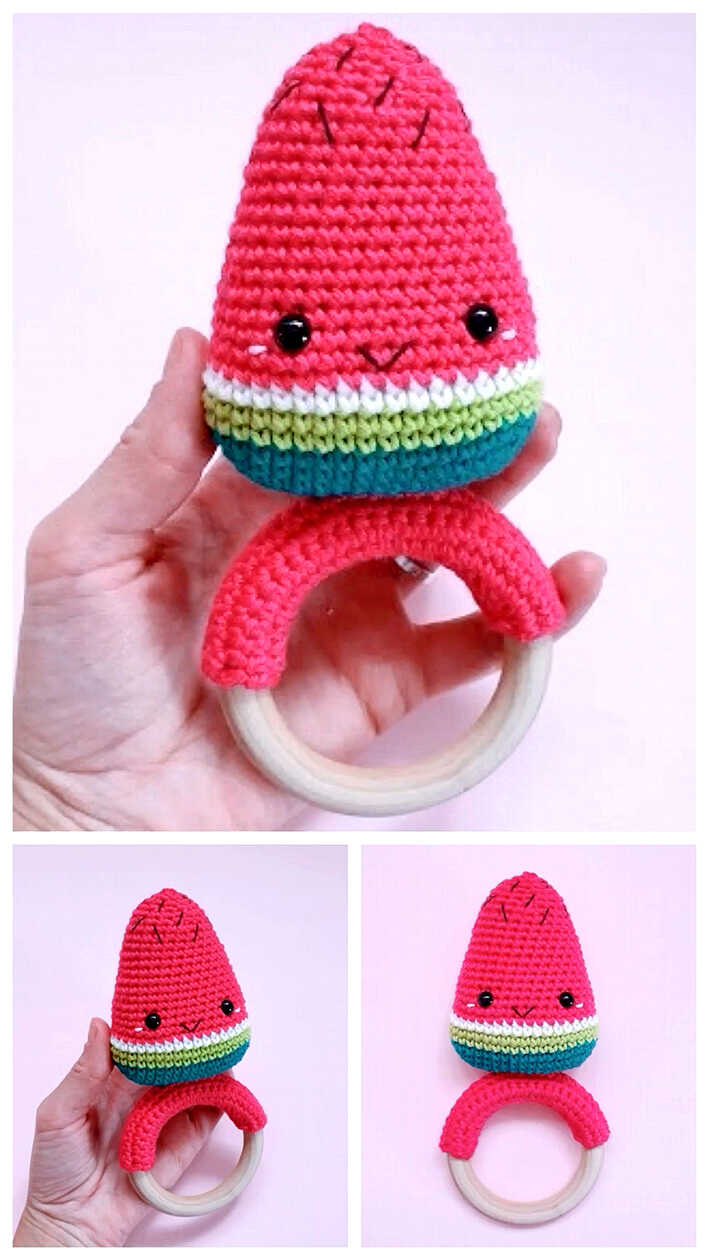 Kawaii Watermelon – Rattle Amigurumi Crochet Free Pattern
The watermelon is crocheted in Rainbow Cotton 8/4, so there are plenty of possibilities to design in the colors you like best. Please enjoy!
via Jennifer Santos – Super Cute Design, hobbii.com
Deer Baby Rattle Crochet Pattern
The final size of the rattle is about 13 cm.
via FairyToysByInnaChi, Etsy