Super Cute Amigurumi Panda Crochet Patterns
Kids enjoy playing with panda stuff toys. With so many patterns to choose from, you will never be bored. They are unique, interesting, easy to make, and once you finish the project, it is adorable. Don't forget to pin the ones you like from these 15 wonderful amigurumi panda patterns we shared.
Easy Little Crochet Panda Amigurumi PDF Free Pattern
The pattern is quite small. So it will be easy for you to do. When you complete the pieces will be 7.5cm in size. A very cute panda. You can use different colors.
via lucy_rose_toys, lovelycraft.com
Oreo the Little Panda Amigurumi Crochet Pattern
This pattern is written in English (US terms), Español – Includes step-by-step pictures. The finished doll size is 6 inch.
via bibibonbon.com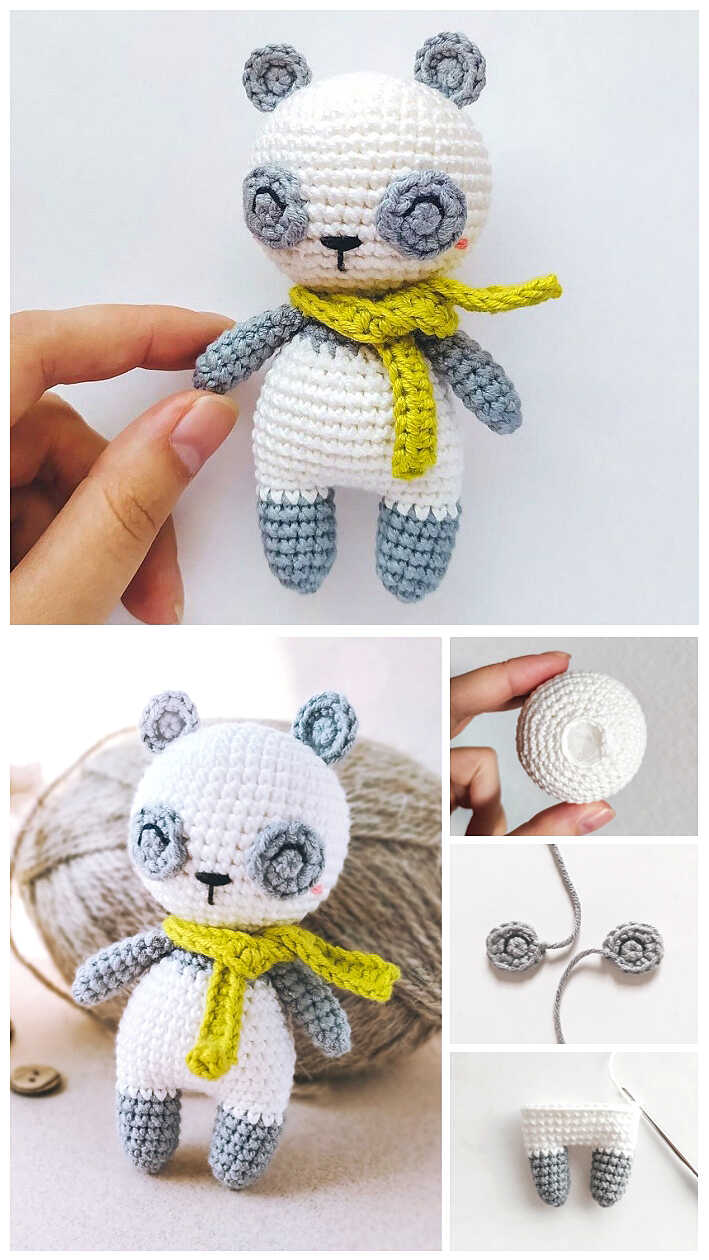 Little Panda Amigurumi Pattern
A perfectly cute crocheted panda to add to your amigurumi collection! To make this panda you will need 2.0 mm crochet hook and Gazzal Baby Cotton yarn. The height of the finished amigurumi toy is about 11 cm (4.3″) (the dimension depends on yarn size and crochet hook size).
via @olga_roskoshnaya, amigurum.com
Lulu The Panda Amigurumi Crochet Pattern
Lulu is only a panda cub but already there's one thing she likes to do the most, can you guess what it is?.. Little ones will love how soft and squishy her body is, with cub-like stubby arms and legs that look so cute when someone is hugging her.
via irenestrange, Etsy.com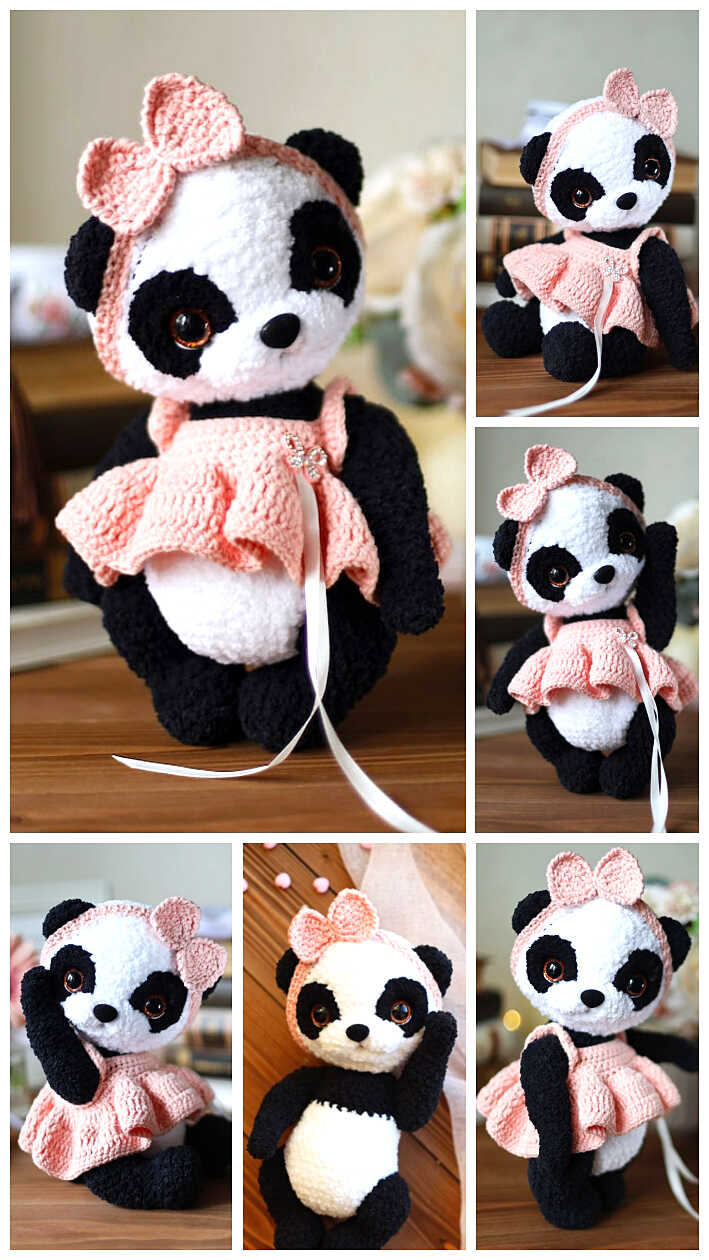 Amigurumi Crochet Pattern Panda
The template includes high-quality process photos and detailed step-by-step explanations of how to crochet a panda and a dress for her . format – PDF-file in English. You can use any yarn to create a panda.
For knitting you will need plush yarn. Hook the right size. it turns out the toy is 9,45 inches.
via CrochettoysbyOlga, Etsy.com
Pocket Panda Free Crochet Pattern
This pattern has just 2 pieces and incorporates the tapestry (or intarsia) crochet technique with a fair amount of colourwork involved.
via spinayarncrochet.com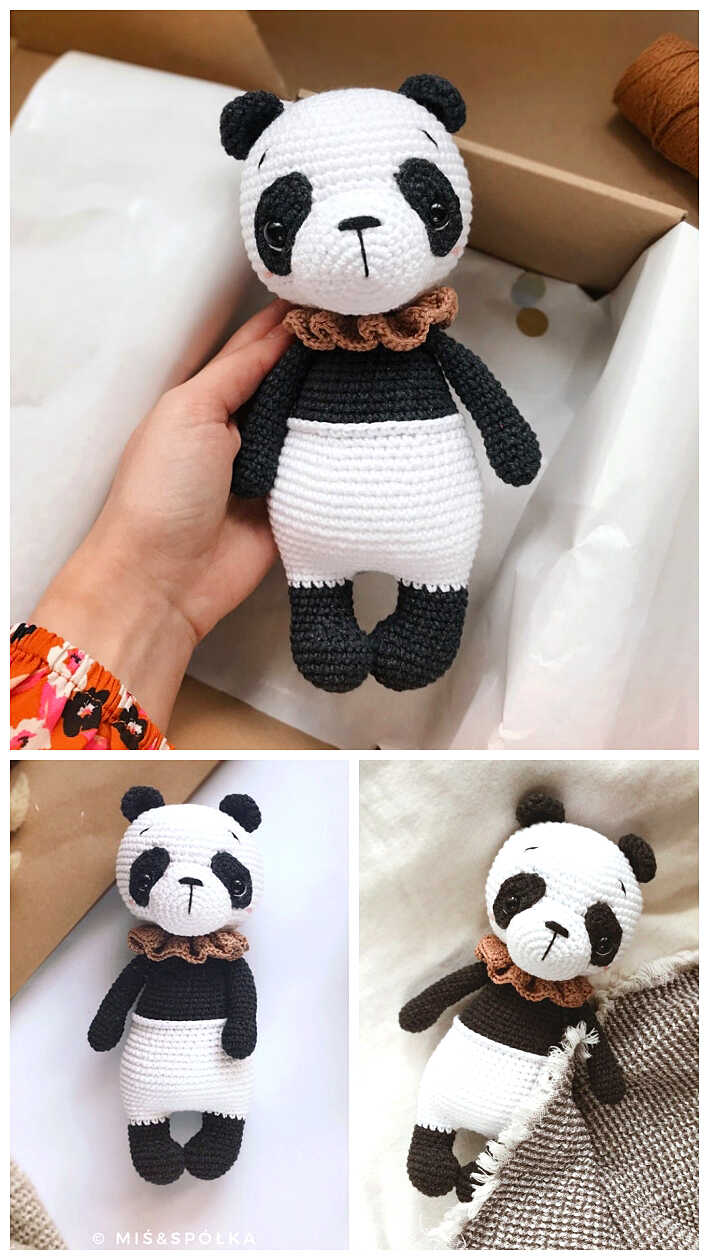 Andy The Panda Amigurumi Crochet Pattern
Size The Panda is about 23 cm tall.
Skill level: beginner / intermediate.
The format of the instructions is a PDF document with detailed instructions and images to provide visual help.
via misispolka, Etsy.com
Kumiko the Panda Amigurumi Crochet Pattern
By purchasing this article you will receive a PDF with the step by step in 19 pages where you will find more than 50 photographs and diagrams, all very detailed to make your Kumiko Panda with her bamboo branch in amigurumi. Our patterns are very clear and well organized so you can follow each step with more peacefully.
via Tarturumies, Etsy.com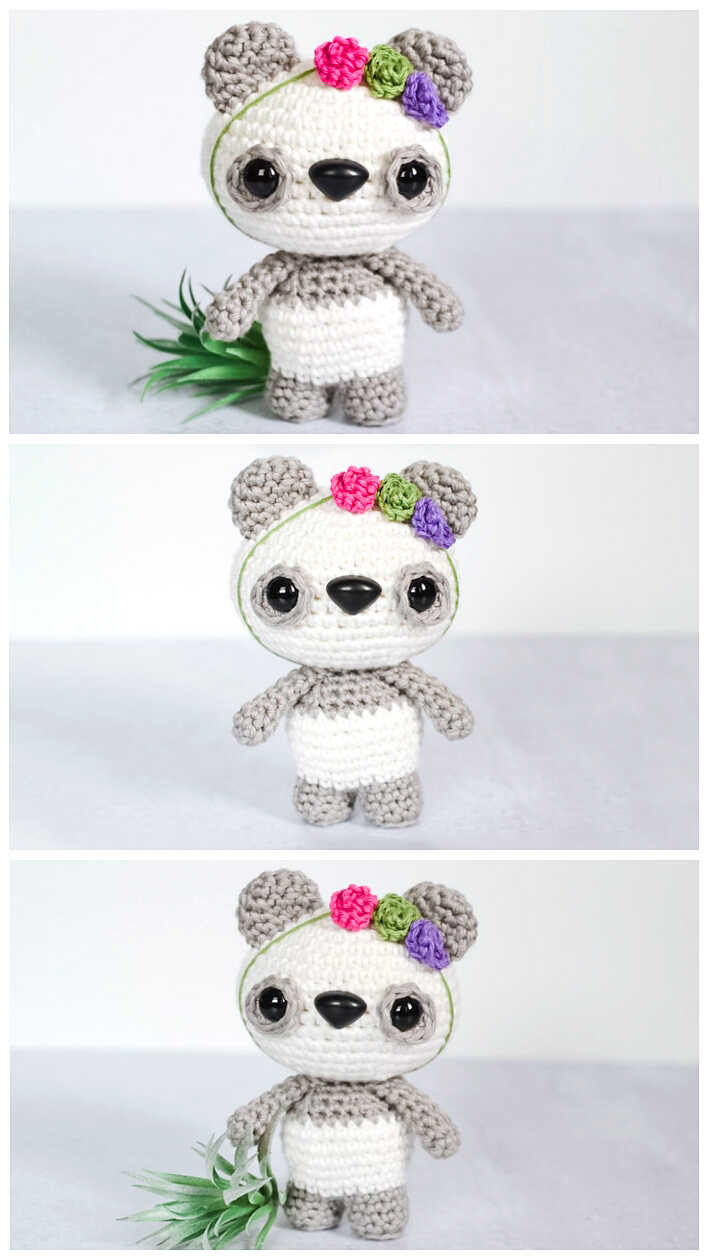 Poppy The Panda Free Amigurumi Crochet Pattern
Poppy The Panda loves to spend her days munching on bamboo, taking lots of naps, and climbing her favorite tree.
Skill Level: Advanced Beginner
via yarnsociety.com
Amigurumi Crochet Panda Pattern
The height of the toy is about 15 cm = 5.9 inches.
This 10-page cute Panda pattern contains detailed instructions with many pictures to help you crochet the toy step by step. Description in English checked by a foreign needlewoman.
Skill Level: Intermediate
via KnittedToyWorld, Etsy.com
Amigurumi Panda Baby Rattle Crochet Pattern
The final size of the rattle is about 12 cm / 4.72 inces.
This 13 page Panda rattle pattern includes detailed instructions with a plenty of photo references to instruct you on how to crochet Panda step by step.
via FairyToysByInnaChi, Etsy.com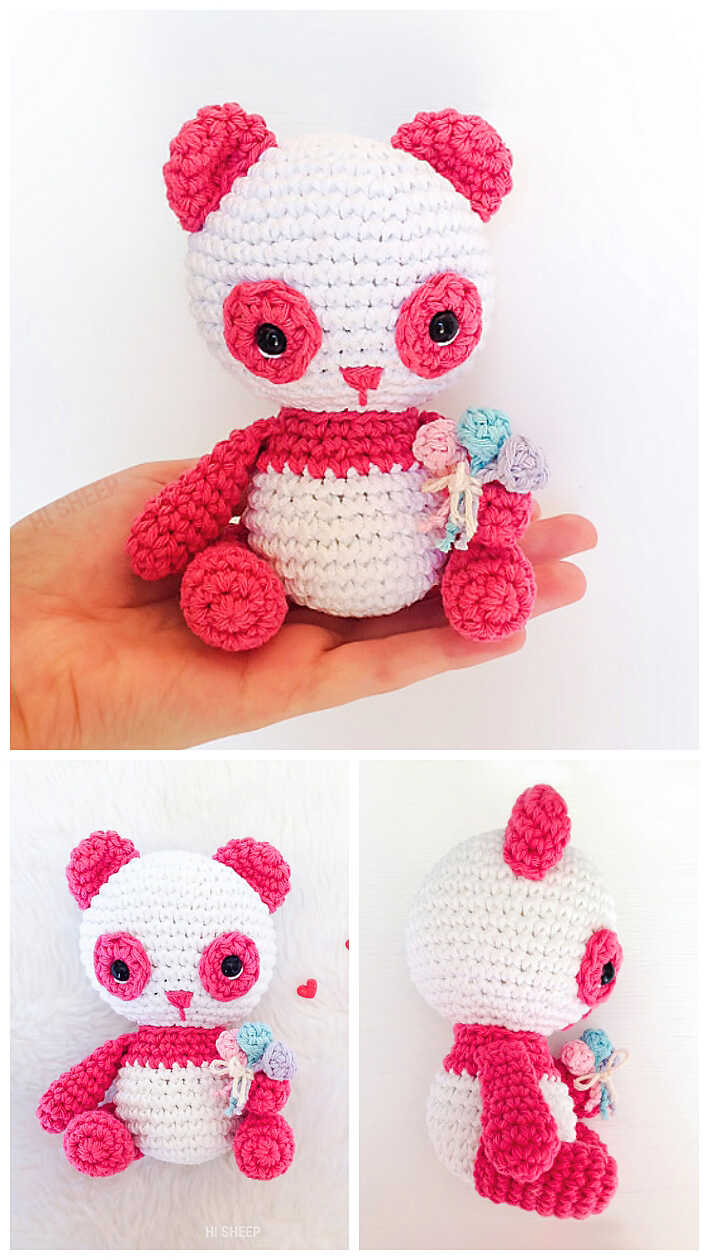 Blossom the Panda Amigurumi Free Crochet Pattern
This adorable panda just loves to stop and smell the flowers and maybe pick some out for friends.
via hisheepok.blogspot.com
Amigurumi Panda Crochet Pattern
– This is a digital file, not finished product
– Size: 18cm
– Yarn: Sport yarn 50g/160m
– Crochet hook : 2,3mm – 2,5mm
via Tranguyenamishop, Etsy.com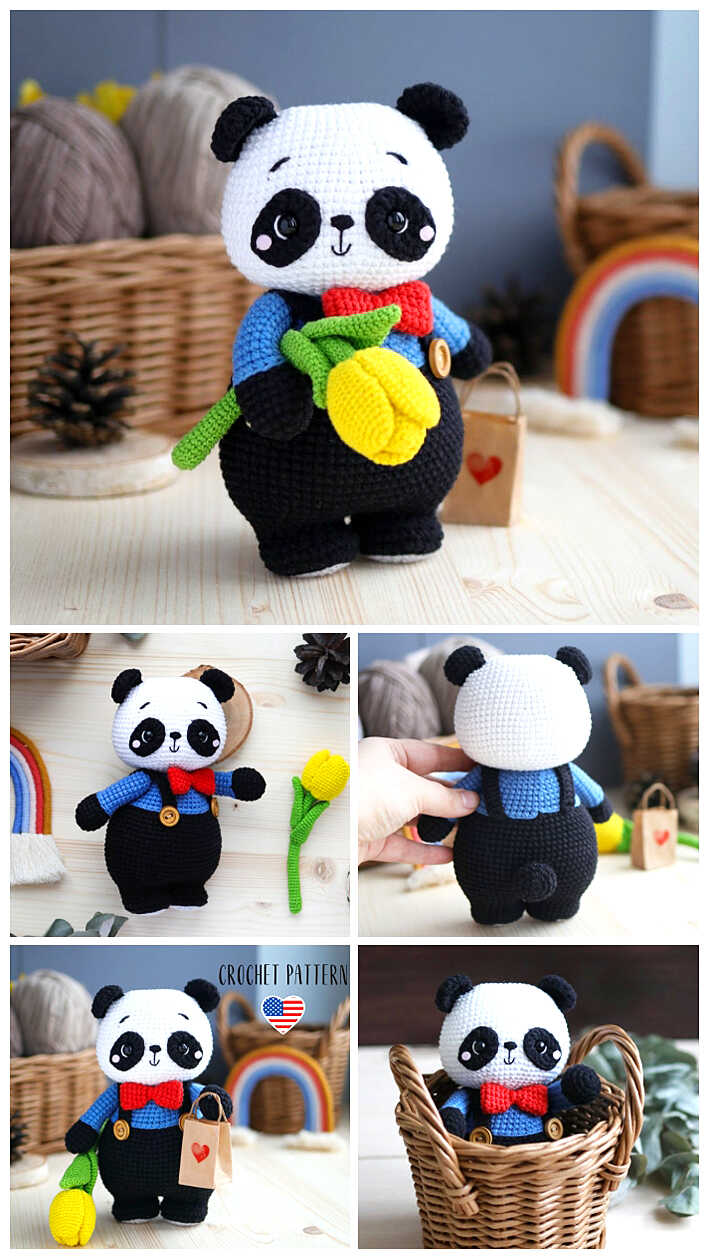 Panda Amigurumi Crochet Pattern
The size of a ready doll is about 19 cm (7,5") tall.
All the details are crocheted in a spiral. The body and legs are crocheted as one whole detail.
The arms are attached with thread fastening. Rotated head on the crocheted hinge.
via MyCroWonders, Etsy.com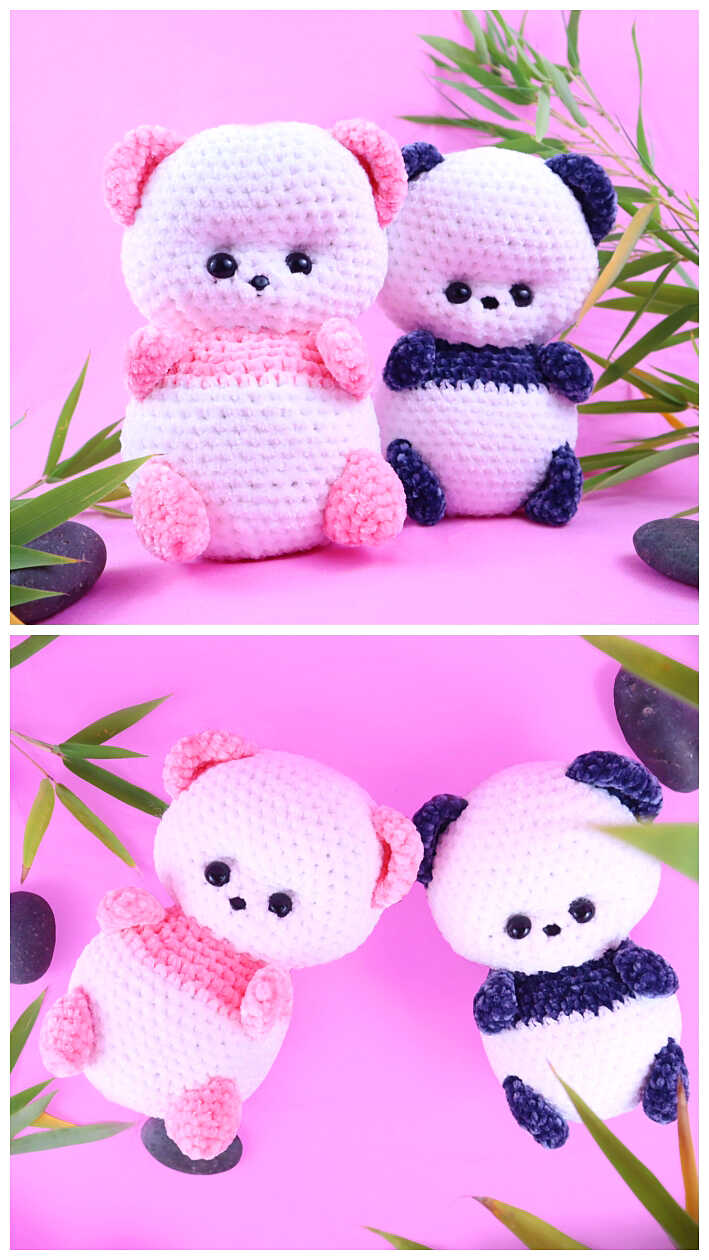 Baby Panda Amigurumi Free Crochet Pattern
Difficulty: Easy
To start, we will first make the panda's head, then work our way down to the body. The head and bady are worked in one continuous piece. Next, we'll make the ears, arms, and legs. Finally, we'll add the tail and he's done!
via stringydingding.com