The Best Amigurumi Goose Crochet Patterns
We have found fabulous Amigurumi goose Crochet ideas that we know you are going to love. Make it for yourself, your children, grandchildren or animal-loving friends.Review all the carefully selected ideas, and don't forget to pin your favourites.
Happy crochet…
Crochet Easter Goose set Pattern
Level of difficulty: Beginner.
The finished product using the materials described in this pattern is 9 inches / 23 cm tall.
via ToysMetlinaElena, Etsy.com
Crochet Pattern King Goose
Skill level – easy/beginners.
The size of finished toy is approx. 21 cm = 8,3″.
via CrochetFriendsLabb, Etsy.com
Amigurumi Goose Free Crochet Pattern
With this free crochet pattern you learn how to make a cute goose. Is not as difficult as it may seem.
via diy-100ideas, Ravelry.com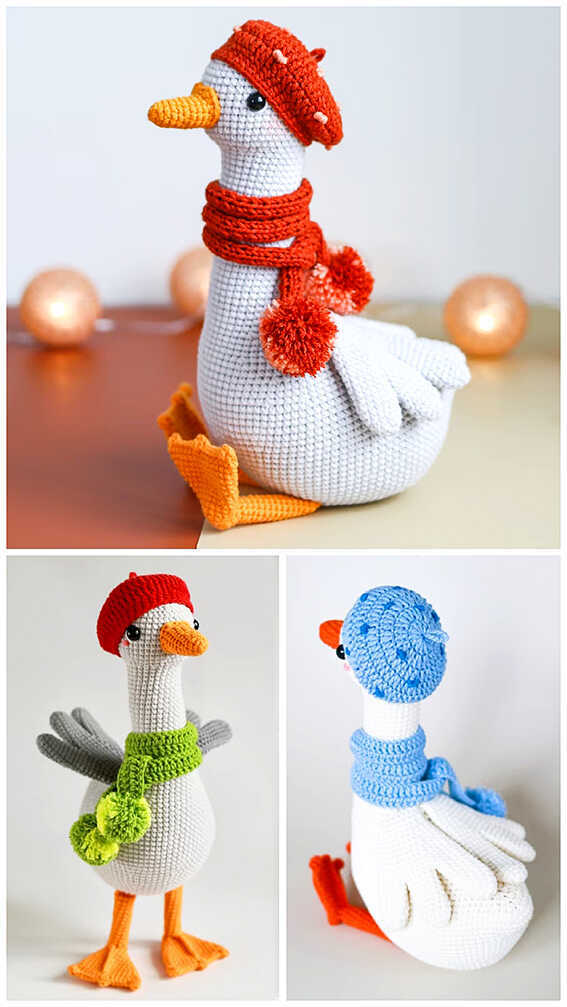 Goose Crochet Pattern
This pattern contains written instructions for the goose and him clothes (Beret, scarf and bow)
Difficulty level: medium.
The size of a ready toy is about 24 cm (9.4 in) tall.
via MyCroWonder, Etsy.com
Geese Crochet Pattern "3 in 1"
Enjoy making this toys!
Skill level: medium
Size approx: 12.5 cm
via MishinsyDesign, Etsy.com
Amigurumi Goose Crochet Pattern
This is a digital pattern in English crochet a goose toy and crochet and knit clothes in pdf format. Intermediate level.
With this pattern you can crochet such a cute goose, about 23-25cm
via CrochetToysBasket, Etsy.com
Amigurumi Goose Crochet Free Pattern
A free crochet pattern to create a 18 inch (45 cm) amigurumi plush toy goose. The beack, neck, head and body of the crochet plush goose are made as a one piece.
via blog.amigurumiallfreepatterns.com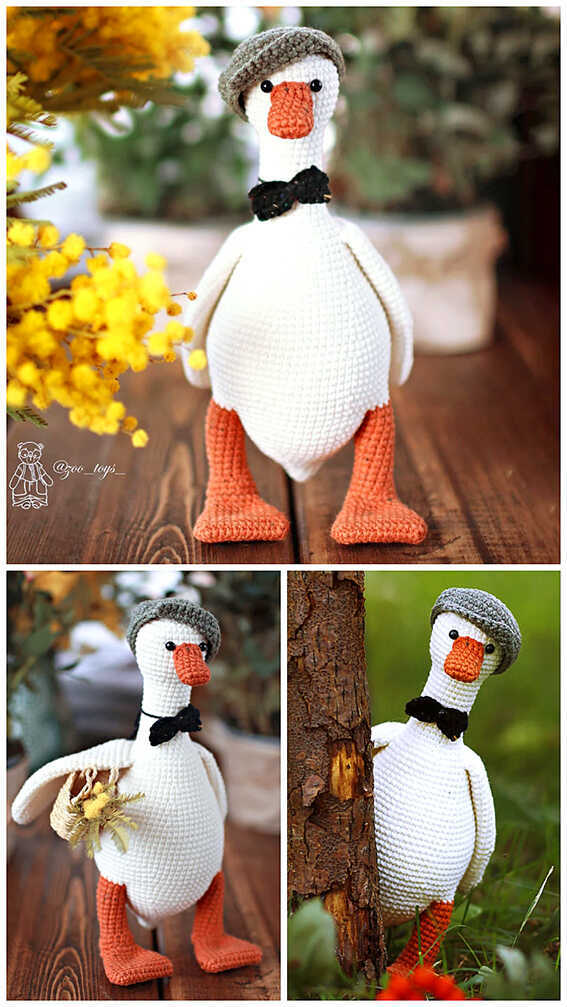 Crochet Pattern Funny Goose in the Cap
This crochet pattern will help you to make amigurumi cute crocheted funny goose.
Level: Medium
via ThreeFriendsPatterns, Etsy.com
Crochet Goose Martha and Goose Hans
This item contains two patterns: a girl's goose and a boy's goose!
Suitable for those with beginner.
Finished toys using the materials specified in this pattern are ~ 6.7 in / 17 cm high.
via BunnyToyPattern, Etsy.com
Goose Amigurumi Crochet Free Pattern
Suitable for beginners. With its small size, it can be used as an amigurumi crochet keychain. Its size is around 5cm when finished.
via crochet.amigurumiallfreepatterns.com
Goose with Hat and Scarf Amigurumi Crochet Pattern
Ideal gift idea for mom and grandma, young and advised crocheter, or beginner on any special occasion! Size of the finished toy is about (20 cm).
via KateandmomShop, Etsy.com
Crochet Pattern Vincent the Goose
Meet Vincent the Goose.
Get your hooks ready and add this cute goose to your cart right away!
Level: Middle, Size 23 сm
via NaturaCrochetArt, Etsy.com