The Sweetest Crochet Elephant Patterns
We have found some fabulous Amigurumi Elephant Crochet ideas that we know you are going to love. Scroll our page now for loads of inspiration now. Review all the carefully selected ideas, and don't forget to pin your favourites.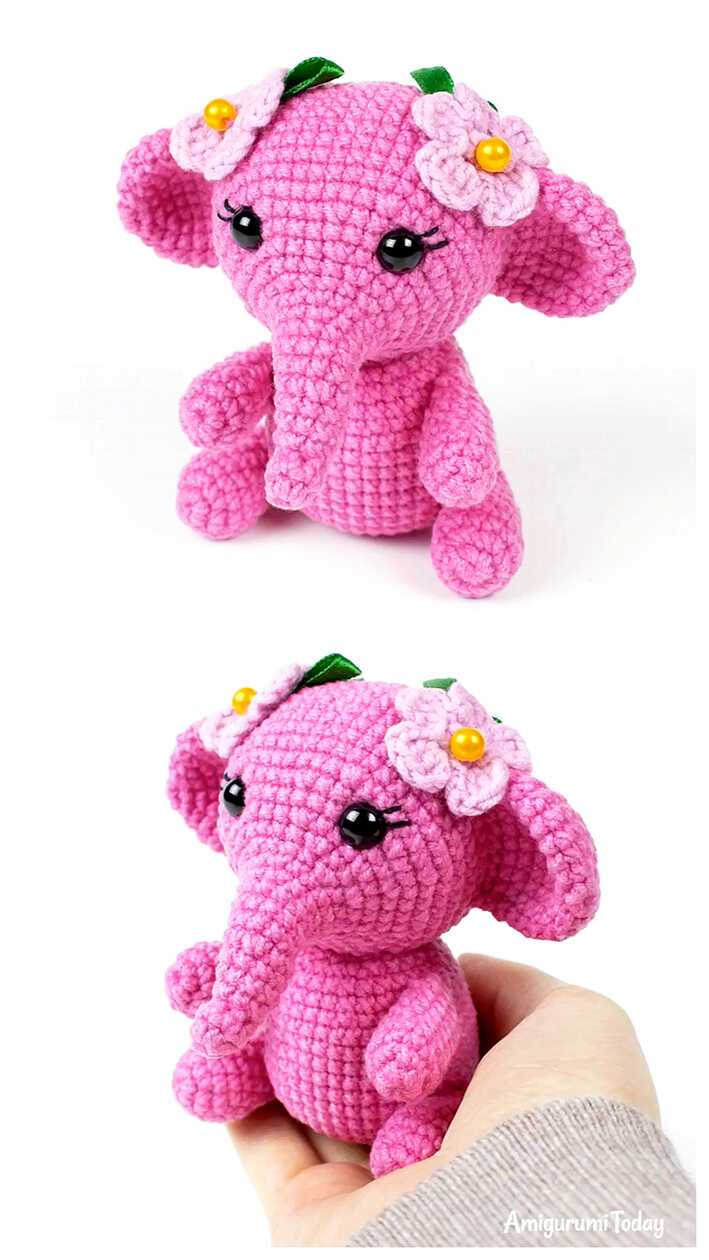 Pink Elephant Amigurumi Free Crochet Pattern
Along with teddy bears blue and pink crochet elephants occupy a leading position in the ratings of beloved children's toys. Use this free crochet elephant pattern to create a sweet toy for your baby.
via amigurumi.today
Joe the Elephant Amigurumi Crochet Pattern PDF
The cute elephant (16 cm/ 6 inch tall) on the photo has been made with catania yarn and a 2.5 4/0 size hook. If you use thicker yarn and a bigger hook your elephant will turn out bigger.
via DIYFluffies, Etsy.com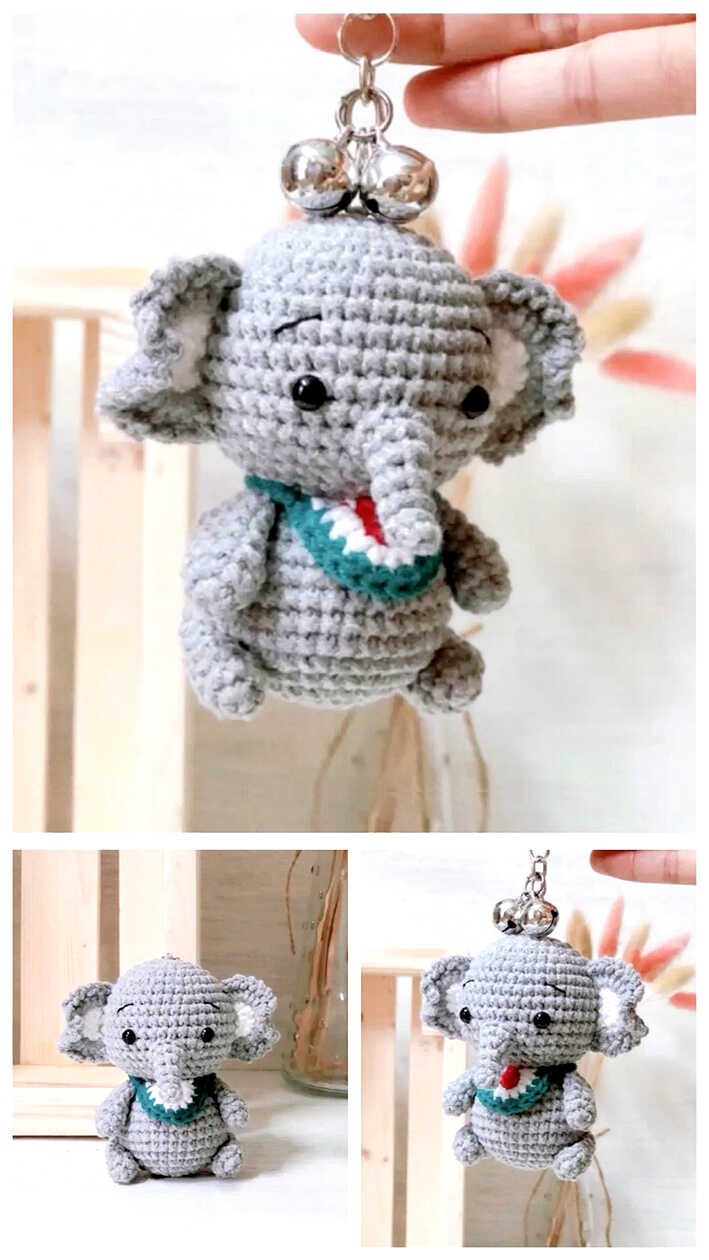 Amigurumi Elephant Keychain Free Crochet Pattern
Level: Intermediate and above.
Size approx: 8 cm (3.15 inch)
via Trần Thị Hạnh, Ravelry.com
Dulis the Little Elephant Amigurumi Crochet Pattern
Size: If made with suggested yarn and hook, Dulis will be approximately 13 cm | 5.10 inches tall (without the hat).
via Ioanna Papadopoulou, Ravelry.com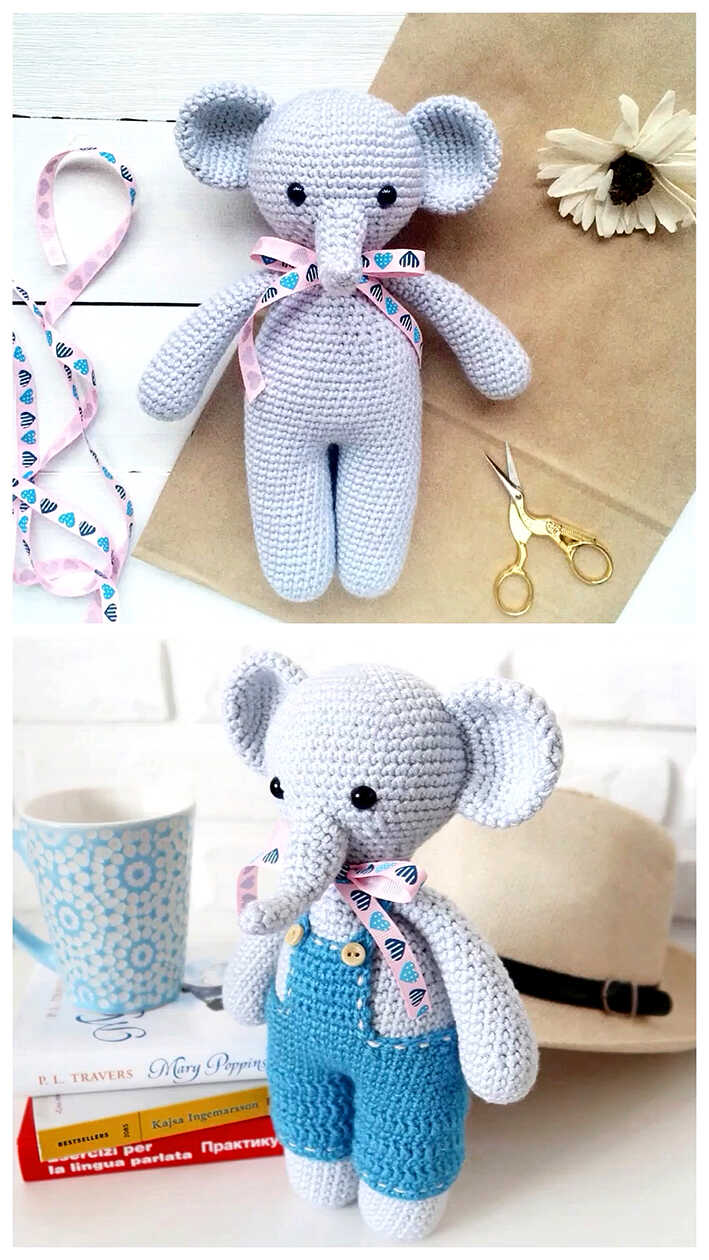 Baby Elephant Amigurumi Free Pattern
Along with this beautiful elephant pattern, you can also find step-by-step instructional videos.
via Olga Askarova (@by_olik_ask), amigurumi.space
Lulu and Miles the Friendly Elephants Amigurumi Crochet Pattern
This PDF pattern includes 15 pages with step by step instructions and 90 photos, so you can crochet your own toy.
via BunniesandYarn, Etsy.com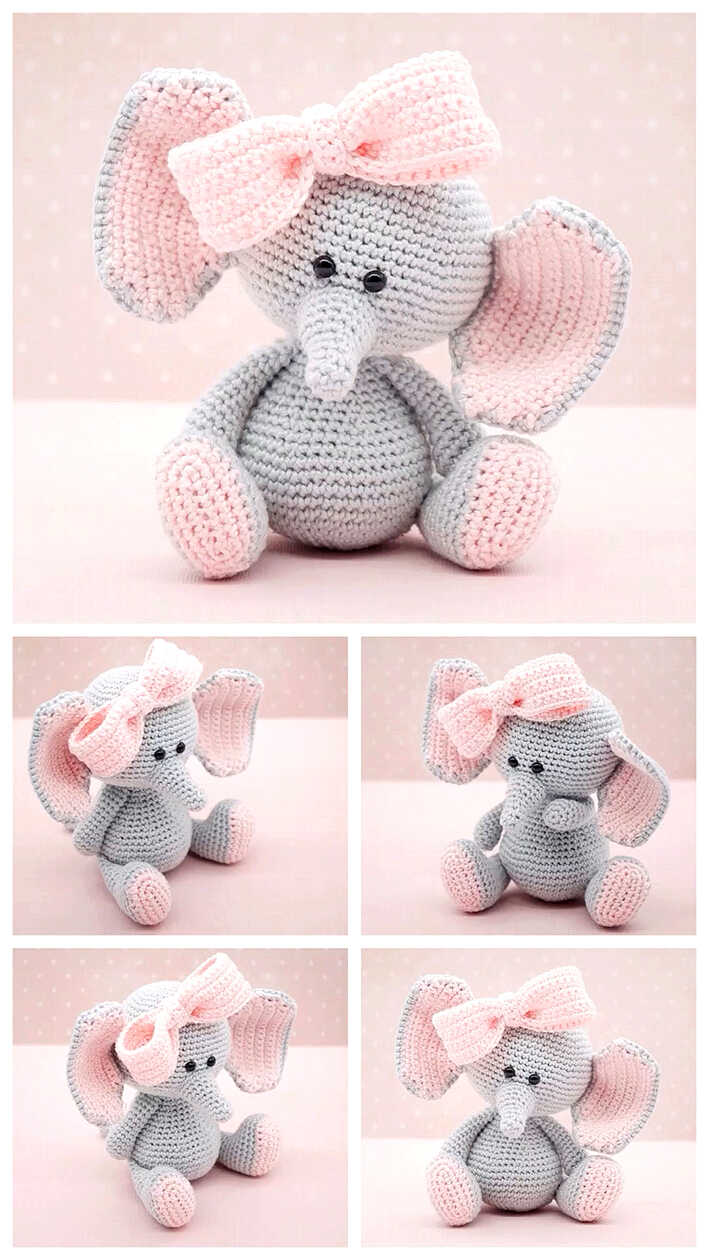 Ellie the Elephant Amigurumi Crochet Pattern
Ellie is quite the little sweetheart. She has a wonderful memory and will never forget any kindness that anyone shows her. Ellie is 5.5 inches / 14 cm tall if made with Yarn and Colors Must-Have 4-ply yarn and a 2.5 mm crochet hook.
via TheLittleHookCrochet, Etsy.com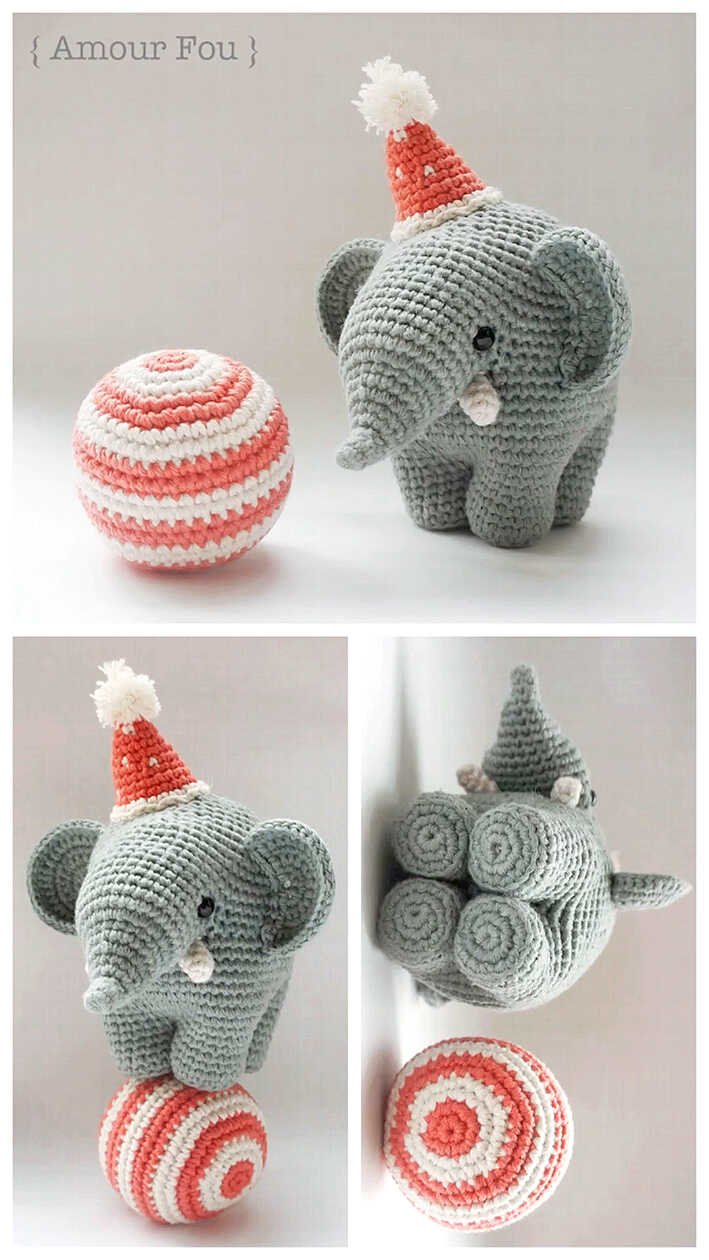 Gustav the Balancing Elephant Amigurumi Free Pattern
Gustav measures 12 cm approximately. Of course should you use a different yarn calling, measures will vary.
via blog-amourfou-crochetenglish.blogspot.com
Elephant the Farmer Amigurumi Crochet Pattern
via Nutas Nguyen, Ravelry.com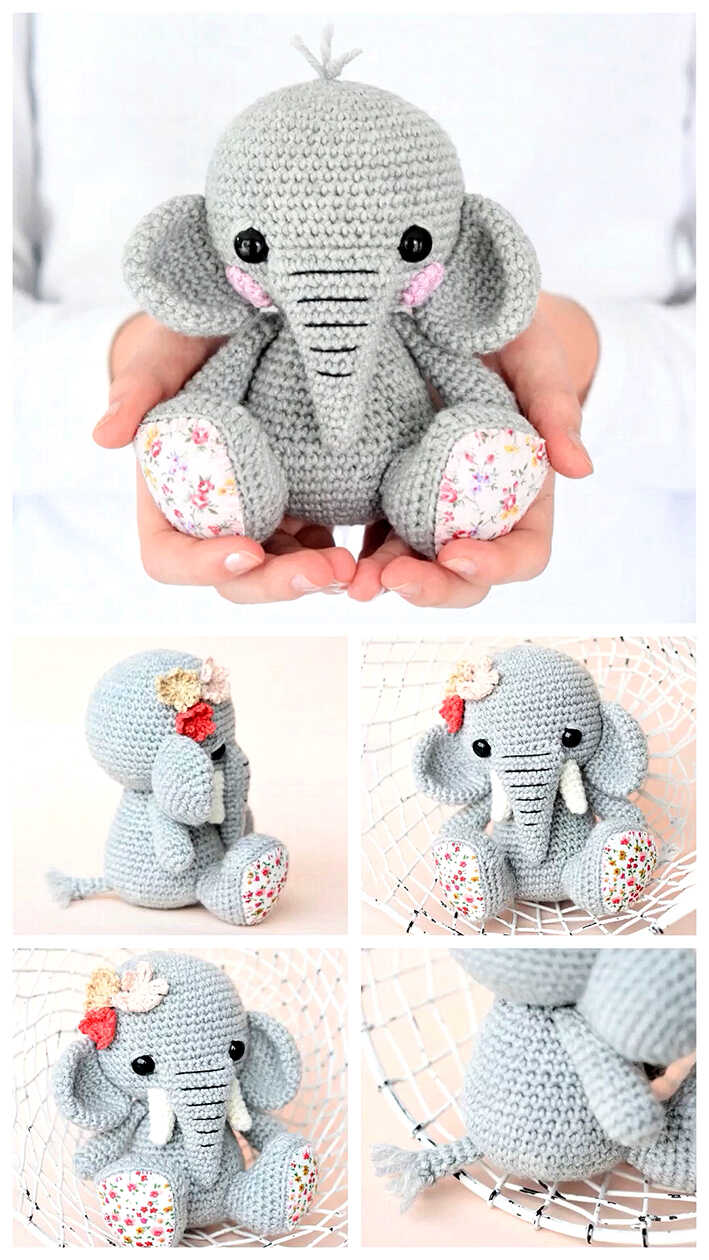 Lucy the Elephant Amigurumi Crochet Pattern
A step-by-step pattern for making a cute crochet elephant by yourself. Lucy the Elephant is a sweet toy for newborns and toddlers. It`s a soft bedtime toy but also a great companion for playing.
via lilleliis, Etsy.com
Elton the Elephant Amigurumi Free Pattern
Elton the Elephant will be a very lovable toy and your child will never let go.
via Nikki Moore, stuffedheartscrochet.weebly.com
Amigurumi Elephant Crochet Pattern
The crochet pattern is in PDF format consists of 14 pages of the detailed, step-by-step description how to crochet cute elephant.
via ToysByKnitFriends, Etsy.com
George the Elephant Amigurumi Free Pattern
If cute and sweet projects are what you have been looking for, really look no further. I think you really cannot create anything cuter than this way too adorable baby elephant!
via elisascrochet.com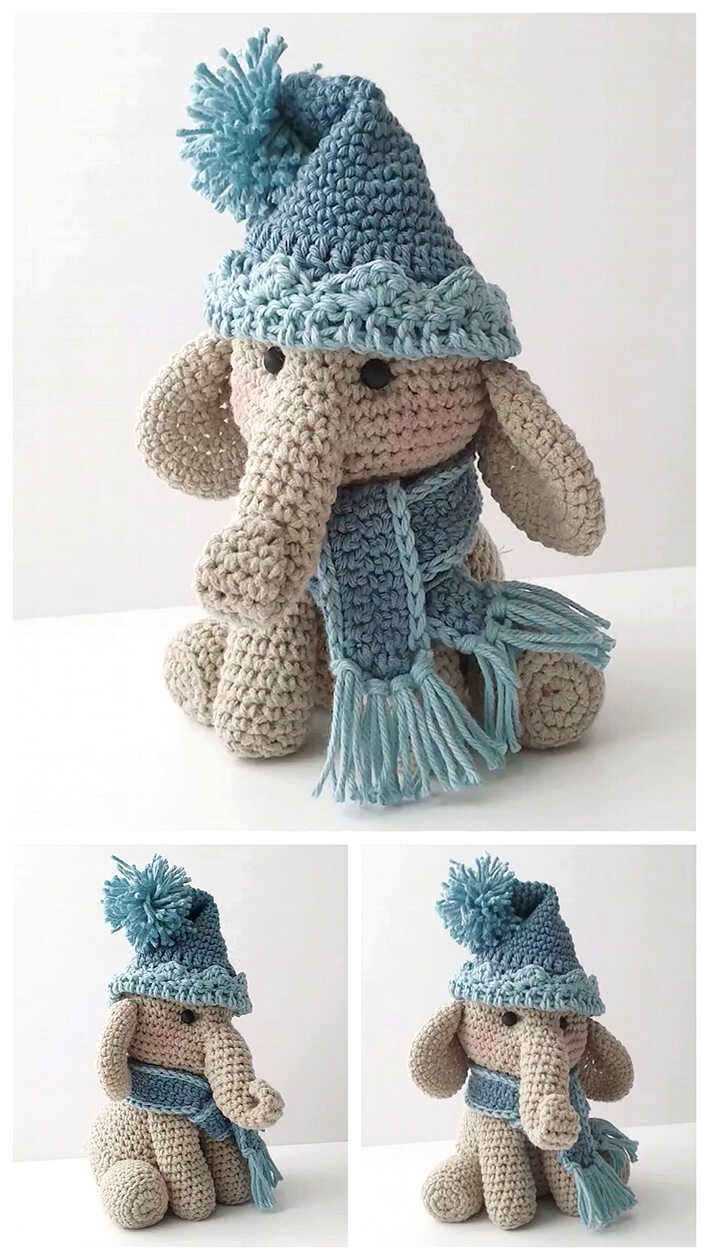 Poppi the Elephant Amigurumi Crochet Pattern
When completed he measures approx 7 inches (17.5cm) when sitting. He can be made from any type of double knitting wool but a cotton / acrylic mix will hold the shape of your amigurumi elephant best.
via Julie Pilcher, Ravelry.com
Elephant Sofi Amigurumi Crochet Pattern
The size of finished toy is approx. 20 cm = 7,9″ + crown.
via CrochetFriendsLab, Etsy.com