Cutest Amigurumi Butterfly Crochet Patterns
If you're looking for a Amigurumi Crochet butterfly Pattern, we have found the cutest versions ever! When you scroll down the page, you will find paid and free amigurumi butterfly patterns. Check them out now and Pin your favorites.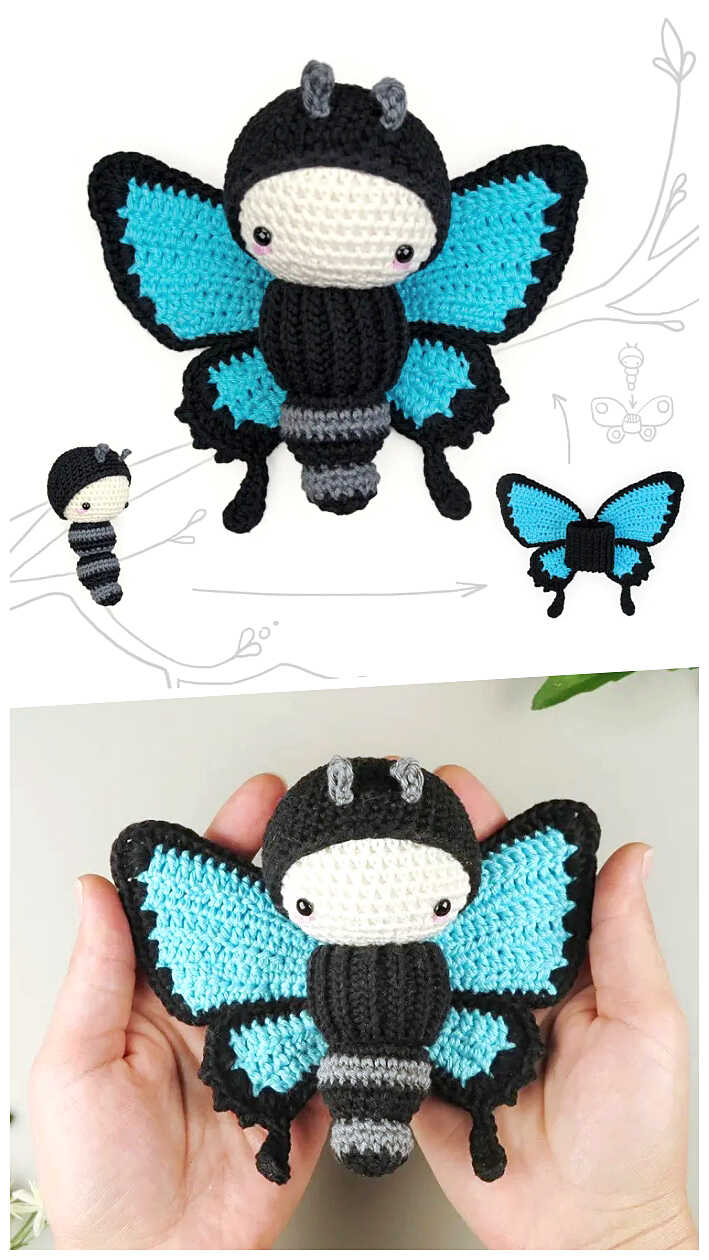 Amigurumi Crochet Butterfly Pattern
Hat and wing suits are interchangeable. Create new outfits a or even new species by finding new combinations.
via lalylala, Etsy.com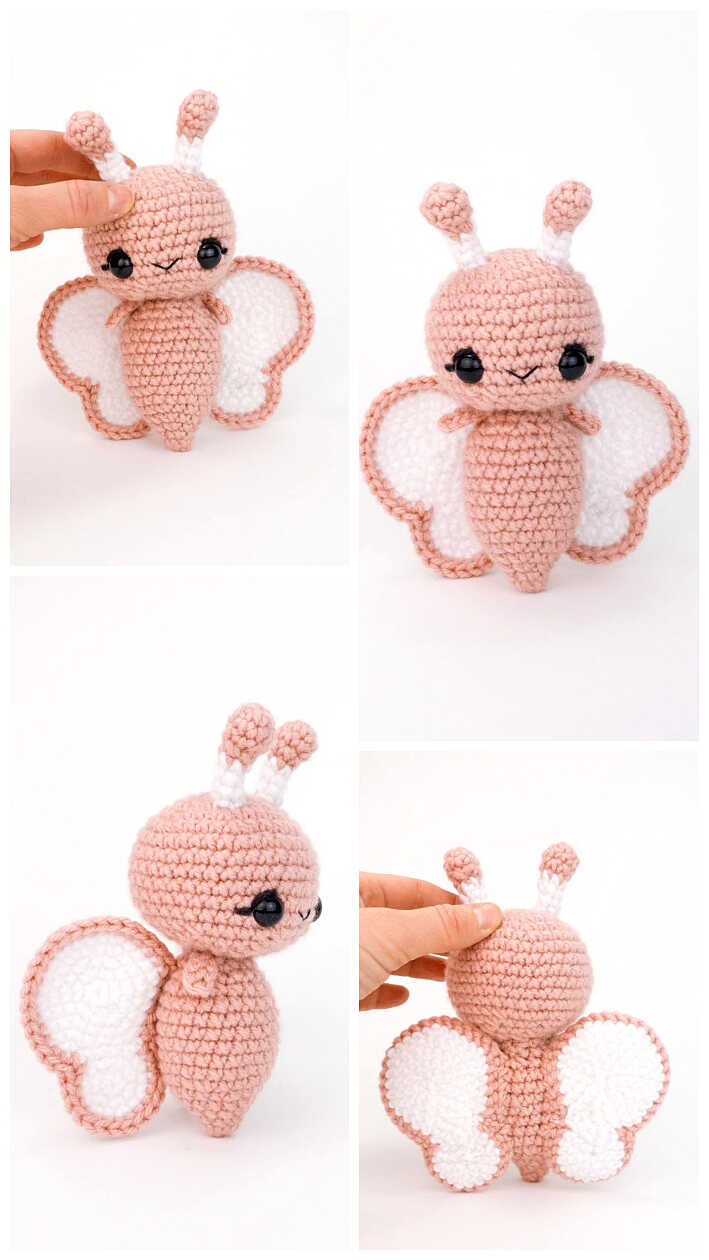 Belle the Butterfly Crochet Pattern
Create your own little butterfly in just a couple hours!. Final measurement for the finished butterfly will be 6.5 inches (16.5 cm) tall.
via TheresasCrochetShop, Etsy.com
Butterfly Amigurumi Crochet Free Pattern
There are so many possibilities with body and wing colors that you could make a whole family of butterflies, each one looking unique!
via loopsandlovecrochet.com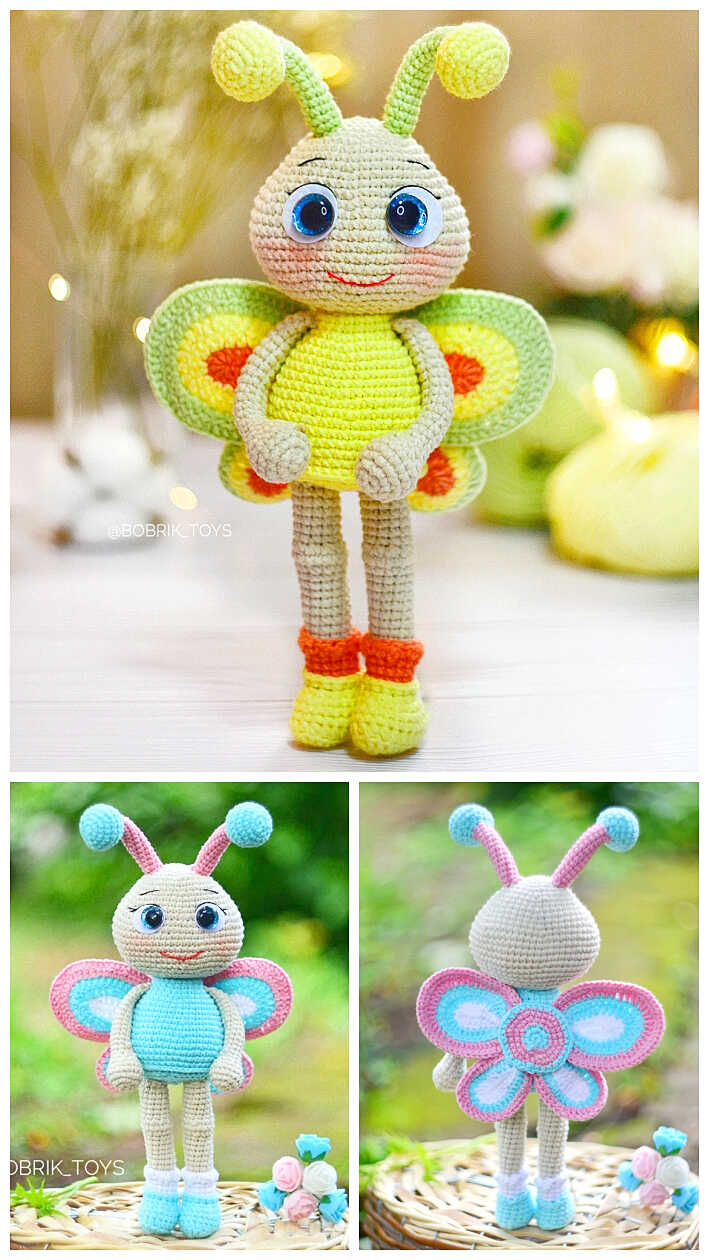 Butterfly Crochet Pattern
She is adorable and the fun part of making her are the wings!
via Bobriktoyspattern, Etsy.com
Ellie the Butterfly Amigurumi Crochet Free Pattern
Meet Ellie the Butterfly! She's ready to be made into a new friend.
via Ana Veiga, Ravelry.com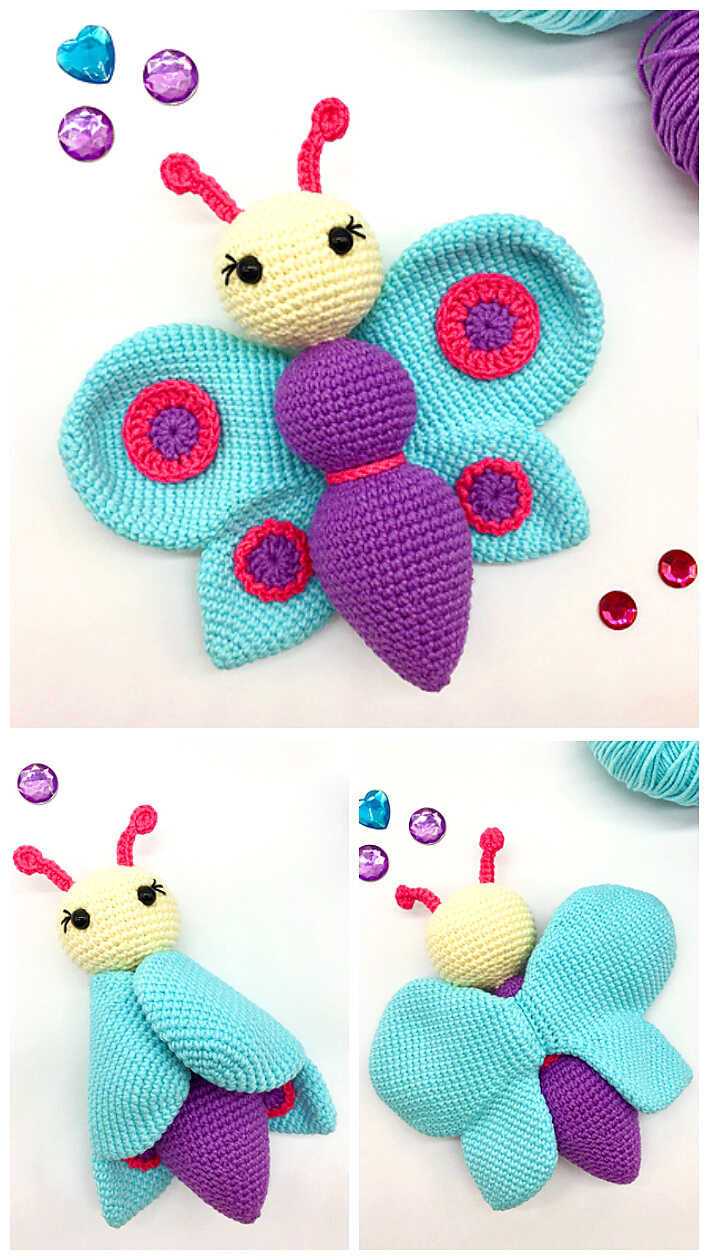 Free Crochet Butterfly Pattern
Skill level: basic to intermediate crochet skills and knowledge
Finished size – width: 16.5cm / 6.5 inches – height: 18cm / 7 inches
via cuddlystitchescraft.com
Sybella the Butterfly Crochet Pattern
Skill level Advance/Beginner.
Size is approximately 17cm tall, 39cm round and 20cm wide wing span.
via CBMakes, Etsy.com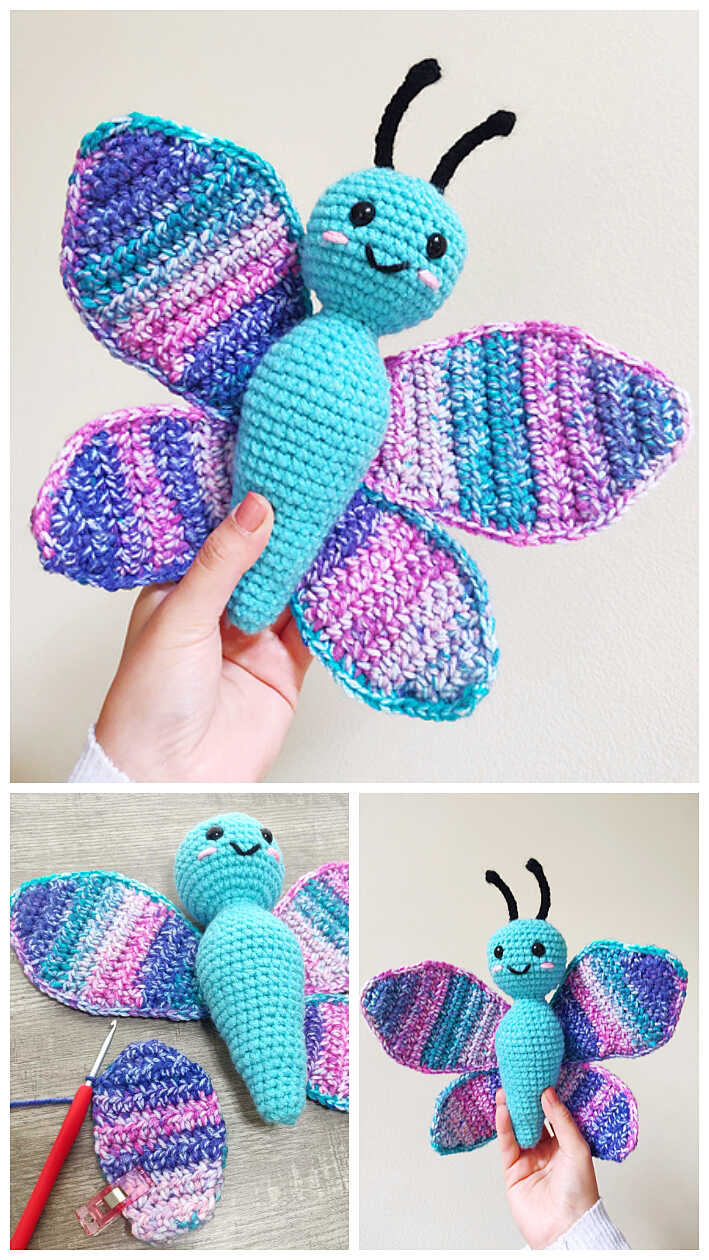 Bria the Butterfly Crochet Free Pattern
If you have butterfly lovers at home, then Bria is a perfect addition to your crochet amigurumi collection!
via ariana-hall.com
Butterfly Mini Bonnie Crochet Pattern
The finished approximately 16 cm tall.
via HavvaDesigns, Etsy.com
Crochet Butterfly Pattern
The finished toy using the materials stated in this pattern is ~13 cm / 5.1 inches.
via PatternsCrochetStore, Etsy.com
Amigurumi Butterfly Doll Pattern
Easy crochet pattern will help you to make this adorable amigurumi butterfly doll. You will absolutely be in love with her!
via MiniCrochetZoo, Etsy.com
Crochet Butterfly
Let your imagination run wild and make them in your favorite colors.
via repeatcrafterme.com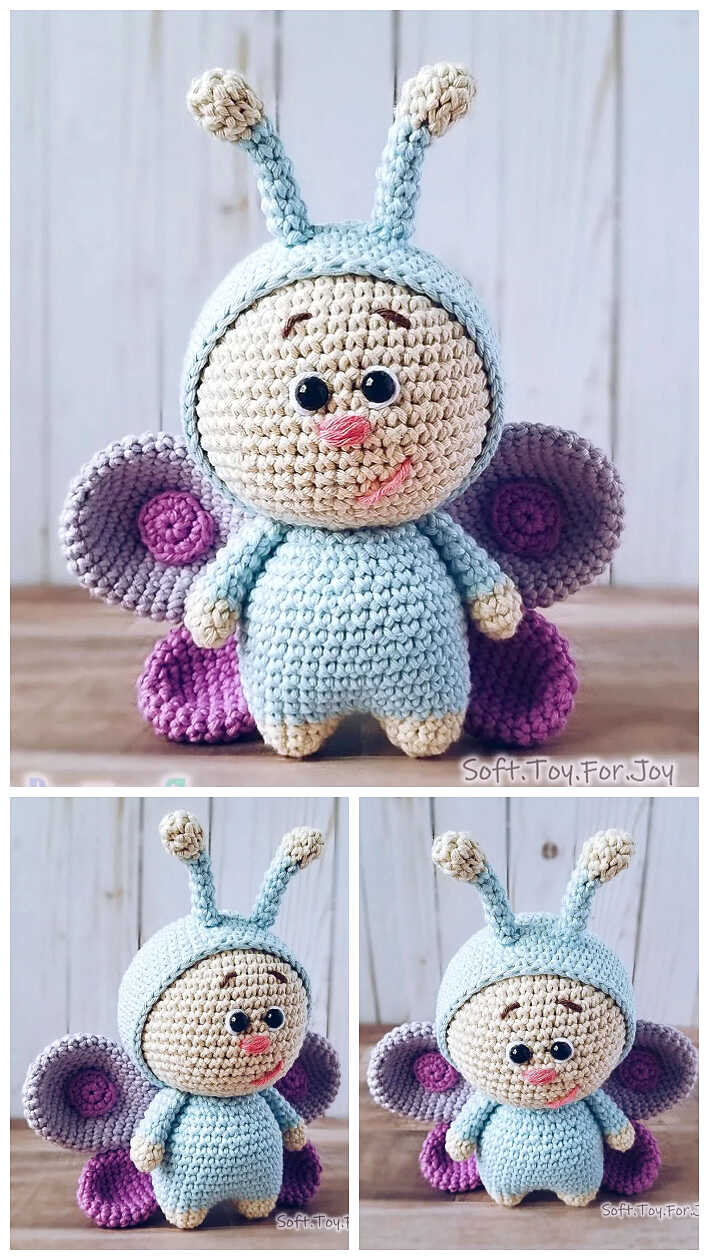 Emma the Butterfly Crochet Pattern
Meet Emma the Butterfly!
The butterfly measures 18 cm (7 inch) if using worsted yarn on 3.0 mm crochet hook.
via SoftToyForJoy, Etsy.com
Caterpillar Butterfly Metamorphosis Amigurumi Crochet Pattern
This amigurumi is not just very cute, but also educational. You can also use it to explain how a hungry caterpillar transforms into a beautiful butterfly!
via HomeofYarns, Etsy.com
Butterfly crochet Doll Pattern
This cutie butterfly doll is the perfect handmade gift for a babyshower.
via SvetlaArtShop, Etsy.com