Lovely Monkey Amigurumi Crochet Patterns
If you haven't mastered the basics, don't worry. All these amigurumi monkey pattern tutorials have very thorough instructions with step-by-step pictures to help guide you through it! With so many patterns to choose from, you will never be bored. Start browsing and don't forget to pin the ones you like.
Crochet Mister Monkey Toy Amigurumi Pattern
This easy mister monkey toy will decorate the nursery or complement the first photo session with the baby!
Size of a finished toy is about ~35cm (13.77 inch) of using indicated yarn and hook.
via DanArtEstonia, Etsy.com
Free Crochet Monkey Amigurumi Pattern
He is about 12 inches tall (a little less when he is sitting) and the perfect size for pretty much any age if you are looking to gift this sweet little amigurumi monkey.
via thefriendlyredfox.com
Monkey Ankie Crochet Pattern
Let me introduce to you: Monkey Ankie!!
Monkey Ankie turns out at a size of 11 cm with the yarn used.
via MyKrissieDolls, Etsy.com
Derek the Monkey Free Crochet Pattern
Here is Derek. You can create this adorable monkey with the free pattern below!
via elisascrochet.com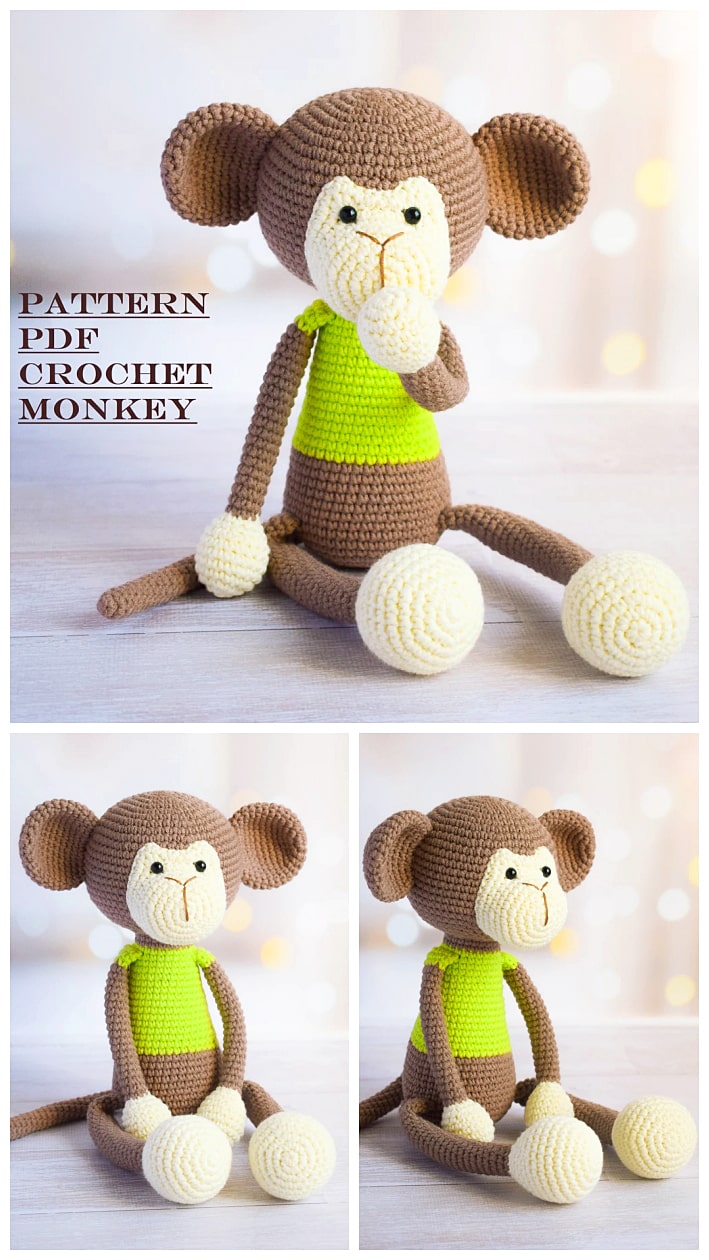 Easy Pattern Crochet Monkey with Long Legs Amigurumi Toy
Long legs, long tail and big funny ears!
Using this pattern, you can crochet your wonderful long-legged toy Monkey.
via FunToysWorkshop, Etsy.com
Maisy the Monkey Crochet Pattern
Meet Maisy. do you see his expressive little face and how perfectly cuddly he is!
via stitchbyfay.com
Coco Monkey Amigurumi Crochet Pattern
The size of the Coco Monkey is depends on the yarn used. If you use the same materials as we, the finished size is 17cm (6.7 inch).
via NhimCrafts, Etsy.com
Mika the Crochet Monkey Free Pattern
This cute crochet monkey is an easy amigurumi pattern for beginners. You can also pair the pattern with our Mika the crochet monkey baby rattle for a really special handmade crochet baby gift.
via chaicoffeecrochet.com
Safari Monkey Amigurumi Crochet Pattern
Using we crochet pattern, you can create a sweet amigurumi monkey. Size: When using these materials monkey turns 15 cm or 5.9 inches tall.
via Svetlana Berdnikova, Ravelry.com
Saruki the Monkey Crochet Free Pattern
Saruki is always happy, she has so many things she loves to do, and just enjoys life. With so many things she enjoys doing, of course there is never a dull moment.
via Sabrina Kan, Ravelry.com