Lovely Raccoon Amigurumi Crochet Patterns
Do not miss to take a look at our collection of this cute raccoon. We are sure that you will find an amigurumi crochet raccoon pattern that you will definitely like. Please don't forget to pin and share the patterns you like. Happy Crochet…
The Scout Raccoons Crochet Pattern
Meet River and Rocco the Scout Raccoons! These two have been best friends since forever, and even though they belong in different camps they love to go on adventures together.
via Lemon Yarn Creations, Ravelry.com
Amigurumi Raccoon Crochet Free Pattern
This raccoon is adorable for your little one or as a lovely gift.
via Evgenia Agapova (@zoo_toys_), amigurumiallfreepatterns.com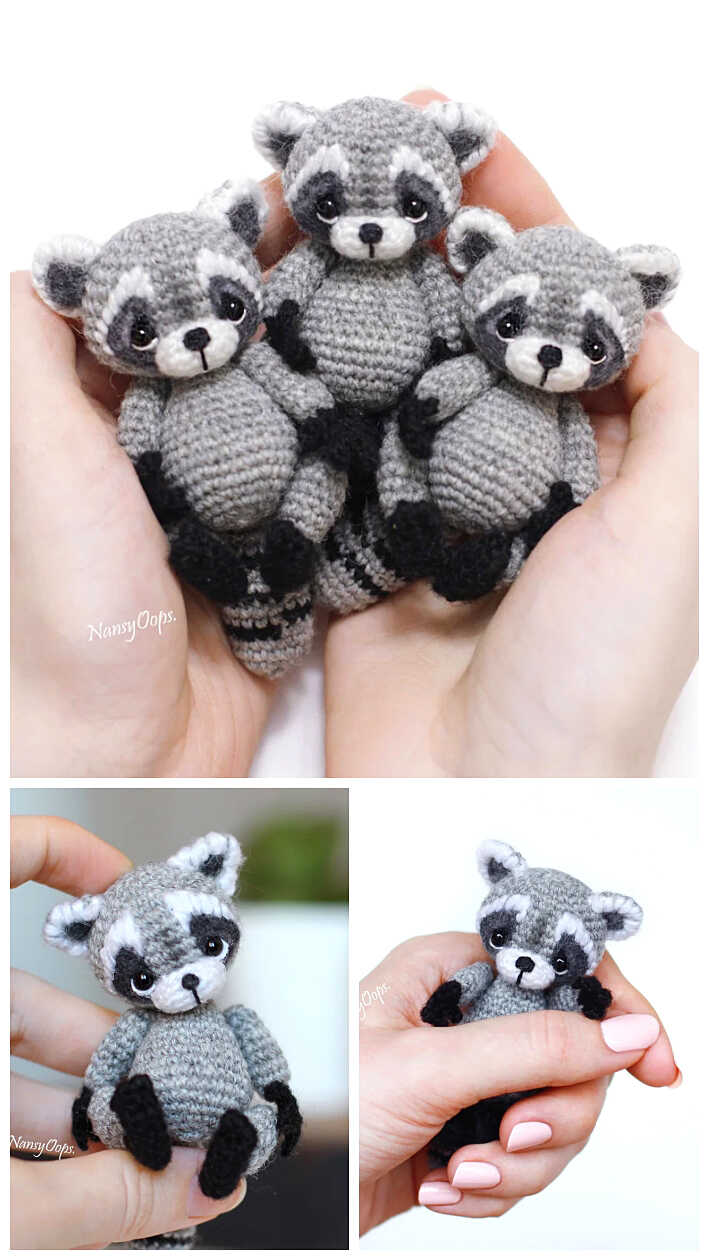 Raccoon Amigurumi Crochet Pattern
Are you ready to make these cute raccoons?
via AmigurumiPatternsLV, Etsy.com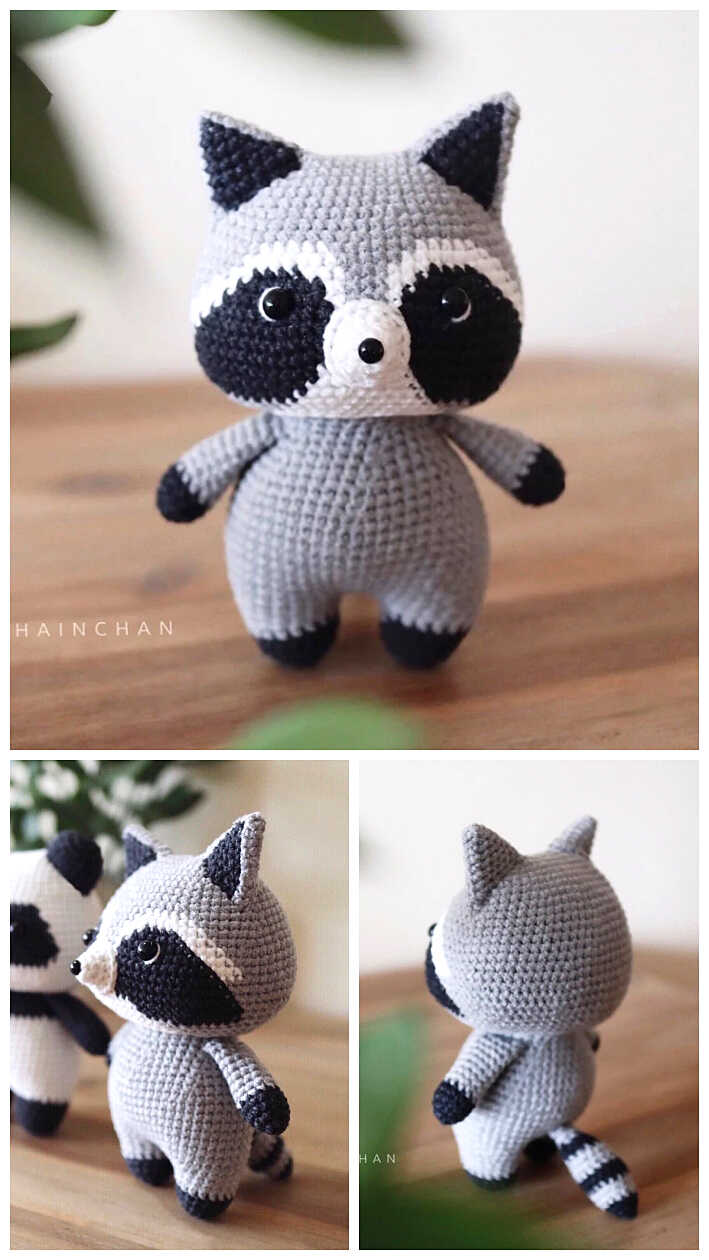 Tico The Little Racoon Crochet Pattern
Whether it be for you or for someone who you know loves crocheting amigurumi, this Tico The Little Racoon pattern is a great way to craft your own crochet doll!
via Hainchan, Etsy.com
Cuddle Me Raccoon Amigurumi Pattern
This 16 cm amigurumi raccoon with cute sly eyes will steal the heart of any child. It has a perfect size and softness for endless cuddles.
via amigurumi.today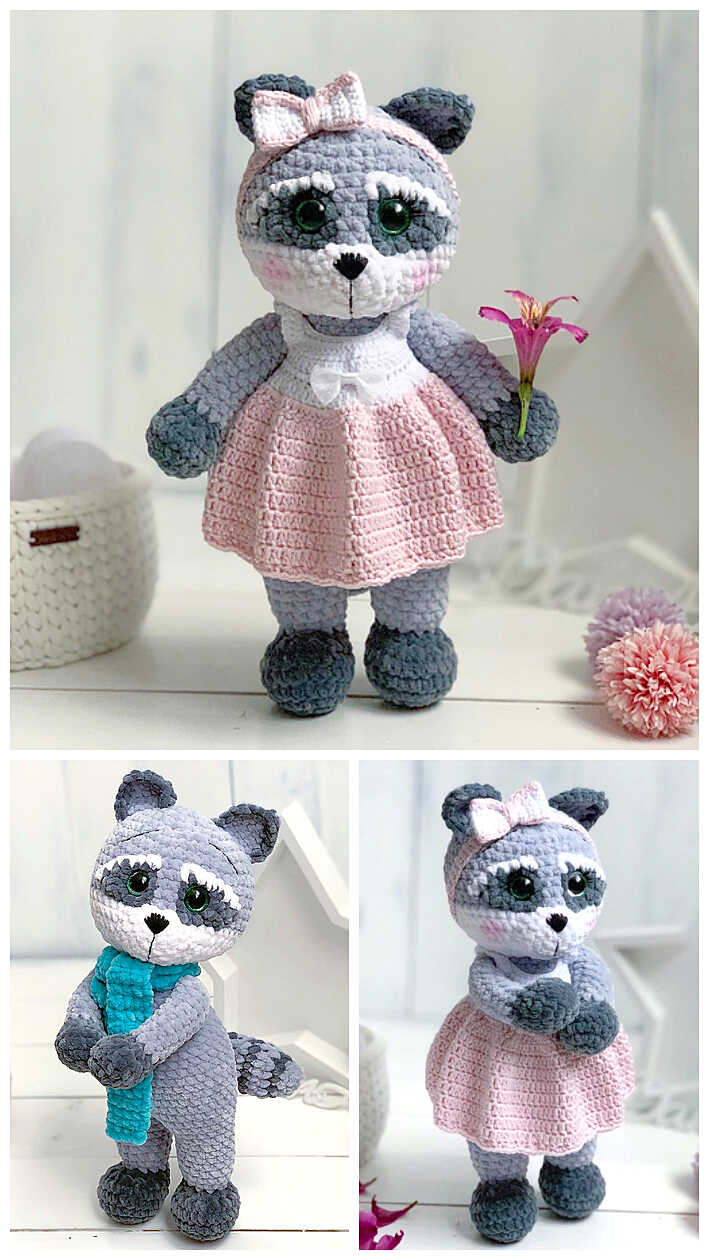 Raccoon Toys Set Crochet Pattern
The cute toy will best friend for you child. Crochet toy will suit for playing or it will be hearty present for your close friends or family, because you make it yourself!
via Olga Piliponis, Ravelry.com
Flip Flop Raccoon Free Crochet Pattern
Since they work up so quickly the Flip Flop Animals are perfect to take to your next craft market or make as a last minute gift.
via accessorizethisdesigns.com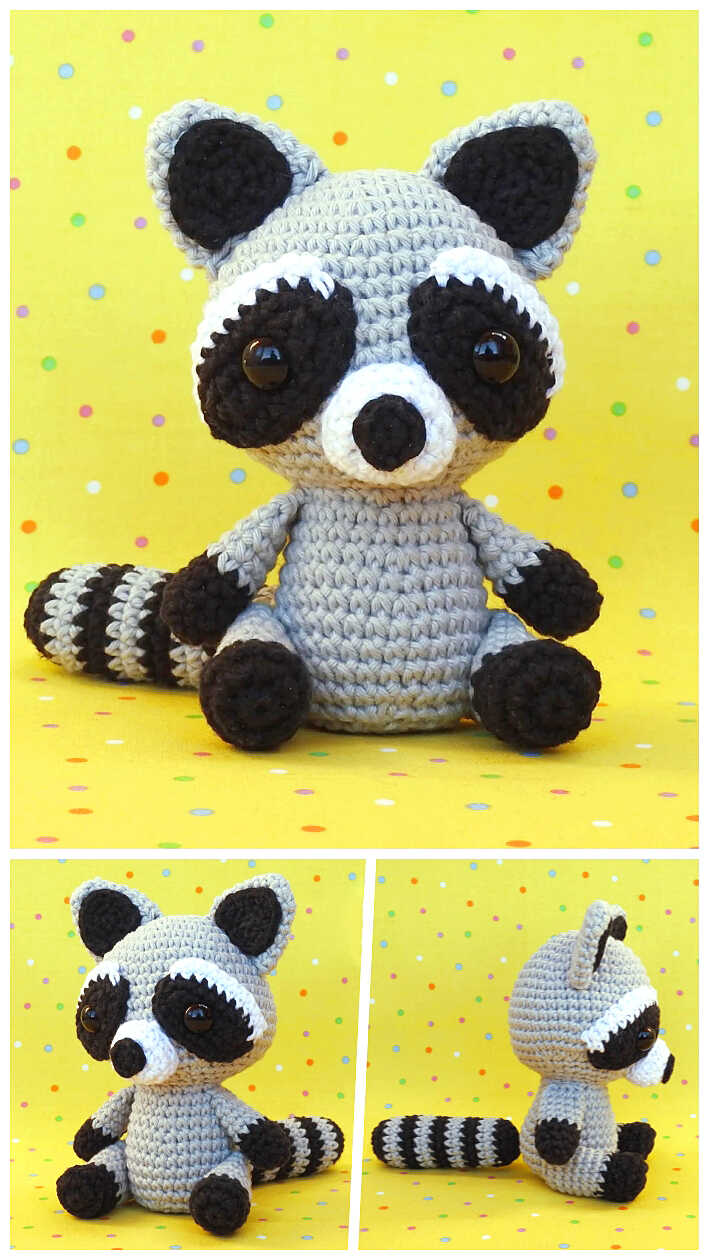 Raccoon Amigurumi Crochet Pattern
Make your own adorable amigurumi raccoon! Using the listed materials, the finished raccoon will end up approximately 13cm (5.1") in height.
via PatchCatCrafts, Etsy.com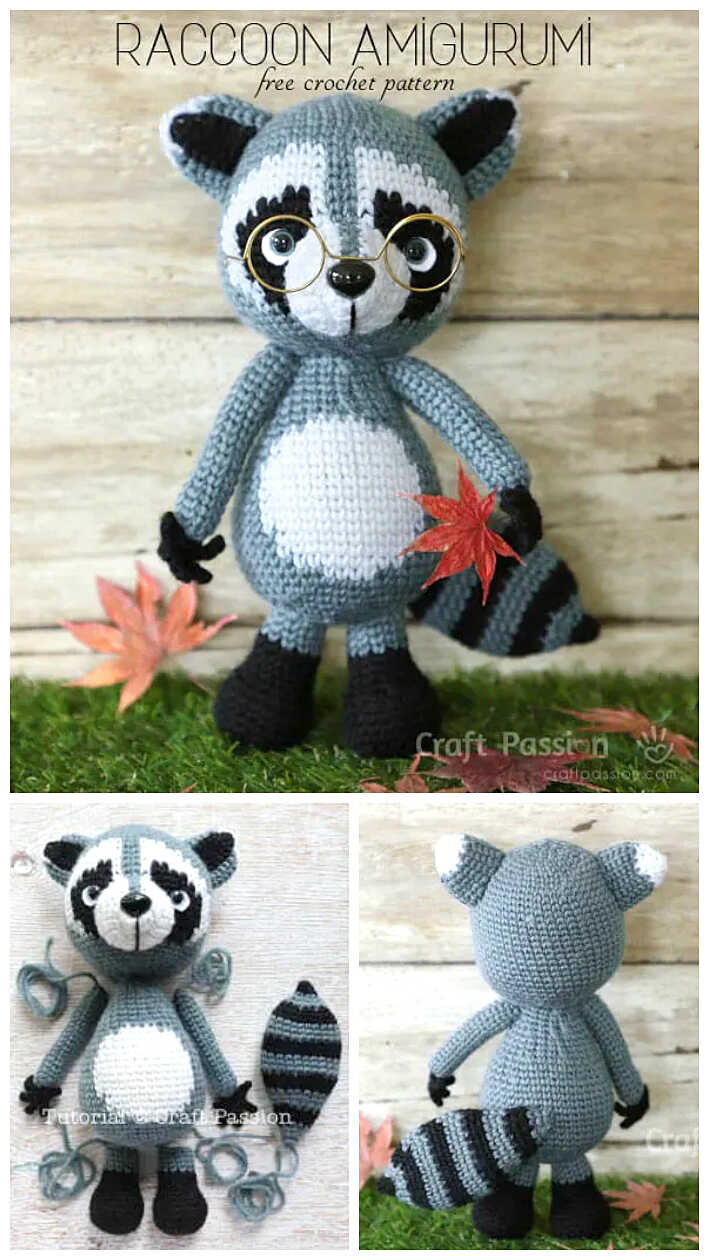 Amigurumi Raccoon Free Crochet Pattern
Meet Jr. Rakku, the Raccoon Amigurumi. Unlike other raccoons who sneak around and try to scavenge for food from other people, amigurumi Jr.Rakku is young, gentle, and innocent.
via craftpassion.com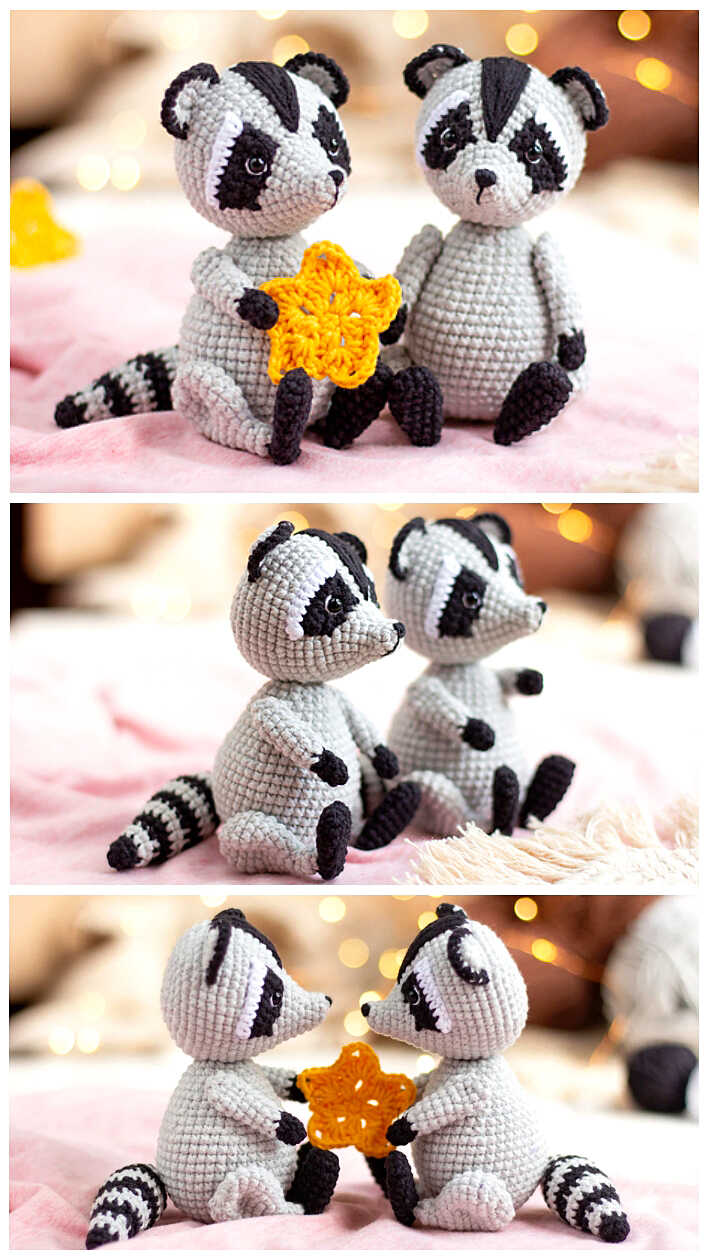 Raccoon Amigurumi Pattern
Crochet level: Intermediate.
Amigurumi raccoon's size ~ 4,3 inches (11 cm) sitting and 5,1 inches (13cm) standing using the materials described.
via Olya Samoseienko, Ravelry.com
Scraps the Raccoon Amigurumi Crochet Pattern
Meet Scraps, a sneaky raccoon from the woods.
Finished size: Approx. 17cm in height, 14cm in width and 25cm in length (tail included)
via CuddlingtonStudio, Etsy.com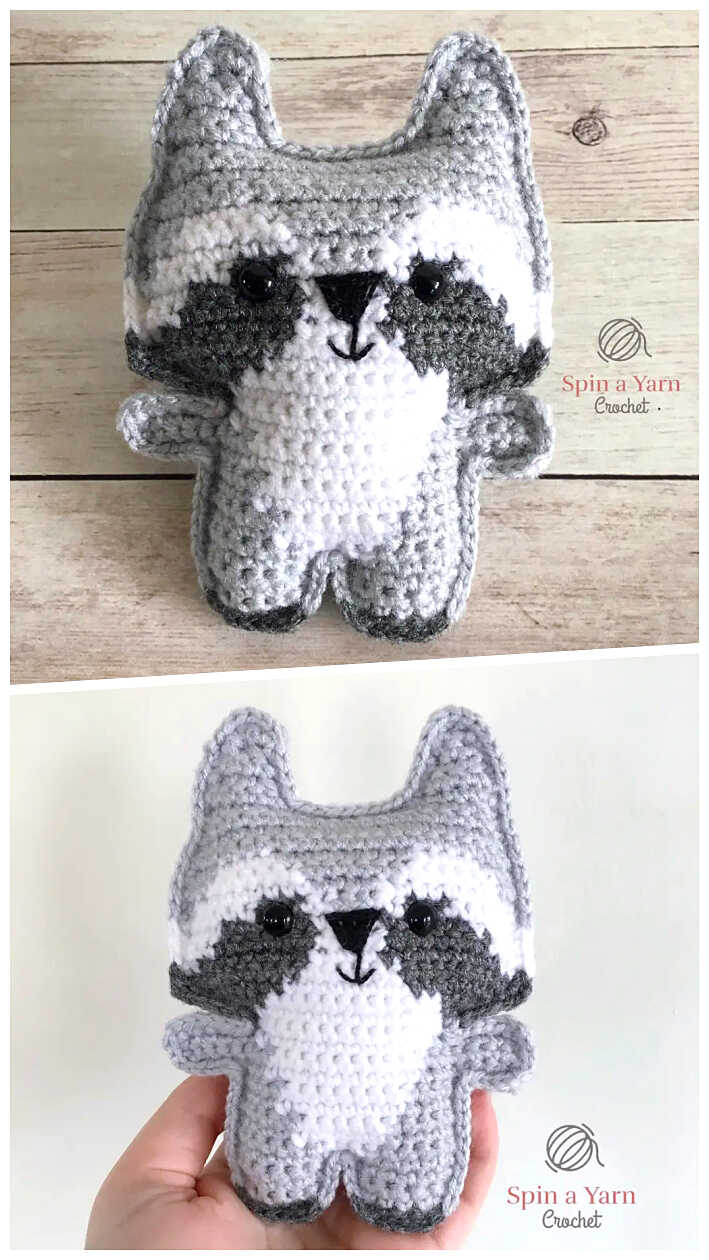 Pocket Raccoon Free Crochet Pattern
The pattern is made up of just 2 separate pieces. The finished measurements are approximately 14cm/5.5″ tall and 10cm/4″ wide.
via spinayarncrochet.com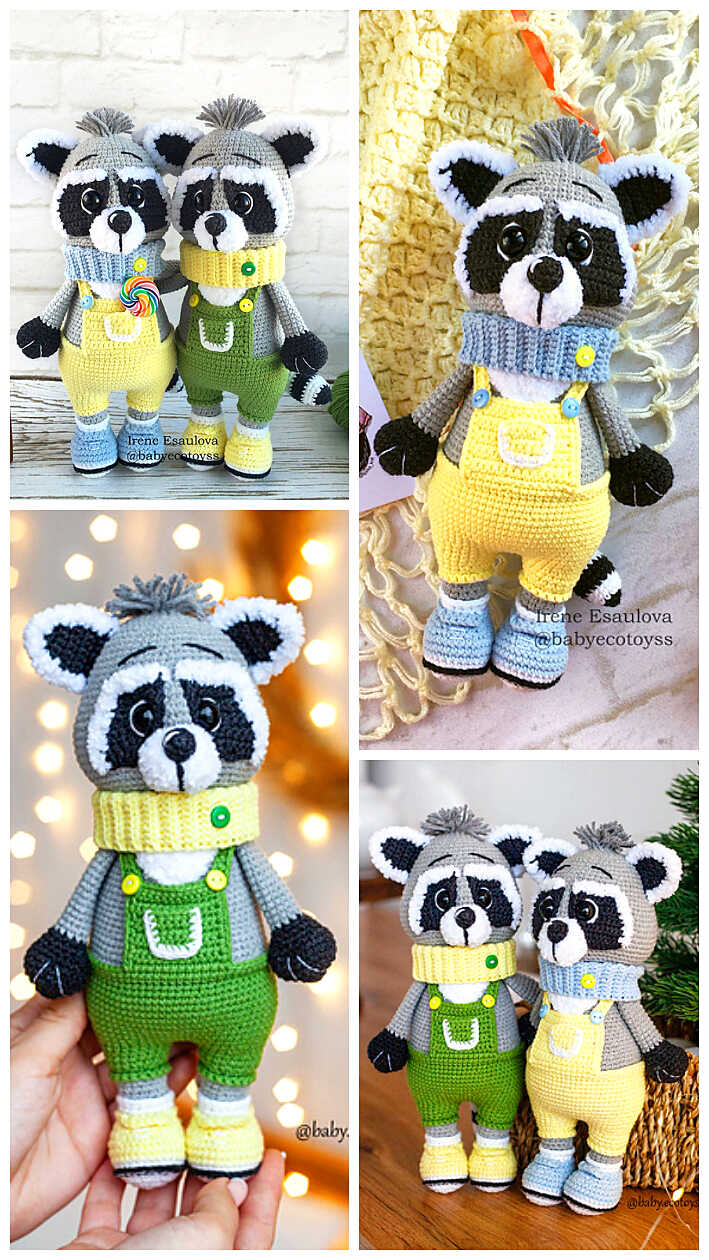 Amigurumi Raccoon Max
Are you ready create your own cute raccoon!
The toy measures approximately 26 cm (10,5″).
via Irene Esaulova, Ravelry.com
Little Raccoon Amigurumi Crochet Pattern
Level : Middle Size: Using these materials, the finished toy is 9,84-10,62 1 in (25-27 cm).
via Alena Komartcova, Ravelry.com
Raccoon Amigurumi Free Crochet Pattern
This cute little rascal is the perfect size for small hands, measuring about 10 inches tall.
via loopsandlovecrochet.com