Awesome Collection of Amigurumi Dinosaur Crochet Patterns
You should definitely see our cute Amigurumi Dinosaur patterns. There will be one or more crochet Amigurumi Dinosaur crochet patterns that you will definitely like. Start knitting as soon as you decide which one it is and don't forget to pin the ones you like.
Free Amigurumi Triceratops Crochet Pattern
Take a daring step into the wild world of dinosaurs with this cute amigurumi triceratops! Featuring lovely colors as well as exguisite details like spikes and horns, this amigurumi triceratops is a perfect addition to any dinosaur lovers collection.
via amigurumi.today
Bruce the Friendly Dinosaur Amigurumi Crochet Pattern
Finished Bruce is about 14.5 in. (37 cm.) tall if you use acrylic worsted weight yarn and a 4.00 mm. crochet hook.
via Michelle Alvarez, Ravelry.com
Crochet Baby Dinosaur Pattern – Plush Pattern 2 in 1 Dragon Dino
You can see the list of materials in the photo. Using these materials, the finished toy is 8" (20cm). You can crochet a toy from any other yarn, but you will have to choose the size of the hook and yarn by yourself.
via ChirkaToys, Etsy.com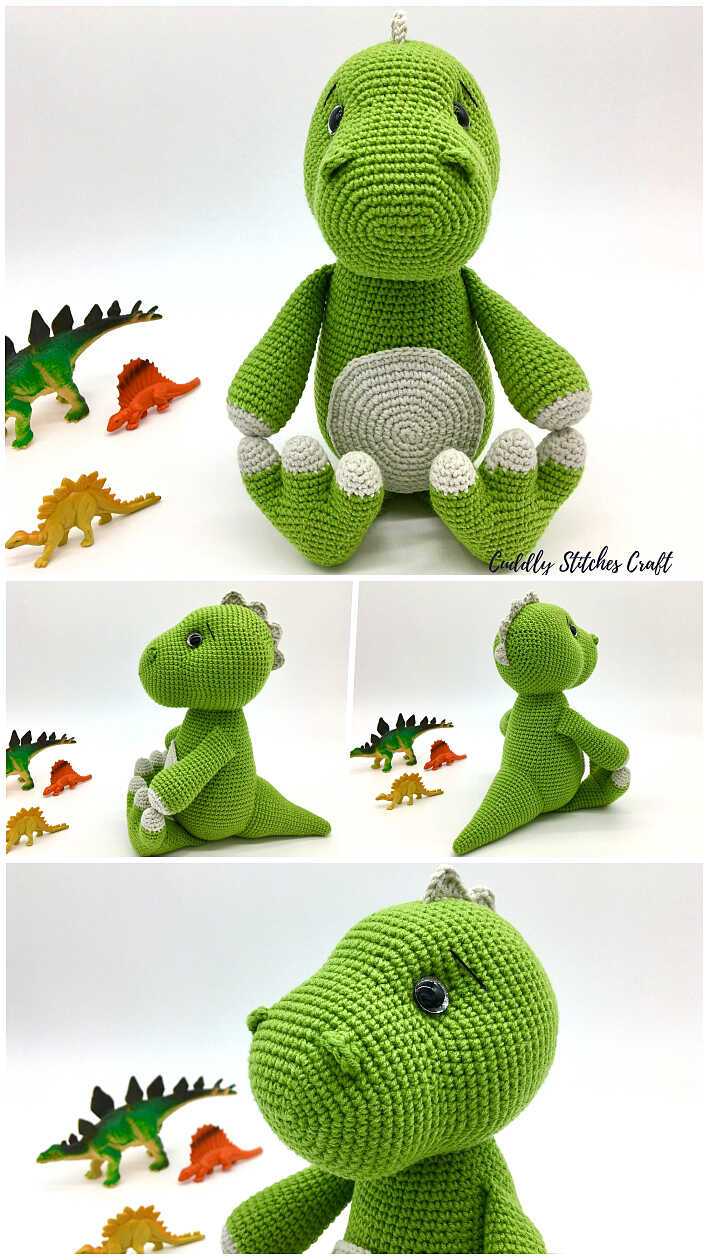 Free Dinosaur Crochet Pattern
Meet Danny the Dinosaur, a cute and playful relative of the magnificent creatures that once grazed on our planet.
via cuddlystitchescraft.com
Brontosaurus Baby's Dinosaur Amigurumi Crochet Pattern
This dino turns out to be 18 cm tall with the yarn (sock yarn) used by the author. If you are using a different thickness of yarn, the baby sizes will vary. In this case, you need to correct the eye size.
via MyKrissieDolls, Etsy.com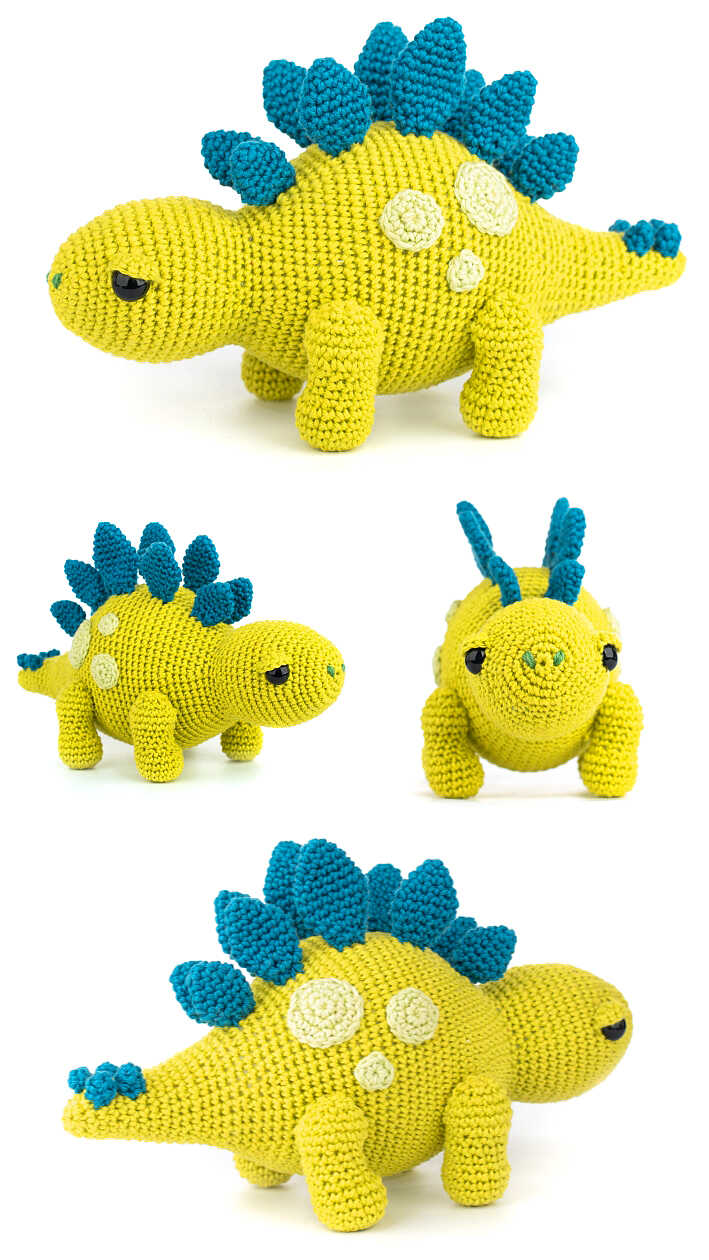 Toby the Stegosaurus Dinosaur Amigurumi Crochet Pattern
Skill level: beginner
Size: 8.5" / 22 cm when made with indicated yarn
via Mariska Vos-Bolman, Ravelry.com
Tired Dinosaur Amigurumi Free Crochet Pattern
With step-by-step tutorials, this cute dinosaur won't take much of your time.
via alwaysfreeamigurumi.com
Theodore the Triceratops -Dinosaur Amigurumi Crochet Pattern
Meet Theodore! Don't let the 3 horns fool you – Theodore is the sweetest dinosaur you'll ever meet. He loves children and making them happy is his number one goal. Final measurement for the finished triceratops is 6.5 inches (or 16.5 cm) tall.
via TheresasCrochetShop, Etsy.com
Amigurumi Dinosaur Crochet Pattern
Amigurumi PDF crochet pattern consists of 3 patterns Dino, Triceratops, Pterodactyl, detailed step-by-step instructions on crocheting, photos and assembling an cute baby Dinosaur.
via NataToysPatterns, Etsy.com
Dinosaur Amigurumi Pattern Free Crochet Pattern
Here's a wee Baby Dinosaur amigurumi pattern for all the dino fans out there. We go back to prehistoric times when dinosaurs ruled the earth during the Mesozoic Era! But here they are first as small and adorable babies before they get all mighty, big, and ferocious!
via amiamour.com
Spike the Stegosaurus – Amigurumi Crochet Dinosaur Pattern
Meet Spike the stegosaurus! Since Spike was clearly born with a green thumb, he has devoted his life to taking care of plants! Final measurement for the finished dinosaur is 7 inches (17.78 cm) tall.
via TheresasCrochetShop, Etsy.com
Amigurumi Triceratops Crochet Pattern / Hatching Triceratops
Tricaretops – size 16 cm (6 in) excluding the horns, if using sport weight yarn (Sport (12 wpi), 2: Fine). Skill Level: Beginner
via TANATIcrochet, Etsy.com
Crochet Dinosaur Amigurumi Free Pattern
A cute amigurumi dinosaur that can be a great roommate for your child…
via @bumbee_crochet, lovelycraft.com
Little Dino Amigurumi Crochet Pattern
This sweet little dinosaur makes a great companion standing at roughly 6 inches tall from top to bottom and 7 inches long from tail to toe (depending on how tightly/loosely you crochet).
via Mary Ann Casteel, Ravelry.com
Albert the Dinosaur Amigurumi Crochet Pattern
The finished doll is approximately 7″ tall.
Medium Weight Yarn, 3.5 mm hook.
via Elisascrochet, Etsy.com